CSC Encourages Students to Branch Out
New program promotes environmental community service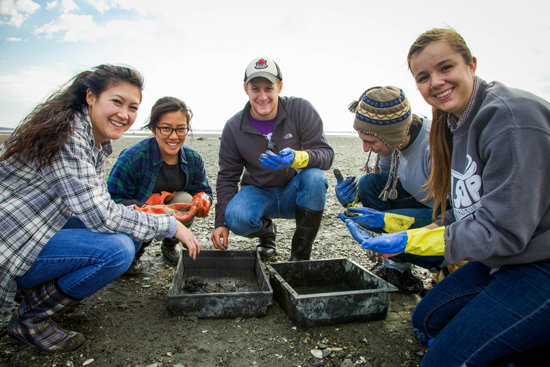 It was 8 a.m. on a recent Saturday, and it was cold. Bitterly cold. Officially, it was 16 degrees, but the wind chill made it feel much worse. Despite the frigid temperatures, 10 Boston University students were trampling through more than half a foot of snow, trimming trees with the Charles River Conservancy at Herter Park in Allston.
The students were volunteering with Branch Out, a new environmental community service program run by BU's Community Service Center. Designed entirely by students, Branch Out offers one-time service events at a variety of sites in and around Boston; members also volunteer each week at the Boston Nature Center, in Mattapan, and hold educational meetings that encompass a broad array of environmental issues.
The program, which began unofficially last year, was developed by Sarah Chudnovsky (CAS'14), Evan Kuras (CAS'14), and Brittany Schwartz (CAS'13). This year, the initiative formally launched with support from the CSC and now has more than 50 members. The goal is to connect students with opportunities to learn about, and help take care of, Boston's urban ecosystem.
"We really wanted it to be a sustainable program," says Schwartz. "We wanted to make sure Branch Out could work when we are no longer here." That's why the three partnered with the CSC and worked hard to put the program in place.
Branch Out is the first new program sponsored by the CSC in seven years.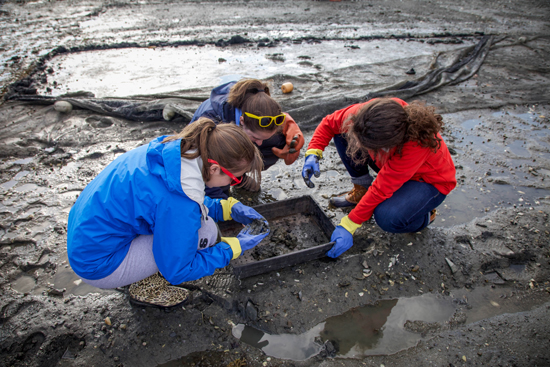 Outgoing CSC director Lindsey Kotowicz says that adding a year-round environmental volunteer program has been a long time coming. "We heard it every year—like a broken record," says Kotowicz. "Folks have been interested in the environment and sustainability." Still, she expressed reservations when the three students asked her if Branch Out could be run out of the CSC. She pointed out that there were already a number of non-CSC related environmental clubs students could become involved with. She thought it would be difficult to find regular service opportunities at environmental sites—such programs are often season-dependent in their need for volunteers.
"Service in winter months can be hard, because weather can cancel events. It can get cold," Schwartz says. "We had to think of a structure for events as it got colder." The Branch Out founders came up with several sites where students could volunteer—including some that would be feasible during winter months—and decided to have weekly group discussions to supplement the program when service wasn't possible.
"We tasked them with the challenge of proving us wrong, of getting sites and interest," says Kotowicz. The students did just that. "We had three motivated, organized individuals at the right time and the right place who had proven themselves as leaders. They had sites and they had a lot of interest."
Unlike with most CSC programs, Branch Out volunteer sites change from week to week. Among the projects: raking leaves for compost at a community garden at the Hawthorne Youth and Community Center, in Roxbury, working with CoastSweep to clean up the shoreline at Dorchester's Malibu Beach, and packaging bike parts to be sent to international partners of the nonprofit Bikes Not Bombs.
One of last semester's most popular projects involved students teaming up with the Department of Marine Fisheries on a project to restore clam populations in Hingham. To determine whether clams survive better with or without protection from nets, volunteers took core samples from six different grids, three with nets and three without nets. They next dumped a carton of sandy muck containing clams into a sieve, rinsing with water to remove the mud so they could count how many were in each sample.
During the aforementioned Herter Park event—the first of the spring semester—volunteers spent two hours cutting off dead tree branches and crossing healthy limbs. The pruning helps increase airflow and improve the overall aesthetics.
"A volunteer can see a variety of sites and tailor it to their interests," says Branch Out program manager Laura Kakalecz (CAS'15). Offering different sites helps facilitate learning, she says, because "there's not just one thing you can do to make a difference."
The one-time opportunities let students with busy schedules participate when they can. Those able to be more involved can attend Branch Out's weekly service program at the Boston Nature Center. Tasks range from setting up for workshops in BNC's nature classroom and trimming invasive vines around the center's community garden to filling potholes in the parking lot and cleaning up the tool shed.
Branch Out's weekly meetings, held in the CSC at 7:15 p.m. each Wednesday, include discussions, readings, and informal presentations about topics related to upcoming service projects or focus on a subject that's of particular interest to a member of the group. Past discussions have explored community gardens, tree preservation and replacement, and the fate of bees.
Branch Out's next service event is tomorrow, Saturday, March 1, in Brewster, Mass. Volunteers will work with AmeriCorps Cape Cod/Brewster Department of Natural Resources clearing a herring run to improve herring migration and spawning.

"I think it's important to realize that even if we are doing a small task, it has a much larger significance. We are contributing to an organization's larger goal when they really need the manpower to be able to go about their everyday tasks," says Kakalecz. "Branch Out helps to break down larger issues into something that someone can do to create change or make a difference."
Branch Out members volunteer at the Boston Nature Center, 500 Walk Hill St., Mattapan, Mass., every Friday from 3 to 5:30 p.m. The group is volunteering tomorrow, Saturday, March 1, with AmeriCorps Cape Cod/Brewster Department of Natural Resources. For more details and information, email program manager Laura Kakalecz at brancho@bu.edu.
Irene Berman-Vaporis can be reached at imbv@bu.edu.