Companies Agree to Pay to Settle Patent Infringement Suit
BU to be compensated for technology in popular electronics products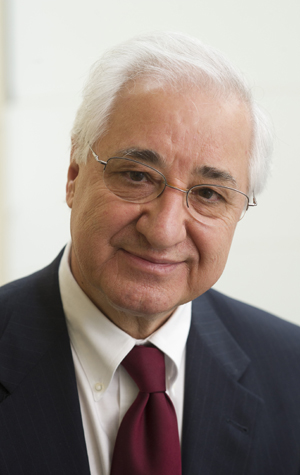 Twenty-five companies have settled lawsuits filed by BU alleging infringement of a professor's patented technology for producing blue light-emitting diodes (LEDs).
The settlement, whose dollar amounts have not been disclosed, was negotiated with RPX, a San Francisco firm that acquires patent rights for corporate clients to help them avoid lawsuits. RPX will pay BU a licensing fee for the patents, which will be available to all RPX members. About a dozen firms that aren't RPX members remain in litigation with the University.
The suits, filed last year, involved the use of gallium nitride thin films, patented in the 1990s by Theodore Moustakas, a College of Engineering professor of electrical and computer engineering. The films facilitate the production of high-quality blue LEDs, which are used in an array of electronics products, from flat-panel displays on handheld devices to televisions and general lighting. Many popular consumer products incorporate the technology, the University says, including the iPhone 5, the iPad, and the Kindle Paperwhite 6".
"This settlement, as well as the licensing of the patents previously by other blue LED manufacturers, is recognition of the importance of my work in the development of this novel technology," says Moustakas.
Vinit Nijhawan, managing director of BU's Office of Technology Development, says the settlement "acknowledges Ted's patent as being a key part of the blue LED industry, which is estimated at about $11 billion annually.
"This is really a victory for him," says Nijhawan. "It acknowledges him as one of the key inventors behind the blue LED."
BU says it sued the companies to safeguard the research and invention of one of its faculty members. "We're protecting our intellectual property," Provost Jean Morrison said when the suits were announced last year. "The creation of new knowledge is fundamental to our mission. Ted Moustakas created a process that significantly improves the performance of these products. It's incredibly important for a university to defend its intellectual property."
Before filing the lawsuit, the University retained a law firm specializing in intellectual property. Nijhawan says the law firm hired independent experts, who confirmed BU's suspicions of patent infringement. The University tried to negotiate licensing royalties with several product manufacturers, but was rebuffed, leading to the suits, Nijhawan says.
"Our faculty are increasingly working with industry and finding practical applications for their work," says Gloria Waters, vice president and associate provost for research. "We will protect their intellectual property as they do so."