Challenging Visual Perceptions
New Sherman Gallery exhibition invites viewers to look closely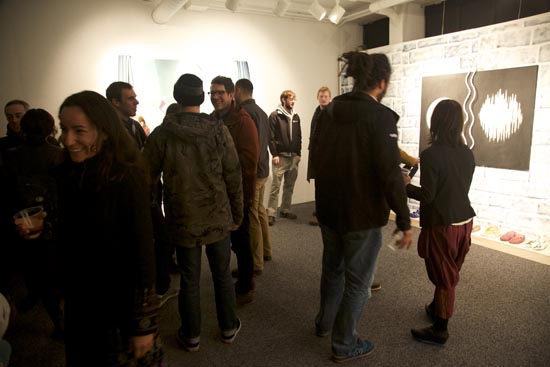 Visitors to Susan Metrican: Wavy Panes, be forewarned: what you'll see warrants a second glance, and in many instances a third as well.
The Sherman Gallery's latest show, a solo exhibition of works by Boston-based artist Metrican, features paintings and sculpture, with the artist often merging both to manipulate and challenge viewers' perceptions.
"I think about my work as allegories of perception, in that I'm breaking down the act of perceiving to give form to the direct relationship between the perceiver and what is perceived," Metrican says.
Perhaps the clearest example of this is in her azure-colored canvas Chorus. At first glance, the painting appears three-dimensional, with folds, cutout shapes, and shadows creating illusions of depth. But on closer inspection, the effect is in fact an optical illusion, the result of Metrican's careful brushwork and nuanced use of shadows. The only three-dimensional element in the work is a set of curtains framing the flat canvas—a device the artist uses to further explore the relationship between observer and object.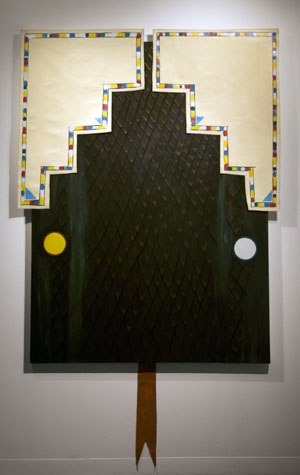 "The curtains, with a theatrical reference for me, serve as a cue to direct your attention in a certain way and perhaps to have a sense of humor as an observer in life….They correlate directly to eyelashes and hair as the framing devices that we peer through," says Metrican, who earned an MFA from Massachusetts College of Art in 2012.
The artist's illusions aren't created exclusively through brushwork. She uses unconventional materials, such as rope, leather, horsehair, even lentils, to extend her canvases into space.
Other pieces address perception indirectly. In Untitled (feet), Metrican uses vivid green acrylic paint to depict the soles of two feet, creating a metaphor for the experience of seeing.
"I was referencing the reclining Buddha's feet, which in Thailand are often represented as a towering flat surface with an enormous Buddha figure resting on one elbow," she says. "As I began to think more poetically about the physical separation between perceiver and what is perceived, the way the two feet joined represented that seam for me."
The exhibition chronicles Metrican's explorations of the relationship between a viewer's eye and the object being looked at.
"Initially, I was concerned with bridging the gap, because I was thinking in terms of myself, space, object," she says. "At the moment, the gap is closed, so I can take a closer look at where and how two things meet."
The result challenges viewers to reconsider not only what they're seeing, but how they're seeing—an experience worth a second glance.
Metrican, a cofounder of kijidome, an artist collaborative and experimental project space in Boston, was recently appointed curator and director of the arts at the Brandeis University Women's Studies Research Center, which aims to generate dialogue about feminist issues through its exhibitions and projects.
Susan Metrican: Wavy Panes is at the Sherman Gallery, George Sherman Union, 775 Commonwealth Ave., second floor, through March 7. Gallery hours are Tuesday through Friday, 11 a.m. to 5 p.m., and Saturday and Sunday, 1 to 5 p.m. The exhibition is free and open to the public.
Paula Sokolska can be reached at ps5642@bu.edu.