BU's Literary Lions Read Tonight
Creative Writing Program Faculty Reading includes young alums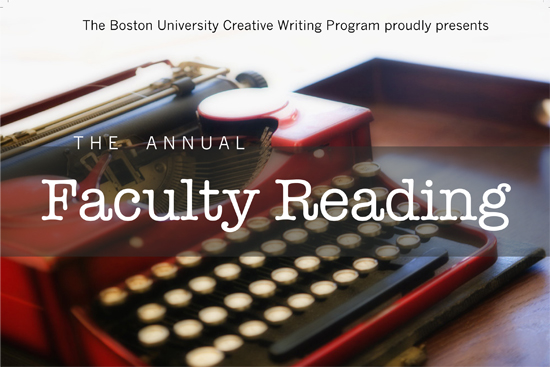 Where can you find a three-time US poet laureate, the poetry critic for The New Yorker, and three acclaimed novelists—along with two literary newcomers, each in possession of a highly original voice—all on the same stage?
The answer is at the BU Creative Writing Program annual Faculty Reading tonight at the Photonics Center. The star-studded affair will feature poet Robert Pinsky, a College of Arts & Sciences professor of English; Dan Chiasson, an award-winning poet, The New Yorker poetry critic, and a CAS creative writing lecturer; prize-winning novelist Ha Jin (GRS'94), a CAS professor of English; novelist, essayist, and short story writer Sigrid Nunez, a CAS creative writing lecturer; and novelist Leslie Epstein, a CAS professor and Creative Writing Program director. Most of tonight's writers plan to read from new work—some of it yet to be published.
The annual faculty reading is one of Boston's most distinguished literary events, and it attracts fans and readers from across the Boston area.
A quick poll of tonight's readers gives a sense of the breadth of material the audience will be treated to. Chiasson will read from his new collection of poems, Bicentennial (Knopf, 2104), a meditation on fatherhood, whose "each line still feels like a fresh turn," according to the Boston Globe. Jin, a National Book Award and PEN/Faulkner Award winner, plans to read from a new novel, A Map of Betrayal, scheduled for publication this fall. Nunez, who has written six novels and a recent memoir, Sempre Susan: A Memoir of Susan Sontag (Atlas Books, 2011), is a frequent contributor to Harper's, McSweeney's, and Tin House and plans to read from some of her recent short fiction.
Epstein, the author of 10 works of fiction (his most recent novel, Liebestod, was published by Norton in 2012), promises what is sure to be a memorable passage from his novel-in-progress: "Either a scene with Stalin, but more likely, I'll dare to read about a hot date with Adolf Hitler, based on facts on der Führer's love life established by the OSS during the war," he says.
Pinsky is undecided about his selection. "The annual Faculty Reading always thrills me," says the former poet laureate. "I'm waiting to see what I'll hear from my great, various, and unpredictable colleagues. And also waiting to see what will seem right from my own work: choosing what I'll read is a unique, pleasurable challenge…and I often dither about it until the last minute."
Joining these established literary writers at tonight's event are two recent Creative Writing Program alums—poet Caitlin Doyle (GRS'08) and fiction writer Nell Stevens (GRS'13).
Doyle, currently the writer-in-residence and a teacher at Interlochen Arts Academy in Michigan, plans to read from her work-in-progress poetry collection, Tea in Eden.
As comfortable writing free verse as she is working with rhyme and meter, Doyle says that what unites the poems in her collection is "a hunger for exploring the many ways that language can both affirm and puncture—often simultaneously—our sense of familiarity with the world."
Her poems, which have appeared in such publications as The Atlantic and The Threepenny Review and in several anthologies, frequently explore what she describes as "the spaces left in human experience by a wounding, a lack, or a loss." She acknowledges being obsessed by "the complex interaction between myth and truth in human life" and the fact that both historians and poets "must reconcile paradoxical identities when they put pen to paper: mythmaker and truth-teller."
As a poet, Doyle says, she strives to explore the ways the personal and the historical intersect, "probing the way that we tell ourselves stories both as individuals and as a society in order to make sense of reality." Many of her poems are peppered with references to contemporary American pop culture figures like Paris Hilton, Brad Pitt, and Rambo, as well as historical figures like writers Flannery O'Connor and Dorothy Parker. Doyle says she may read from one poem featuring Donald Trump in conversation with Ronald McDonald. We can only hope.
Doyle feels honored and humbled to have been selected as the poetry alumna reader at tonight's event, she says. "It's especially a pleasure to read with Robert Pinsky, because he was one of my main professors and graduate thesis advisors during my time in the program. The opportunity to study with Robert, as well as with Rosanna Warren and Derek Walcott, impacted my work in ways that I'm still discovering," she says. "Studying in BU's MFA program significantly extended my reach as a poet."
Pinsky says that his former student is "a young poet who combines focus and range, feeling and wit."
Nell Stevens, the other alum at tonight's reading, grew up in Oxford, England, and is currently finishing a PhD in English literature at King's College London. During her tenure in the Creative Writing Program, Stevens received a Leslie Epstein Global Fellowship, which funded travel to the Falkland Islands, where she spent two months working on a novel set there. She will read from that work tonight.
"The experience of being so isolated, on a small, icy island in the South Atlantic, was incredibly tough and incredibly rewarding," Stevens says. "There were no distractions—no regular internet access or people nearby—so I was working very quickly, focusing solely on the project."  She plans to complete a final draft of her novel, the story of "a disillusioned graduate student" who winds up stranded in the Falklands after visiting some distant relatives, this summer. "I wanted to explore the comedy of the situation, as well as the beauty and the strangeness of it," she says.
Stevens, who will teach fiction writing this summer as a CAS lecturer, says she is most at home writing long fiction (she's had shorter work published in Mslexia, Cutting Teeth, and ELLE Magazine online). "It's a long and slow learning process, as drafting and redrafting takes so much time, but it's one that I love."
Describing her experience in the Creative Writing Program, she uses the words "inspiring, challenging, and transformative."
"Nell is one of the fine writers to come through the program in the last 10 years," Epstein says. "Her work is worldly, wise about the relations of men and women, and always beautifully written."
The annual Creative Writing Program Faculty Reading is tonight, Wednesday, March 26, in the Photonics Center Auditorium, 8 St. Mary's St., at 7 p.m. The event is free and open to the public. For more information, call 617-353-2510 or email crwr@bu.edu.