Cyclists Push for Bike Lanes behind Barriers
City mulling alternatives for Comm Ave reconstruction plan
Anastasia Karabina (MED'15) flew off her bicycle when a driver struck her at the Commonwealth Avenue/St. Paul Street intersection in April 2013. "My bike was totaled," she recalled. "I like front-flipped off my bike and landed on the back of my head in front of his car. Luckily, he stopped and didn't run me over."
Sore but not seriously hurt, she was fortunate. A similar crash in the same spot just four months earlier had killed cyclist Chris Weigl (COM'13). Today, Karabina supports putting barriers along the bike lane on Comm Ave to separate cyclists from cars. While a barrier would not extend across intersections, she believes that seeing the barrier edge up to the crosswalk as drivers turn would make them more likely to notice cyclists in the intersection.
She mentioned her accident as she and other speakers endorsed such protected cycle lanes on the avenue at a public hearing Tuesday attended by Boston's interim transportation commissioner, James Gillooly. Held at the College of General Studies and hosted by the student cycling group BU Bikes, the forum sought opinions as the city weighs redesign options for upcoming improvements to Comm Ave.
Gillooly told the 150-plus attendees that the city is considering the so-called cycle tracks as well as other options. Officials will announce by February which safety improvements will be included in the planned reconstruction of the section stretching between the BU Bridge and Packard's Corner, which is slated to begin in two years, Gillooly said in an interview prior to the hearing. Another hearing in January will precede the city's final design decision.
While many cycling groups favor cycle tracks, a study independently undertaken by a transportation planner urges a different approach: widening the existing bike lanes on the thoroughfare with a three-foot, barrier-less buffer, to make the lanes a total of eight feet wide. A widened lane, with the buffer separating cyclists from parked cars, would do more than physical barriers separating bike lanes from moving cars to address the most common safety problems plaguing cyclists, says the study by Paul Schimek, a former manager of the city's bicycle program.
But at Tuesday's hearing, with bike helmets speckling the crowd despite a nor'easter that made cycling to the event a soggy challenge, the speakers lining the length of the auditorium wall for a turn at the microphone mostly endorsed a physical barrier between cyclists and motorists. Some suggested that by making the avenue more bike-friendly, cycle tracks would attract more cycling customers to Comm Ave businesses.
Advocates displayed maps showing that bike barriers are taking off in popularity around the country. (Boston has dipped a toe into barrier-ed biking. On Western Avenue, parked cars serve as the barrier; a cycle track runs between them and the sidewalk.)
Several speakers also called for pedestrian improvements such as raisted crosswalks, and better train service on the MBTA's Green Line.
Despite time pressure to secure federal funding for most of the project's currently projected $16 million cost, Gillooly said in the interview that the city has "broadened our review" of the design after cycling advocates complained this summer that the proposed reconstruction gave short shrift to bike safety.
"We want to make sure we get it right," Gillooly said. A widened bike lane is "still considered a reasonable approach, but…we're giving a serious look at [cycle] track possibilities" as well.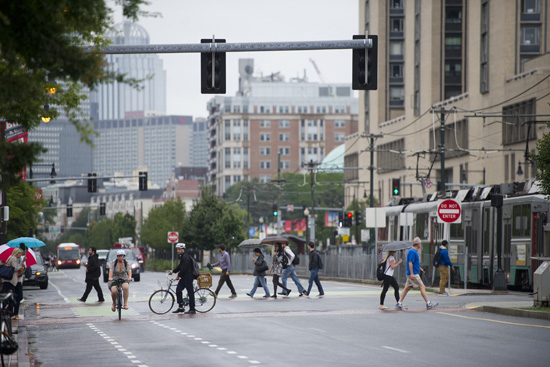 Slicing through the Charles River Campus, Comm Ave, one of the first streets in Boston outfitted with bike lanes, sees 5,000 bikes and up to 36,000 motor vehicles and 22,000 pedestrians daily. The street saw a reported 68 bike crashes between the BU Bridge and Packard's Corner from 2010 to 2012, including the one that killed Weigl.
Robert Donahue, the University's vice president for government and community relations, says BU will rely on the city's judgment about the best safety plan.
"The University is involved in the planning efforts because safety is our major concern," he says. "The bottom line is that it's the city's street, and we trust Commissioner Gillooly to evaluate all alternatives and to design a safer and better boulevard. As the city evaluates the roadway, the Schimek report should be a weighted factor in their decision. As a study, it is based on actual occurrences and measures outcomes. Its conclusion that there should be a widened bike lane has merit and is clearly being evaluated by the city as they go through what is a very tough balancing act. If they ultimately decide to include cycle tracks then, of course, we would support the decision."
Schimek's report plugs both the bike lane buffer and another measure: adding 50-foot right-turn-only lanes for motorists at intersections. These two measures, he argues, would have prevented more than half of the reported bike crashes on Comm Ave between 2009 and 2012, which his analysis shows were either "doorings"—motorists opening their doors in the path of cyclists streaming by—or motorists turning right across bike lanes and striking bikers.
With a right-turn-only lane, he said in an interview, a motorist "will understand he must first merge to the lane with the right arrow on it, not the one with the straight arrow. Because he is changing lanes, he is legally required to make sure that it is safe to merge before doing so. The bicyclist going straight, approaching a motorist who is already in proper position to turn right, will not come in conflict." While drivers merging right still must contend with bikers approaching in the bike lane, he said, the wider lane ensures that motorists "will be more aware that there is space and therefore bicycle traffic to their right."
By contrast, his report says, a cycle track "could have eliminated only a handful of crashes involving motorists parking, overtaking, backing, or swerving into the bike lane." A cycle track with a buffer zone would reduce doorings, Schimek writes, "but it is the buffer from parked cars that reduces the crashes, not the physical barrier from moving cars."
He also writes that a cycle track would be hazardous on the downhill stretch of Comm Ave, "where bicyclists regularly exceed 20 mph." Erecting barriers would prevent cyclists from merging into the car travel lane to avoid any obstacles in the bike lane, making it likely that a cycle track would "increase bicyclist injuries not involving motor vehicles, which are three times as common as those involving motor vehicles."
Some cycling advocates disputed Schimek's study in interviews before Tuesday's hearing. David Watson, executive director of MassBike, who has taught about bicycle planning at Metropolitan College, commended the city for attempting safety improvements but added, "The use of basic bike lanes does not provide the needed physical separation from motor vehicle traffic on this road.…Ultimately, all of Comm Ave should have protected bike lanes. Advocates have been asking for a better design for years."
Pete Stidman, executive director of the Boston Cyclists Union, said more than 200 cycle tracks exist in the United States, including 44 miles' worth in New York City, where "every time they install them, they see … a 20 percent crash reduction." That record, he said, contrasts with what he called Schimek's "conjecture." Stidman also fears a wider bike lane may tempt more motorists to park in the bike lane, which he said is already a big problem with the existing lanes.
Scheduled for 2016–2017, the Comm Ave reconstruction will include widening the Green Line train medians per federal requirements, repaving the road, installing curb extensions to shorten pedestrians' crossing time and facilitate crossing for people with disabilities, and improving sidewalks. Sidewalks will lose between three and five feet of width, depending on location, in order to accommodate the expanded Green Line track space, as mandated by the Americans with Disabilities Act (ADA), Gillooly said.
In designing the reconstruction, he said, planners are inhibited by the need to bring the train space into ADA compliance, which puts "extra stress on how much we could do for all the [other] users" of the street. "We're dealing with limited dimensions here."
Time also hems in the planners. "The project needs to be fully designated and out to bid by October 2016, or there is a good chance we could lose federal funding," says Donahue. Gillooly said that the city would work with state and federal officials to "very efficiently" shepherd the process. And while the final design remains to be seen, he added, "The one decision you can take to the bank is…there will be significant improvement, if not dramatic improvement," from the original reconstruction plans that drew cyclists' criticism earlier this summer.