Big Bang Actress Loves Being a Scientist—and Playing One on TV
Mayim Bialik (Hon.'14) shares wisdom with BU women scientists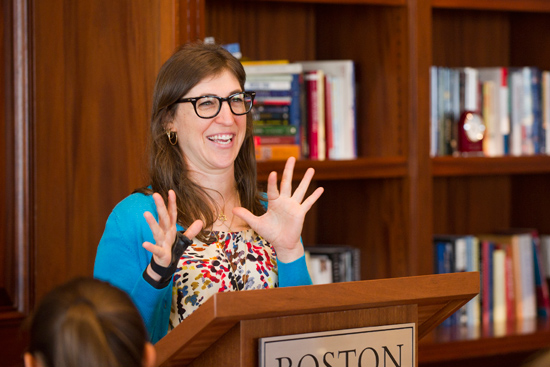 There were many fans of the popular nerd-centric TV sitcom The Big Bang Theory at the BU Graduate Women in Science and Engineering (GWISE) luncheon Saturday with guest Mayim Bialik, who plays a neurobiologist on the show. But the 50 or so students and professors at the event, hosted by Beverly Brown, GWISE advisory board member and wife of President Robert A. Brown, also appreciated Bialik's lesser known bonafides—she holds a doctorate in neuroscience and is a champion of science, technology, engineering, and mathematic (STEM) education for girls.
Having launched her television acting career at 14 as the quirky, hat-loving Blossom Russo in the early 1990s NBC television sitcom Blossom, Bialik (Hon.'14), who received an honorary Doctor of Humane Letters at Sunday's Commencement, has won over a new generation with her portrayal of The Big Bang Theory's Amy Farrah Fowler. The loopy, brilliant Fowler joined the cast at the end of season three and is now a regular. Bialik's performance has earned her two Screen Actors Guild nominations and two Emmy nominations.
Born in San Diego, 38-year-old Bialik played the young Bette Midler in Beaches at age 12 and has made guest appearances on such TV shows as HBO's Curb Your Enthusiasm. A character actress who pokes fun at her bookish non-Hollywood appearance ("These glasses are real," she told the GWISE audience of her outsized black horn-rims), she earned a bachelor's from the University of California, Los Angeles, in neuroscience in 2000, and in 2007 completed a PhD in neuroscience, also from UCLA. Her research examined the role of oxytocin and vasopressin in obsessive-compulsive disorder in adolescents with Prader-Willi syndrome, a genetic abnormality causing life-threatening obesity. "I'm a chromosome 8 person," she said, to a chorus of knowing laughter.
Through professional development seminars, mentoring, outreach, and social events like this one, GWISE  addresses challenges faced by women in STEM. The students said they related to Bialik, to Fowler, and to the show in general. Big Bang "tells us a lot about what the rest of the world actually thinks of us, but there's an underlying truth to it," said Julia Wang (ENG'17), a doctoral candidate in biomedical engineering. "I love the nerdy jokes," said GWISE program chair Ashley Penvose (GRS'17), who is studying biology.
The wry, down-to-earth Bialik spoke off the cuff for nearly an hour to the group, which included Jean Morrison, University provost, gathered in the elegantly appointed Kenmore Room at One Silber Way, about life as a television actress, a divorced mother of two young boys, and a red-carpet regular enamored of the workings of the hypothalamus. She also spoke about her refusal to let conventional wisdom detour her path in life. Eight months pregnant with her second child when handed her doctoral diploma, she's an observant Jew, a vegan, and an "attachment parenting" advocate and author who begrudges no views that collide with hers, as they often do. At ease behind the podium as well as in front of the camera, she is a frequent speaker on behalf of Texas Instruments and its efforts to promote science education among young people. How does she do it all? "I have the time to do all this," she said, "because I don't watch television."
Bialik is an unlikely poster person for women in science. Like her parents, both born in the Bronx to Eastern European immigrants, she grew up loving the arts and literature. "I liked writing, reading, and art," she told the group. "I was no good at science, and the other girls who were good at it were teased and socially awkward. My math teacher was a really crotchety, mean old lady." As a sitcom actor being tutored instead of going to regular school, Bialik said, at 15 she developed a connection with her science tutor, then a dental student at UCLA. "She was as in love with science as I was with poetry."
Her passion for science stoked, in college she turned to psychology and finally neuroscience ("the best science," she joked), particularly the notion that all human behavior stems from the firing of neurotransmitters. "I wanted to learn about that," she said. "But I worked quadruplely hard. My brain was not primed for that."
Amicably divorced since last year, Bialik told students that she and her former husband met as undergraduates in a calculus class. She had her first son while enrolled in a PhD program, just about to begin data analysis for her doctoral thesis. "That child is now eight, and he's a gigantic nerd," she said. A month after graduation she gave birth to her second son, now six. "We call him our mazel tov child," she said. Although she never returned to the lab or academia, she taught science to home-schooled kids "with a child strapped to my chest."
When a BU student asked about the challenge—seemingly impossible to many—of balancing children and a science or engineering career, Bialik was prepared for a question she addresses all the time. "You have to decide where your body is going to be when you finish your degree," she told the women. Her personal inclination was to have her children before she reached 30, hoping to avoid having to avail herself of reproductive technologies. The first thing women in doctoral programs are told is "freeze your eggs," she said. "Oh," she added, looking around the room. "Now I'm really depressing all of you."
Choosing to play a scientist on TV over pursuing a career as one—"and if you don't go to postdoc your degree loses its potency"—she still works a grueling schedule. Days on the set can run as long as 14 hours, and the actress said she shares "tag-team parenting" with her ex-husband. The family also spends holidays together. The Big Bang's writers pride themselves on getting the science right, but Bialik occasionally challenges the accuracy of minor points.
"I like playing a scientist," she said. The role suits her lack of pretense and glam vanity—"I never go to wardrobe fittings because they know I don't care." Her role as the girlfriend of the sweet but socially awkward, sexually clueless theoretical physicist Sheldon Cooper, who appears to have autism, and the show in general face "a fair amount of criticism for stereotyping both women and nerds," Bialik said, noting that comedy is largely fueled by stereotypes. The show, populated by several characters who are unmistakenly "spectrumy," as she put it, has a gentle touch, but its satire spares no one.
Big Bang is the first sitcom—perhaps the first TV show—ever to counter a different, persistent stereotype. When Brown mentioned to colleagues in the BU community that Bialik would be the GWISE luncheon speaker, many told her they appreciated the show's acknowledgment that autistic adults can have full and independent lives. Like Cooper, they form friendships, they have social lives, and they fall in love. "Big Bang Theory gives a voice to people on the spectrum," said Brown.