Becoming an Advocate
SAR student uses her experiences with a disability to help others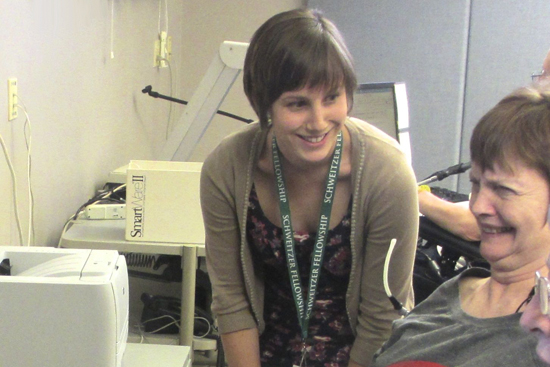 Born with impaired vision, Dana Aravich knows firsthand how frustrating it can be to have a disability. As a youth, she faced such obstacles as a lack of services in her rural community and difficulty navigating the complex health care system, obstacles that left her determined to help people with similar challenges.
Now an occupational therapy student, Aravich (SAR'14) recently completed an Albert Schweitzer Fellowship, which offers the chance to devote a year to health-related service initiatives aimed at supporting society's most vulnerable. She chose to spend her Schweitzer year at the Boston Home in Dorchester, Mass., a residential community for adults with progressive neurological diseases such as multiple sclerosis (MS). She originally planned to set up technology services for the residents—helping them reconnect to friends and family through social networking platforms like Skype and Facebook.
"Research shows that people with MS have lower levels of social support and connection to their communities," Avarich says, "so I thought, this is easy—we'll teach them how to use computers; it'll be empowering."
The problem was, the computers in the Boston Home's cybercafé—nearly all donated—needed upgrading. Aravich's original ideas had to be discarded, but ultimately, she says, the project became much more meaningful.
She began to show the residents how to promote changes at the Boston Home themselves, to take ownership in their lives. "My project became teaching the residents advocacy skills," she says. "Residents helped collect data used to write a grant and gathered information on how many people were using the cybercafé. We were able to hold a meeting with the administration and really talk for the first time about what the problems were and how to address them." Aravich explained the kinds of technology that would help, the residents told their own stories, and the administration addressed budgetary limitations. Together, the group came up with a technology plan that worked for everyone.
"It's about helping people say, 'This is my life; I'm not going to sit back and be passive,'" says Aravich. "Having had to fight for various things through the government and other programs, I realize that I, as a person with a disability, have a hard time navigating that system. And then I work with other individuals who don't have the support that I have, but they know what's going on with themselves, and their stories have to be told."
Not only did the Boston Home solve the immediate computer problem—new computers and equipment were funded through donations and grants—but it also created a system for continuing resident self-advocacy in the future. "The residents really took off with the idea and made it their own," Aravich says. Today, several of the residents are on a technology council that meets regularly with the administration to address residents' needs.
Aravich plans to continue exploring advocacy skills for people with disabilities after graduating. "Professionals and residents can, as a team, come together and address those issues. Ideally, what we are supposed to do as occupational therapists is help people find meaning, meaning through occupation—those activities that we find important in our lives. If given the opportunity to advocate, anyone with or without a disability can make those changes and improve people's lives."
A version of this article was originally published in the 2013–2014 issue of Inside Sargent.
Rachel Johnson can be reached at rajohnso@bu.edu.