Be Seduced: CFA Stages Carmen
Peter Brook adaptation of Bizet classic closes Fringe Festival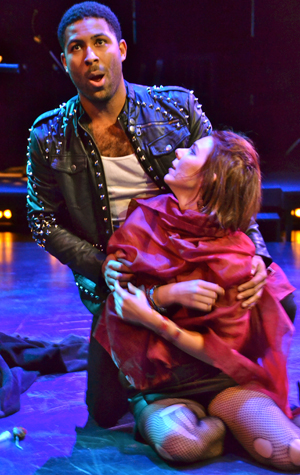 Georges Bizet's lusty opera Carmen has been seducing audiences for nearly a century and a half. With a captivating score and one of the most famous arias ever written—the irresistible "Habanera"—Carmen is the story of a doomed affair between a sultry gypsy and a Spanish soldier. The College of Fine Arts is wrapping up its 18th annual Fringe Festival with an intimate version of Peter Brook's critically hailed 1981 adaption of Bizet's masterpiece. The production of La Tragédie de Carmen will run for four performances this weekend at the BU Theatre's Lane-Comley Studio 210.
True to the Bizet score but without the grand opera's accustomed flourishes, the Fringe Festival production offers something perhaps more compelling than spectacle—a chance to be just feet away from the performers in a space that seats no more than 100 people. "You're never more than 20 feet from an actor," an arrangement that's as riveting for the singers as it is for the audience, says musical director William Lumpkin, a CFA associate professor of music and artistic director of the Opera Institute. "The Peter Brook version of Carmen is a taut, intense, nonstop 90 minutes of theater" that concentrates the characters' relationships and emotions, and the tragic effects of Carmen's seduction and the naïve, smitten Don José's jealousy. The opera, considered brazen, immoral, and overly graphic during its brief original run at Paris' Opéra Comique in 1875, traces Don José's downfall as he abandons his childhood sweetheart and his military career for a temptress whose infatuation with a bullfighter puts him into a jealous rage. For those who've never seen the opera, suffice it to say that it doesn't end well for Carmen.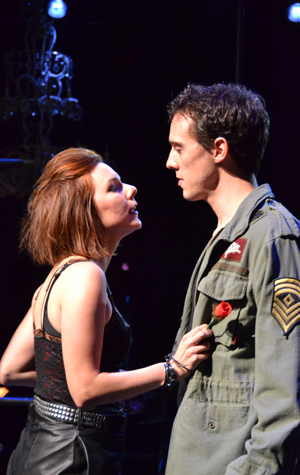 Sung in French and accompanied by English supertitles, the CFA production features alternating casts, with Carmen being sung by mezzo-sopranos Alexandra Rodrick (CFA'16) and Stephanie Zuluaga (CFA'15), and Don José sung by tenors Jesse Darden (CFA'16) and John Nevergall (CFA'16). For this scaled-down production, the traditional orchestra has been replaced with a standard 14-piece chamber ensemble. "But there are some interesting—and surprising—diversions from Bizet," says Lumpkin, who is directing the Tragédie for the third time in his career.
"In Fringe Festival productions, we have the opportunity to explore the close-up dramatic possibilities of an opera," says stage director Jim Petosa, a CFA professor and director of the School of Theatre. "In both design and performance, collaborators get to stretch their imaginative muscles to mine the scores and libretti for an authentic humanity that is stunningly vulnerable, given the minimalistic presentation and the compelling intensity of the space."
The final 2014 Fringe Festival production, La Tragédie de Carmen, is playing at the BU Theatre Lane-Comley Studio 210, 264 Huntington Ave., Boston, on Saturday, October 25, at 2 and 7:30 p.m., and Sunday, October 26, at 2 and 7:30 p.m. Tickets are $7 for general admission, $3.50 for CFA members, free with BU ID at the door on the day of performance, subject to availability. Purchase tickets here or call 617-933-8600. To get to the BU Theatre, take the MBTA Green Line E trolley to Symphony or the Orange Line to Mass Avenue.