Assembly Line Valentines
CAS class' fundraiser for women's shelter: commission a personal poem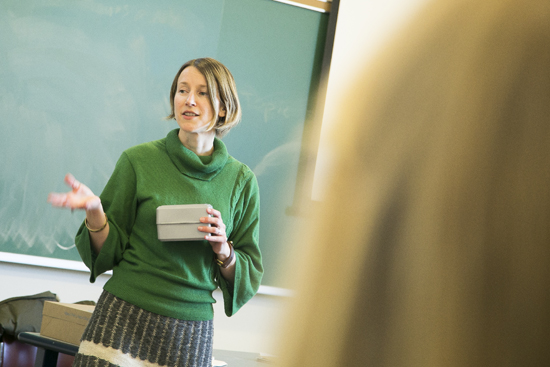 Still scrambling for a Valentine's Day present for that special someone in your life? Forgo the clichéd flowers and chocolate and instead give something truly unique: a crowd-sourced valentine written by students in the introductory writing seminar WRX 100: Poetry Now. Tomorrow, the writing students will collaborate on creating personalized poems for a price that beats the typical mass-produced Valentine card. Proceeds will benefit the Jeanne Geiger Crisis Center, a local shelter that aids victims of domestic violence. The event is being held from 11 a.m. to 2 p.m. in the GSU Link.
Billed as Assembly-Line Valentine, the exercise gives customers the opportunity to commission a valentine, for a suggested donation of $3 to $5. First, a buyer will either provide a title for a poem or choose a title that Poetry Now students generated in advance. Then a trio of current and former Poetry Now students, faculty, and staff will sit at typewriters in one-minute shifts. At the end of each shift, the poet will pass the poem-in-progress on to the next writer. At the end of the three-minute exercise, the authors will sign the poem.
The lunchtime event will demonstrate to the BU community that poetry can be collaborative, says Jessica Bozek, an instructor in the College of Arts & Sciences Writing Program, who teaches Poetry Now. "The thing that poets and artists really like about collaboration is that it frees you from your own habits, and you never know what's going to happen," she says. "In this type of event, you're going to get lines from someone else and write something that you never would have thought of if you had not seen those lines. There's freedom in the process."
As an MFA student at the University of Georgia, Bozek participated in a similar assembly-line poetry event. She wanted to challenge her BU students to think about how art could serve a social cause.
"The Jeanne Geiger Crisis Center helps victims of domestic violence, and you might be thinking, how do Valentine's Day and domestic violence go together," she told her class last week. "Valentine's Day is a commercial holiday, and if this event is a way to highlight the realities of relationship violence for people, then that's a good thing."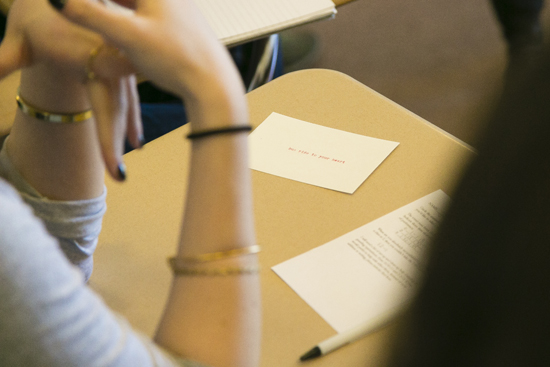 Bozek says she hopes tomorrow's Assembly-Line Valentine fundraiser also raises poetry's profile on campus. Poetry Now is part of Arts Now, a series of writing seminars run by CAS and the BU Arts Initiative that encourages students to experience art in a way that ties it to the present. Students in the Poetry Now class write and workshop poetry and contribute to the class' online journal, The First Experiment. They also read contemporary poets such as Amaranth Borsuk, Eduardo C. Corral, Brian Foley, Anna Ross, and Julia Story, and either meet the poets in person or ask questions over Skype.
David Monti (SMG'17) says the class has proven a welcome respite from his laborious SMG courses and that it offers a chance to be creative. "The funny thing is a lot of time we work in teams in my SMG classes," Monti says, "and before this Valentine event I never would have imagined collaboratively writing poetry. It's cool to see all of the different dimensions that a team can bring to a poem."
During part of last Friday's class, 16 Poetry Now students practiced writing collaboratively. Bozek passed around index cards with titles such as "Random acts of hand-holding," "Be my multivitamin," and "Bus ride to your heart." After she explained how the event would work, the class split into groups of three and four and did a trial run.
Once time was up, Montana Airey (CAS'17) read her group's valentine to the class:
It was the alcohol in me
That braved me to say 'I love you.'
That made me feel like I could do,
Like I could say and create.
But maybe I should say 'thank you' to that which twisted my thoughts.
For if I had not taken another sip that night,
How would you have heard those words?
Sure beats a card from Hallmark.
Assembly Line Valentine is tomorrow, February 14, at the George Sherman Union Link, 775 Comm Ave, from 11 a.m. to 2 p.m. The event is open to the BU community, and the suggested donation is $3 to $5 per poem. Find out more about the event here.