Women's Lacrosse Returns to Action Tomorrow
Terriers aiming for at-large bid to NCAA tourney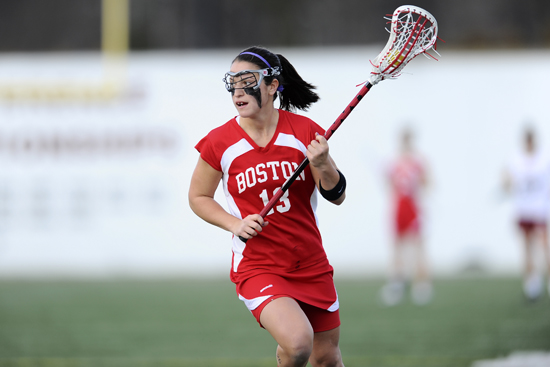 For the BU women's lacrosse team, this season promises to be unlike any previous season. For starters, it will be the last time the Terriers compete in a conference they've dominated in recent years: they've won six of the last eight America East conference titles. Next fall, the team will play in the Patriot League, a move that saw America East banning it (and all BU teams) from competing in the conference championship this spring.
"I think it's kind of bittersweet," BU head coach Liz Robertshaw says. "It's a conference that we've had success in and that we've enjoyed playing in. The New England rivals, especially Vermont, UNH, and others—it's been a lot of fun to play against them."
As well as the University joining a different league, next fall will see the newly minted Division I varsity men's lacrosse team sharing Nickerson Field with the women's team.
Last year, the women ruled in America East play, posting an impressive regular season record of 11-5, 6-0 conference. The Terriers' hopes for an NCAA tournament bid were crushed, however, when conference foe Albany beat them 15-9 in the AE semifinals last May.
"We have a lot to prove this year," says Christie Hart (CGS'12, COM'14). "It's not the ideal situation without the conference playoffs, but we want to be regular season champs. We plan to win a lot of games."
The Terriers face a slew of tough opponents this spring. In addition to hosting top-20-ranked Ohio State and Dartmouth next month, the final two away games of the season are against Cornell and Duke, also top teams. Because of the America East sanctions, BU will need to earn an automatic bid to the NCAA tournament, which should be greatly helped by the expansion of the NCAA tournament field this year from 16 to 26 teams.
"I think it's great," says Robertshaw. "I worked pretty closely with the NCAA to get this expansion to happen. I think it's a good year for us to do it. We've changed our schedule so that we have more of an opportunity to get into the tournament. We have our job cut out for us, but it's pretty exciting."
"It's the perfect year for it to happen," says Danielle Etrasco (SHA'13) one of last year's cocaptains and sole captain this year. The Massapequa, N.Y., native has led the team in scoring the past two years, posting 115 goals during that period. She was named to the U.S. Women's Lacrosse National Team during the off-season, the first Terrier ever to receive that honor.
"She's just a player who makes everyone around her raise their game," Robertshaw says. "It's kind of hard to put into words what she's meant for this team. When we're down by a goal or two, she'll say, 'Give me the ball, let's go,' and I think that's really special to have on your team."
The team will be looking to replace three of last year's top seven scorers who graduated in May. But Robertshaw is confident that freshmen like Jill Horka (CGS'14) and Sofia Robins (CAS'16) can fill the void.
"We're pushing the freshmen to take more chances and not get worried about making mistakes. I think you're going to see some really good things from them," says Robertshaw. "You're going to see them step up, and you're also going to see some of the sophomores who had limited playing time last year step into bigger roles."
Christina Sheridan (SHA'14) is expected to see a lot of action in net this season, along with Kim Elsworth (SAR'13). Sheridan started all 17 games last season, making 7.29 saves per game and giving her the third best record in the conference.
"As always, we want to go further than we ever have before," Etrasco says. "We are facing six teams that are in the top 20—that's more than we ever have before. We have to go out and focus one game at a time. Going further than we ever have is going to be a tough task without the conference championship, but it's something we look forward to."
The Boston University women's lacrosse team hosts the University of Massachusetts Minutewomen tomorrow afternoon, Wednesday, February 27, at 3 p.m. at Nickerson Field, 285 Babcock St. Tickets are $5 for the general public, $2 for BU students, faculty, and staff, and free with a sports pass.
Paul Ryan can be reached at pryan15@bu.edu.