Uncovering a Revered Utopia's History
GRS alum organizes exhibition of Brook Farm archaeological treasures
Over its long and storied history, Brook Farm, in nearby West Roxbury, has been put to many uses: first as a Native American hunting ground, later as a dairy farm and a Civil War camp, and more recently as a Lutheran-run orphanage. But the 179-acre parcel is best known as the site of one of the country's most famous Utopian communities. Founded on the principles of Transcendentalism, the community lasted just six years—1841 to 1847—before it collapsed.
Today the site is a National Historic Landmark, and thousands of artifacts excavated from it more than two decades ago were haphazardly stored in 50 boxes at Boston's City Archaeology Lab, just down the street from Brook Farm, where they sat untouched.
Now, thanks to the work of archaeologist Sarah Keklak, many of the uncovered secrets of Brook Farm's past can be seen in the exhibition Beyond Utopia: 5,000 Years at Brook Farm. Keklak (CAS'09, GRS'13), who recently earned a master's in archaeological heritage management at BU, got involved in the project almost by accident.
In 2012, she responded to a request from Boston's City Archaeology Lab for volunteers to help organize its holdings. On a hunch, she contacted city archaeologist Joe Bagley (CAS'06), hoping to find a thesis project at the lab. Bagley assigned her to put together the lab's first-ever exhibition—a collection of items that would tell the story of Brook Farm as it evolved over thousands of years. Starting in September, Keklak began painstakingly sifting through thousands of items, ultimately selecting 132 that illustrate the site's fascinating history.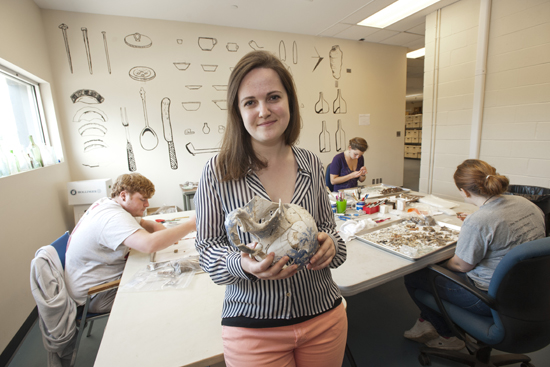 An eclectic history
Native Americans first used the hilly terrain around Brook Farm as a campsite and hunting ground about 5,000 years ago. Around 1630, Colonial settlers established a dairy and crop farm there. In 1841, the property was sold to George Ripley, pastor of Boston's Purchase Street Unitarian Church. Dissatisfied with the church's theology, Ripley wanted to establish a utopian community based on the ideals of the Transcendentalist movement, which emphasized self-reliance and a belief in the inherent goodness to be found in man and nature. Thus began the Brook Farm Institute for Education and Agriculture, whose 20 members soon grew to about 120. Among the community's earliest residents was novelist Nathaniel Hawthorne, author of The Scarlet Letter, who quickly left after finding himself at odds with the community.
In addition to a farm building, the community built a school, residences, a factory, and a greenhouse. A nearly completed residential building, known as the Phalanx, was destroyed by fire in 1846. The building had cost a staggering $7,000 to build, and the group could not recover from its loss. "It was financially and emotionally devastating for the community," notes Keklak. In 1847, they disbanded.
An almshouse then occupied the site, which was converted during the Civil War into Camp Andrew, home to the 2nd Massachusetts Regiment of Infantry. In 1871, the Lutheran Church purchased it and ran a home for orphans until 1943. Later converted into an institute for children with behavioral problems, it closed in 1974. A 1977 fire destroyed one of the few remaining buildings from the Brook Farm era, and in 1984 a historic cottage was a victim of arson. The farm was listed as a US National Historic Landmark in 1965 and later listed on the National Register of Historic Places. Since 1988, the site has been operated by the Massachusetts Department of Conservation and Recreation (DCR).
Making sense of it all
Archaeological research on the Brook Farm site began in the 1990s, led by the DCR, the city of Boston's Environment Department, and Harvard University's Archaeological Field School. The dig was led by Steven Pendery, then Boston's city archaeologist and now director of archaeological services at the University of Massachusetts Amherst.
The digs had collected thousands of artifacts, including Native American spear points and stone tools, Colonial-period clothing and ceramics, 19th-century ceramics and dinnerware, money, toys, and more. But the uncategorized items sat untouched for two decades at the City Archaeology Lab because of budgetary issues and lack of staff.
Keklak says that she was given free rein to create the Archaeology Lab's Brook Farm exhibition. She acknowledges that while she didn't know much about the site before embarking on the project, she soon became enthralled by its history.
She began by reading everything she could get her hands on, including the archaeological report on the 1990 and 1991 digs. As she began to think about which items to include, Keklak remembered a course on international heritage management she had taken, where she learned about UNESCO cultural conventions. One point that was stressed was that preservationists should keep elements from every era recovered at a site, not just from one particular moment in its history.
"That was my inspiration," says Keklak. "When I was putting this collection together, I tried to select those artifact that would best tell the story of a site that has been around for thousands of years. I really wanted local people to come and realize that the site is in their backyard, and that it has been such an important area for different groups of people."
The next challenge was determining the exhibition's layout. With five large wooden display cases to work with, Keklak chose to have the display flow in a circle from left to right—in a kind of natural timeline of the site. She says everything "fell into place" once she decided to organize the items in chronological order. The first case displays artifacts dating from the Native American period through the Colonial era and the early 19th century; the second, third, and fourth cases contain pieces from the years as a utopian community, organized into categories like food storage, work, architecture, games and music, and smoking and recreation. The last case displays artifacts from the Civil War period through the decades as an orphanage and treatment center for children.
Keklak says she had a rough idea of what she wanted to feature in the exhibition. For example, she had read about the transcendental community's workshops and printing press. She dug through the dozens of boxes until she found shoe buckles and leather and letters used in printing the community's newsletter.
She and Bagley went to Home Depot several times for supplies to make the display stands for the artifacts, then chose historically correct blue paint for the exhibition's walls. Finally, she photographed all of the exhibition's artifacts for cataloging purposes and created a large map and write-ups of Brook Farm's history for visitors.
Keklak says that dozens of visitors have stopped by the lab to view Beyond Utopia since it went up in February and the feedback has been positive. When a new exhibition is installed in the Archaeology Lab in a few months, one of the five cases from the current show will remain as a permanent Brook Farm Historic Site display.
Keklak has found the experience of mounting the Brook Farm show invaluable. "I've learned how to put together a museum exhibition, and that this is a site that people thought they knew," she says. "It was my job to call attention to everything else that happens here. Everyone associates Brook Farm with the Utopian community, and this area is still drawing people to it, even 5,000 years after its first visitors."
To visit Beyond Utopia: 5,000 Years at Brook Farm, email Joseph.Bagley@cityofboston.gov to set up an appointment. The exhibition, at the City Archaeology Lab, 201 Rivermoor St., West Roxbury, is free.