Trying to Pin Down a Victory
Wrestling hosts CAA Championships Saturday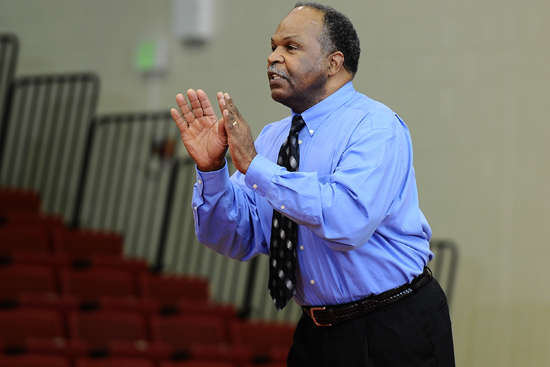 When the BU wrestlers hit the mat for the Colonial Athletic Association (CAA) Championships on Saturday, they will be coached by a man who is an institution in the sport. Carl Adams, now in his 32nd season for the Terriers, is arguably one of the most successful wrestling coaches in the NCAA. Adams recently presided over his 300th winning match for BU, becoming only the 20th coach in NCAA history to win that many matches for a single school.
"It means I've been here a long time," Adams says, laughing. "I was excited for our wrestlers, because they were more excited about it than me. But more than anything, I think it says something. It says that you stuck with your sport, you worked pretty hard at it, and you had success."
The Terriers, with a 9-9 record, have faced a number of challenges this season. Hampered by a string of injuries, the team has lost some tough matches.
"I feel pretty good about the way we ended up this season," Adams says. "During the season it was a little up and down, but that's what happens when kids are injured. But I think the attitude of the wrestlers has been tremendous."
The Terriers go into this weekend's championship fresh from two big wins: in their latest matches, they beat both Rider University and Princeton. The Rider win was particularly sweet: not only did it hand Adams his 300th victory, it was only the second time in 19 years the Terriers have defeated the Broncs.
"The Rider win was the biggest this year, no question about it," Adams says. "They have a winning record, they've beaten some pretty good teams, and they're really solid. Everyone stepped up for us. If you're going to win a match during the season, that's the match you want to win."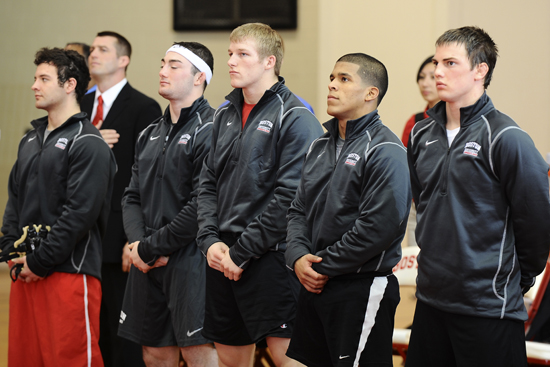 Leading the Terriers this season are tri-captains Kyle Czarnecki (SMG'13), Kevin Innis (SAR'14), and Nestor Taffur (MET'14). The threesome have won some key matchups this year, most notably when each pulled off victories against Rider, with Taffur winning the marquee match to seal the victory for BU.
"They've been some of the best leaders we've ever had," Adams says of this year's captains. "They've been a lot of fun to work with, because they come to practice every day ready to work. They push each other, they motivate each other, and that motivates the coaches."
For Taffur, it's been a particularly rewarding season on the mat. The redshirt junior has a fantastic 31-7 record this year, winning all 6 of his CAA matches and going 16-1 in dual matches. But for him, this weekend is all about the team.
"I feel like every person we put out there this weekend has the potential to win," Taffur says. "We've never been in a situation like this in the past four years. There have always been injuries in the past. This is the first time we've had 10 healthy guys going into the conference tournament. We're starting to peak right now."
Does hosting the CAA Championships give the team home field advantage? Yes, says Adams, noting that the Terriers have hosted the tournament only once before.
"It's good to be on your home turf," he acknowledges. "You get to sleep in your own bed, you're familiar with your surroundings, and you get to wrestle in front of your own fans. So we should be pumped, we'd better be pumped, and I think we are pumped. The kids have been talking about it all year."
BU will be one of six teams on Saturday attempting to dethrone reigning CAA champion Hofstra University, which has won the event 10 of the last 11 years. Adams believes that this year, any of the six could be the victor. Besides BU and Hofstra, competing will be Drexel, George Mason, Rider, and Binghamton. League leader Old Dominion is ineligible for the team title because it is switching conferences, but its individual wrestlers can compete.
"It's going to be a very exciting weekend, because all the teams are pretty good," Adams says. "There's not a weak team in the CAA. On a given day, any team could win. We've all beat each other, and it's all about who's hot on that one day. It can go to anyone."
The BU men's wrestling team hosts the CAA Championships on Saturday, March 9, at Case Gymnasium, 285 Babcock St. Doors open at 9 a.m. and the first matches begin at 10 a.m. The daylong tournament concludes with finals and consolation matches starting at 7 p.m. Tickets are $25 for adults and $15 for children under 17 and college students.
Paul Ryan can be reached at pryan15@bu.edu.