Tracking Your IOUs on an iPhone
BU brothers create an app that makes it possible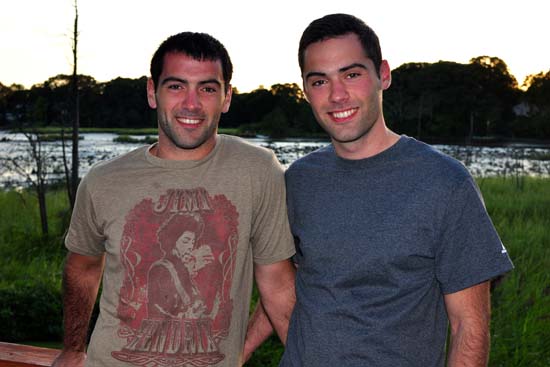 You know how it goes—a friend promises to pay you back for covering his bar tab, but the money never makes it to your wallet. Roommates splitting rent, bills, and groceries may mean well, but get confused by money constantly changing hands. These can become thorny issues. Now, a new free mobile app called My Running Tab, developed by brothers Stephen Fox (LAW'16) and Ben Fox (CAS'12), allows friends to keep an ongoing tally of how much they owe one another.
The app lets users create IOU accounts with one or more people. To do so, the user opens a new tab and selects "I owe," "Am owed," or "Split bill," and then enters the amount. The process takes about 10 seconds. With just a few clicks, they can see how much they owe or are owed. Over 1,200 people have downloaded the app from the iTunes store since its debut in May.
Bills can then be paid back electronically via PayPal, using mobile payment systems Venmo or Square, or in cash. Because of the small transaction fees associated with using some of these services, Stephen says that My Running Tab encourages users to literally keep a running tab with one another, instead of settling up by paying each individual bill.
The idea of creating the app came from Stephen's experience living in an apartment with eight roommates during his senior year at Syracuse University. Each roommate was in charge of paying one bill, and then collecting from others in the house.
"When we bought something, we'd try to remember to write it down on a single piece of paper, which inevitably got ripped or lost," he says. "And there's always that one person who ends up paying and getting shortchanged. It got annoying, so I tried to think of a way to keep track on my phone."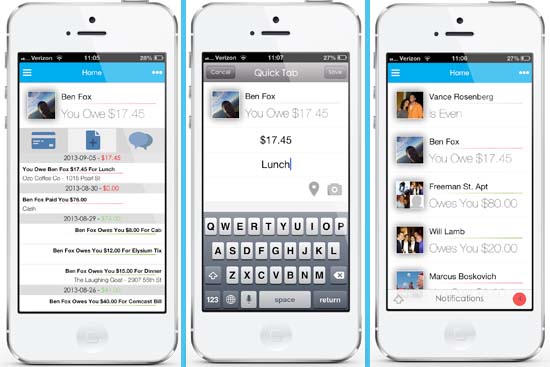 In January 2012 he approached his younger brother, Ben, who was majoring in biochemistry. Ben had an interest in apps and was teaching himself how to code. Stephen challenged him to create one that would keep track of IOUs electronically.
The two began by researching the mobile payment industry, which Ben says is a hot field to be in right now. Consumers are realizing that paying for merchandise at a store using a mobile device is more convenient than waiting in line for a cash register and allows them to receive receipts electronically. A recent article in the Wall Street Journal reports that many restaurants and retail stores are switching to payment devices that plug into smartphones and tablets, largely because that means they can do away with expensive credit card terminals. Business is booming—Square processes more than $15 billion in payments annually, according to the Journal, and PayPal handles nearly $14 billion in transactions on mobile devices alone.
The brothers, who grew up in New Jersey, started building the app. Stephen had some familiarity with Photoshop, so he focused on the design, and Ben worked on engineering and programming so the app would work on Apple's iOS7 system. Through "dozens of iterations" and "lots of trial and error," they enlisted the help of family and friends for input on what was, and wasn't, working. With their own financing, they officially launched My Running Tab in the iTunes store in May and released version 2.0 last month. Currently the app works only on Apple devices.
Ben and Stephen say that creating and running a business has brought them closer, especially since they no longer live near each other. (Ben now works as a freelance app developer in Denver, Colo.) "There have definitely been times when we've fought over things, but our work keeps us talking throughout the week, when sometimes we'd be too busy otherwise," says Stephen.
The number-one complaint they get from users: being afraid that using the app makes them look cheap. "I tell people they would keep track of how much they paid anyway, and this is just an easier way of doing things," Stephen says.
And Ben adds, "The only place you don't want to use it is on a date."