Snow-Delayed Softball Home Opener Today
Reigning AE champs host UConn, BC this week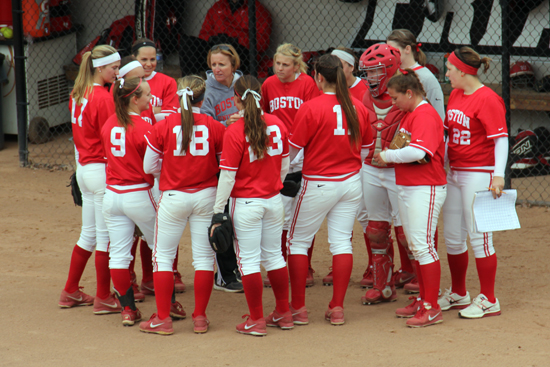 Kathryn Gleason has been eagerly anticipating this day for seven months. Last August, she was appointed BU's new head softball coach. Ever since, Gleason has been itching to play on the team's home field. The Terriers were scheduled to host their home opener on March 23, but a surprise snowfall pushed the game back. This afternoon, the team finally takes the field, hosting UConn.
"We're ecstatic," says Gleason, former assistant softball coach at UMass. "We were just excited to get on the field to practice this past week. We've been practicing inside since the middle of January. It's hard. We played 21 games on the road in Florida and Arizona, and then we had to come back inside. We're just excited to play again."
Gleason has taken charge of a successful 2012 squad. The Terriers finished with an overall record of 41-16, won their fourth straight America East regular season crown, and took the America East tournament—their final AE conference championship. They are ineligible for this year's tournament because starting next year, BU switches to the Patriot League.
In last year's NCAA tournament, BU lost a hard-fought first game to the University of Arizona. The next day the team avoided elimination by defeating Iona in a 13-inning thriller. Later that night, the Terriers went up against the number-one team in the nation, the University of California Golden Bears—and were defeated 8-0.
"We were confident that if all the chips fell our way, we had a chance to beat Cal," Jayme Mask (CAS'14) says. "But we had just played 13 innings against Iona and we were beat, because it was about 12 or 1 in the morning our time when we started playing. We were just like, the odds are stacked against us, we're facing the number-one team in the nation, let's just go out there and have fun. We lost that game, but no one was upset because we did everything we could."
So far this season, the Terriers (9-16-1) have played 26 games—all on the road. Today's game against UConn and tomorrow's against BC are nonconference matchups, but their remaining games are all against America East foes.
Leading the squad's offense this season is Mask, who has a .333 batting average and has recorded about a hit a game. Megan Volpano (CAS'14) is the only other Terrier with a batting average over .300.
On the mound, Whitney Tuthill (COM'13) is expected to see most of the action, with strong assists from Erin Schuppert (CAS'13) and Lauren Hynes (CAS'16). Tuthill posted an impressive 15-6 record last year, with a 1.77 ERA, earning America East All-Conference Second Team honors.
"I don't like to consider myself a number one because it varies day-to-day," Tuthill says. "I like to get the ball, I like to pitch, I like to be in control, so being able to start a lot of games helps. I got a lot of the starts over break, but in the future, Lauren and Erin are going to pitch a lot more."
Gleason says that even though there will be no conference tournament to follow, the team is now focused on winning its fifth straight America East regular season crown. The new coach is confident her players have the talent and resolve to make that happen.
"When I came here, everyone told me that these players are true Terriers," Gleason says. "They keep nibbling at your ankles, and they won't give up. They play with energy and enthusiasm every day. The team is just happy to be home and representing BU."
The Boston University softball team hosts the University of Connecticut today, April 3, at 4 p.m. and Boston College tomorrow, April 4, at 4 p.m. The BU softball field is on Ashford Street, across the street from the Track & Tennis Center. Softball home games are free and open to the public.
Paul Ryan can be reached at pryan15@bu.edu.