POV: BU Continues to Reflect Its Methodist Origins
Learning, virtue, and piety endure on campus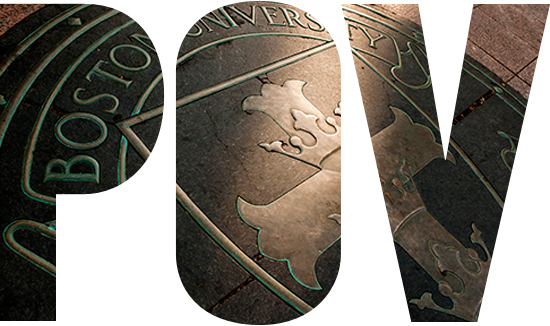 "POV," a new addition to BU Today, is an opinion page that provides timely commentaries from students, faculty, and staff on a variety of issues: on-campus, local, state, national, or international. Anyone interested in submitting a piece, which should be about 700 words long, should contact Rich Barlow at barlowr@bu.edu.
The scene: a beautiful, sun-dappled Friday on Marsh Plaza. Thanks to the College of Arts & Sciences, ice cream is being served from four formal stations, and hundreds have come to partake. The chapel organ is booming, as musicians prepare for a busy weekend. The Charles River glistens beyond the BU Beach. Blue sky, cool air, communal gathering—and ice cream. A happy hour or two.
I watch as Terriers older and younger sample the ice-cuisine. Some look into the chapel—named for a Methodist minister, our fourth president, Daniel Marsh (STH'08, Hon.'53), as is the plaza itself. Some squint up above the front chapel door at John Wesley, in a robe, reading his Bible—the founder of Methodism, an English Protestant movement, in the 1700s. A couple, finished with their cones, glance at the Methodist hymnals in the pews. Three young men surround the Boston University seal, next to the Martin Luther King, Jr. (GRS'55, Hon.'59) monument, and avoiding stepping on the seal, read its motto, crafted long ago by Daniel Marsh—a thoroughly Methodist triad: Learning, Virtue, and Piety. I wonder: how could I briefly say to these hundreds just what lasting meaning the Methodist provenance of Boston University continues to have? What difference does it make that in 1839 John Dempster—a Methodist minister from upstate New York—founded the theological seminary that later became our University? After all, BU today is a large, urban, nonsectarian, northern, private research university, which includes women and men from the whole inhabited Earth. What lingers from its birth out of Methodism?
Learning. The seal tells the story. From its inception in America, Methodism, more energetically than any other tradition, established schools and colleges, from Beacon Hill in Boston all the way to Claremont in California. Today, 128 universities, seminaries, and other schools adorn America, all fruit of an early love of learning, exemplified by John Wesley himself—an Oxford don, a classics scholar, a biblical theologian. Speaking of his beloved Bible, Wesley said, "I desire to be homo unius libri," "a man of one book." Methodism never invested all authority in the Bible, because learning about the Bible pointed Wesley and his followers to other truths in history and in reason and in experience. Learning was the key. My namesake, BU Professor Allan Knight Chalmers, a mentor to Martin Luther King, Jr., and others, implored his graduate theological students to read "a book a day." The old saying, nihil humanum, "nothing human is foreign to us," expresses the love of learning inherited from our Methodist past. Recognizing, with John 8:32, the crucial treasure of learning, of knowledge, we drank education with our mother's milk at the birth of BU.
Virtue. Learning and virtue and piety—knowing and doing and being, if you will—all are part of becoming fully human. Methodism emphasized, and emphasizes, the shared experiences in life: "that which has been believed always and everywhere by everyone"; "in essentials unity, in nonessentials liberty, in all things charity"; "a people happy in God"; "the best of all is, God is with us." Our BU history comes out of a movement of doers, in the main—dreamers, yes, and doubters, too, but largely doers. They put a church in virtually every county in the country. They split, North and South, ahead of the Civil War, over slavery. Having been poor, they ministered always and fully with the poor. They tithed (as most still do). Wesley put it this way: "Do all the good you can, at all the times you can, in all the ways you can, by all the means you can, to all the people you can, as long as ever you can." Faith without works is dead. BU over 170 years has defined itself, not by whom it excluded, but by whom it included—the children of the poor, the working class, former slaves, people of color, different religious traditions, women—and in our time, the otherwise abled, the gay and lesbian community, internationals, and others.
Piety. I admit this is a superannuated word. It sounds vaguely and curiously cloistered. But what it means is vital and crucial for you and me. That is, what we learn and how we act shape who we are. There is a lasting, soulful dimension to the human being, an own-most self behind the public persona, a multidimensional person down deeper than the one-dimensional surface. At heart, for the Methodists, piety meant love, to love one another, even as God has loved us (1 John 4:7). If we are not both lovers and knowers, both learners and lovers, we have left behind part of our souls. But if we do love one another, these Methodists taught, God abides in us. There are many ways to keep faith. The tolerant, magnanimous openness of Methodism, at its best, reminds us so. "If thine heart be as mine, give me thine hand," said John Wesley. Under the seal on Marsh Plaza, on a sunlit, gleaming day, there lies the wonder and promise of love. And after all, without love, and an experience of love, what is life for? Charles Wesley, John's 18th-century musical brother, sang it this way, in a hymn written for the opening of an elementary school in 1762: "Unite the pair so long disjoined, knowledge and vital piety, learning and holiness combined, and truth and love let all men see."
I have to think that all these long-dead forebears would smile with delight at the next generation coming alive—knowing, doing, and being—in a happy gathering on a fall day on Marsh Plaza, Boston University.
Robert Allan Hill is dean of Marsh Chapel, a School of Theology professor of New Testament and pastoral theology, and the author of The Courageous Gospel (WIPF & Stock, 2013). He can be reached at rahill@bu.edu.
"POV" is an opinion page that provides timely commentaries from students, faculty, and staff on a variety of issues: on-campus, local, state, national, or international. Anyone interested in submitting a piece, which should be about 700 words long, should contact Rich Barlow at barlowr@bu.edu. BU Today reserves the right to reject or edit submissions. The views expressed are solely those of the author and are not intended to represent the views of Boston University.