Parking Made Easy
ENG alum's online service finds spots in lots across the country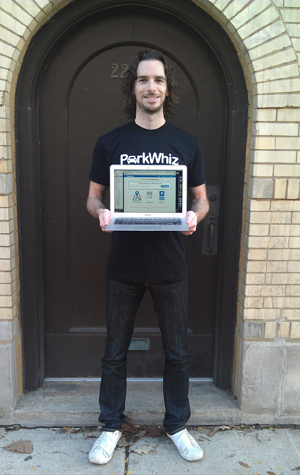 Fenway Park is a popular place. More than three million people go to the ballpark each year, and for many of them, the toughest challenge they will see is finding a place to park. It was that aggravation that compelled Aashish Dalal and Jon Thornton (ENG'06) to develop ParkWhiz.com, an online parking spot reservation service that today has access to parking spaces at more than 125 venues across the nation. The service, founded in 2006, allows customers to compare the spaces' prices, location, and amenities.
ParkWhiz stemmed from Thornton's senior design project, which he worked on with Thomas Little, a College of Engineering professor of electrical and computer engineering, designing a parking system that would allow drivers to locate a parking space in a garage or at a meter and make a reservation.
"Jon had a key role in developing the software," says Little. "It moved sensor data into the cloud by enabling parking spot vacancy sensors to communicate occupancy data to wireless gateways that collected information on parking availability."
Dalal, who had been working on a business plan for a parking technology company, came across a research paper written by Little. The ENG professor put him in touch with Thornton, who had intended to start at New York University's Interactive Telecommunications Program in fall 2006, but chose instead to team up with Dalal and work on ParkWhiz.
"Once NYU sent the first tuition bill in September, I decided I could get a much cheaper education by seeing where ParkWhiz went," he says.
For the first five years, Dalal and Thornton were the company, both supporting themselves with other jobs. By their third year working on ParkWhiz, they were able to take a small salary and by the fourth year the company had really taken off. "Since then, we've hired 16 people in a little over a year," says Thornton, who finds it "incredibly gratifying to work on something that hundreds of thousands of people use to make their lives easier."
Today ParkWhiz, which is based in Chicago, can support parking requests in dozens of cities and has booked more than $10 million in parking revenue. The company recently received $2 million in funding from Hyde Park Venture Partners.
"BU gave me exposure to people who were studying all sorts of different things—not just engineering," says Thornton. "This helped prepare me for the business world, where things don't fit into neat buckets, and gave me a large network to call on when I needed help."
Rachel Harrington can be reached at rachelah@bu.edu.
A version of this article was originally published by the ENG electrical and computer engineering department.