No Longer Lost in Translation
ENG alum helps create app for non–Chinese speakers
Two years ago, American Ryan Rogowski was building mobile games in China, and struggling with the language.
It would be helpful, he often thought, to have a tool that allowed you to look up characters on a phone simply by pointing your camera at the text. Rogowski enlisted the help of Huan-Yu Wu (ENG'10), and together they designed an iPhone app that can translate Chinese into English.
Rogowski met Wu shortly after he returned to the United States and encouraged him to join his small start-up company, Translate Abroad, based in Providence, R.I.
"I had a passion for image processing, and he was looking for teammates to build the app," says Wu. "We soon realized the potential of our project."
The free app is called Waygo, a name chosen because its pronunciation is similar to that of the Chinese word for "foreign country." Wu, who earned a master's in electrical and computer engineering at the College of Engineering, has been instrumental in the development of the app's image capture and analysis features.
The app makes life easier for travelers by using optical character recognition to read Chinese characters. After taking a photo of the Chinese characters on an iPhone, Waygo then provides the English translation.
"We decided to first focus on China and the East Asian market," Wu says, "because that's where our team had the most experience."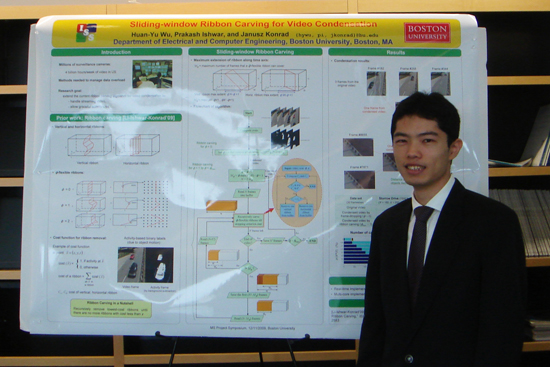 Wu is familiar with tackling new research. At BU, he studied under Janusz Konrad, an ENG professor of electrical and computer engineering, and Prakash Ishwar, an ENG assistant professor of electrical and computer engineering. Both professors, he says, pushed him to learn more about image processing, a skill he uses every day at Translate Abroad.
Although the company is still young, its Waygo app is already being noticed. At the Global Mobile Internet Conference–Silicon Valley last October, the app—then known as Waigo Translate—took home top honors, and $5,000, beating more than 200 competitors in the appAttack contest.
"The conference turned out to be a wonderful platform for keeping up-to-date with new technologies and connecting with great people," says Wu. "There were a number of people present who travel back and forth between the United States and China, so it was a good opportunity to build traction with our app."
While Waygo is still able to translate only Chinese into English, Wu and his team hope that it will soon be able to translate other languages, such as Japanese and Korean, and provide English to Chinese translations.
Rachel Harrington can be reached at rachelah@bu.edu.
A version of this article was originally published by the College of Engineering electrical & computer engineering department.