Nightlife: Darryl's Corner Bar & Kitchen
Where "soul, spice, and all that jazz" converge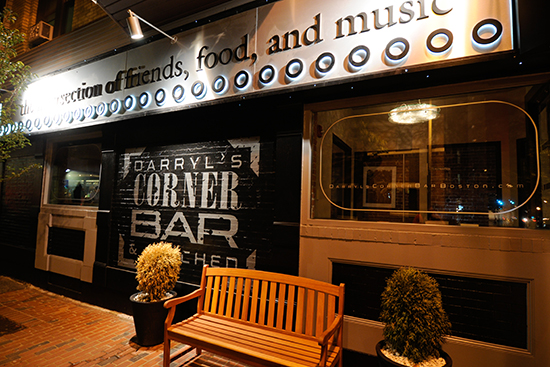 Darryl's Corner Bar & Kitchen is the epitome of cool. At quarter to seven on a recent Saturday night, the bar-restaurant-live jazz club thrummed with conversation as notes from a saxophone set the mood. Waiters glided by carrying Moscow Mules in copper cups and plates piled high with jambalaya. We were able to grab the last open seats at the bar, which provided a good view of the room.
Darryl's offers patrons a chance to listen to great jazz, but still be able to carry on a conversation. The décor is sleek and balanced, with instruments mounted above the bar. Paintings and black-and-white photographs line the exposed brick walls above comfy banquettes. By the time Melissa Bolling and her band began their set at 7 p.m., there wasn't a seat to be found. People kept arriving, drawn by Bolling's excellent Jill Scott covers and sax solos. By 8:30, the place was in full swing. At one point during a break in the set, the band's saxophonist played "Happy Birthday" to a beaming boy celebrating with his family.
If you're 21 or older, you can sit at the bar during performances, thus avoiding the $3 cover those seated at tables are charged. The wine list covers the basics, and the cocktail list is enticing. We sipped a concoction called the Nor'easter, Darryl's variation on a Dark and Stormy, featuring Gosling's dark rum, Gosling's ginger beer, and Allagash white ($9). The innovative cocktails range from $9 to $12 and feature ingredients like iced tea, limoncello, and blood orange juice.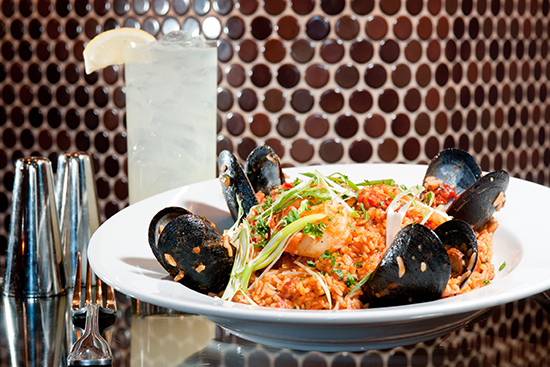 Heeding the call of our rumbling stomachs, we ordered several items from the tempting menu. Darryl's is deservedly famous for its high-end Southern comfort food—from sides like collard greens and black-eyed peas and rice ($5-$6) to such entrées as biscuits and gravy ($15), catfish with Cajun remoulade ($18), and barbecued ribs ($20). Chicken wings are also popular; you can order them peach sweet chile-, bacon BBQ-, country fried-, or buffalo-style ($10 for 8, $14 for 12). We started with a large pile of Bluehill Bay mussels swimming in a white wine and garlic sauce ($12). The mussels were steamed perfectly—garlicky and fresh. Next, we shared an entrée, the highly recommended shrimp and grits ($21). The cheese grits were crispy on the outside, fluffy on the inside, and served with shrimp, greens, and beans in tomato gravy. Although it could have benefited from a few more shrimp, the dish stood out and came with two complimentary corn muffins. We also ordered a side of candied yams ($6), which were flavorful and very sweet. Dinner entrées range from $16 to $24, but portions are large and filling: two people can easily share one entrée with an appetizer or side to round out the meal.
Boston real estate developer and restaurateur Darryl Settles opened his namesake establishment in August 2010. At the juncture of Boston's South End, Back Bay, and Roxbury neighborhoods, Darryl's lives up to its description as "the intersection of friends, food, and music." Tuesdays feature live reggae from 8 to 11 p.m. Live jazz acts perform Wednesdays through Saturdays from 7 to 11 p.m. On Fridays and Saturdays, the floor is cleared for dancing from 11 p.m. to 2 a.m., when a DJ spins a mix of hip-hop and R&B. Sundays boast an all-you-can-eat jazz buffet brunch from 10 a.m. to 3 p.m. for $23.95, with live jazz, and at night, live jam sessions from 6 to 9 p.m. showcase local jazz talent.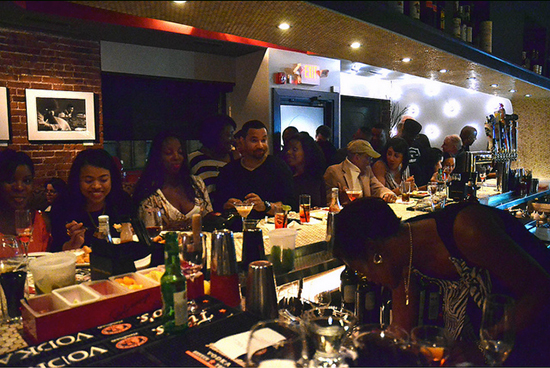 Darryl's attracts a young, lively crowd. The dress code is classy, but casual. And whether you stop by early in the evening, when you can enjoy half-price starters at the bar Tuesday through Sunday from 5 to 6:30 p.m., or later for an intimate nightcap and some of the best music in town, you won't be disappointed.
Darryl's Corner Bar & Kitchen, 604 Columbus Ave., Boston, 617-536-1100, is open Tuesday to Thursday, 5 p.m. to midnight, Friday and Saturday, 5 p.m. to 2 a.m., and Sunday, 10 a.m. to 10 p.m. Mondays are available for private events. Darryl's accepts all major credit cards. Take the MBTA Green Line trolley to Copley, transfer to the E line towards Heath Street, and get off at Symphony. It's about a six-minute walk to the restaurant. Find more information here and a schedule of events here.
This is part of a series featuring Boston nightlife venues of interest to the BU community. If you have any suggestions for places we should feature, leave them in the comments section below.
Erin Thibeau can be reached at ethibeau@bu.edu; follow her on Twitter at @erinthibeau.