Meet the Valedictorians
College-bound BU Upward Bound graduates triumph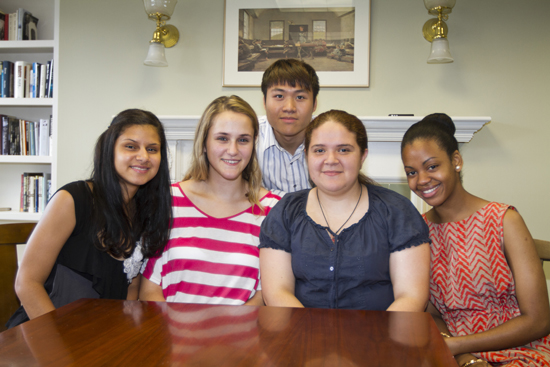 When Brankely Garcia joined Boston University's Upward Bound college preparatory program four years ago, she was a shy high school freshman and a new immigrant from the Dominican Republic, struggling with English. In June she graduated at the top of her class from Boston's English High School. Like her Upward Bound peers, Garcia will be the first one in her family to attend college. "Be resilient and motivated, and it will get better when you think you are going to give up," she told classmates, families, and teachers in her valedictory speech, ending with the quote, "Don't tell me that the sky is the limit when there are footprints on the moon."
Garcia, who is headed to Stonehill College later this month with plans to major in business, is one of three 2013 high school valedictorians who completed Upward Bound at BU. In addition, a valedictorian and a salutatorian successfully finished BU's Upward Bound Math and Science program. All are 18 years old and most of them have been part of the fabric of BU since their freshman year. One of the valedictorians, William Phung (CAS'17), will attend BU as one of 25 Thomas M. Menino Scholars this fall.
Launched in 1965, Upward Bound at BU is part of a national program funded by the US Department of Education, which spawned UBMS in 1991; both programs fall under the umbrella of the DOE's TRIO educational outreach programs. At BU the Upward Bound programs are based in the Boston Public Schools Collaborative Office at the School of Education.
"These five students represent what is best about SED, BU, Boston, and also our country," says UB project manager Reggie Jean (CAS'95, SED'05). "They have accomplished so much through their hard work. Through Upward Bound, BU helps Boston high school students who are willing to work hard have a chance to accomplish big things and become future leaders."
"In addition to preparing low-income and first-generation college-bound students for success in higher education, UBMS helps students develop their potential to excel in math and science and encourages them to pursue postsecondary degrees in those subjects," says Allison Cox, project manager for UBMS at BU.
Recruited either from one of four target high schools or five target neighborhoods in Boston, and the City of Chelsea, the 86 UB and 50 UBMS students enrolled in the programs are from low-income families and are expected to remain in the program—which is free and includes an intensive six-week residential summer session on the Charles River Campus—until their high school graduation. Racking up scholarships from a string of foundations, the students have completed courses in a range of rigorous subjects, from chemistry to Shakespeare. Living in Warren Towers Sunday nights through Friday afternoons and using campus facilities, they get a taste of college life (and college food). The 2013 graduates went on a field trip to New York City and on a New Hampshire rock-climbing adventure.
UB students based at BU often join volunteer efforts, most recently Cradles to Crayons, which collects new and nearly new children's items through community drives and corporate donations and distributes them to disadvantaged children. And they bond with peers, who, like Garcia, often come to the program nervous and a little wary, but emerge confident and excited about their futures. There is a lot of homework, but they also have a lot of fun, occasionally indulging in what UB graduate Mariama Bah calls "silly, childish things." Her fellow UB graduates laugh at the description, but none would elaborate.
UBMS student and Chelsea High School salutatorian Lejla Skokic will attend Harvard University in the fall. She says the BU program was "really weird" at first. "It was hard to adjust to being away from home and being with a lot of people I didn't know," says Skokic, who hopes to pursue a career in global health. "But after spending a summer at BU I couldn't wait to go back." Bah, a graduate of the Community Academy of Science and Health in Dorchester, recalls her UB peers coaxing her up a steep outcrop during the rock-climbing challenge. Conquering her fear of heights was one of her greatest accomplishments, she says: "Since then I feel I can do anything." Bah is doing a summer internship at a health clinic in Roxbury, and this fall she heads to the University of Massachusetts Dartmouth, where she will study business or law—possibly both.
"I will never forget who I am—an Upward Bound alum," Phung wrote in the UB Class of 2013 yearbook. The valedictorian at Snowden International School this past spring, Phung says his favorite UB class was advanced writing. Among his many essays was one about propaganda and George Orwell's Animal Farm. He plans to study acting and business at BU.
When she was a freshman at Brighton High School, Blanca Lopez was handed an UBMS application by her physics teacher. "Do this program; it's going to help you," the teacher told Lopez, who also became a Posse Scholar. At the time the El Salvador native was just learning English (she is now fluent). But she showed an aptitude for science, and her favorite subject at UBMS was math. She'll major in biology, with a concentration in neuroscience, at Bryn Mawr College.
What would her advice be to students considering Upward Bound? "It's going to help you do better in school, have better social skills," says Lopez. "It's going to prepare you a lot." And after you've completed UB, she adds, "you won't be afraid to have adventures and take risks."