MED Student Runs for All, Wants All to Run
Franklin Park Mile race Sunday to strengthen community ties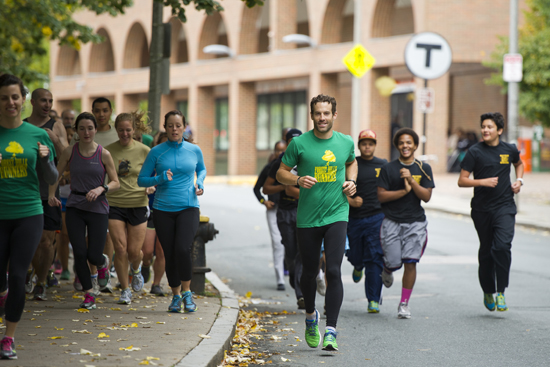 Owen Kendall recalls the shock he felt when two bombs exploded near the finish line of the Boston Marathon last April, killing three people, including Lu Lingzi (GRS'13), and injuring more than 200. The veteran long-distance runner had finished the race in under three hours and was walking through Copley Square to congratulate other runners when the explosions occurred. "I felt helpless, horrified, and frustrated," he says.
But in the days following the bombings, the 31-year-old Kendall (MED'15) noticed something remarkable. "I saw how close the city became in the wake of that tragedy," he says. "Boston is a somewhat segregated city, but after the Marathon, it became completely unified. So I really wanted to think of some way to use running to help our community bond like that in the future."
On Sunday, Kendall will realize his dream: an event billed as the Franklin Park Mile, a one-mile race around Boston's largest park. The goal, he says, isn't simply to get people moving, but to instill a sense of community by bringing together residents from the diverse neighborhoods that surround Franklin Park—groups of people who rarely interact.
"We live in a world where people are becoming increasingly disconnected, where there is a massive gulf between the richest and the poorest," he says. "But running is completely egalitarian, so we felt that we could use that as a way to bring people together and knock down some of the barriers of economic inequality."
Kendall has spent the last six months planning for Sunday's race. "We're reaching out to a different population," he says. "We've been contacting churches and community centers and marketing on a kind of grassroots level, because we don't want this race to be the same as all the others."
A veteran triathlete, Kendall has seen firsthand how running can bring a community together. After moving to Jamaica Plain two years ago, he started a free community running group with classmates Kristin Schwarz (MED'14) and Steven Mills (MED'14). Calling themselves the Forest Hills Runners (FHR), they began as a small group of a dozen runners that today is more than 100 strong, with runners of all ages and backgrounds.
"FHR is not like other running groups in that it caters to all runners," Kendall says, "from people who have been running their whole lives to people who are trying to convince themselves to take their first running steps. Everyone is connected through our shared goal, which is to improve our community as a whole." He believes that a shared activity like community running can empower an entire population.
And for him, the desire to foster community through running is deeply personal.
"Free community running saved my life," he says. "When I was going through a separation and divorce, I needed to be around people, and getting my body in motion really helped to stabilize everything else. I knew others were going through similar experiences, and I felt that we could get people connected through this completely human and natural thing."
Shortly after founding Forest Hills Runners, Kendall, who plans to pursue a career in family medicine, knew he needed to get local youth involved as well. "If you don't treat the kids and the parents, you can't make a change," he says. "If you treat them both, they will help each other by continuing to monitor each other's behavior."
Kendall teamed up with the Hyde Square Task Force (HSTF), a community-development organization that provides after-school activities for high school students struggling with their grades. HSTF runs dance, music, and theater programs for sophomores, juniors, and seniors, so Kendall partnered with the nonprofit to create a running group for freshmen, called Rookie Runners.
Alexis Agrinsoni (SSW'15) was hired to coordinate the program, which, he says, "teaches students resilience, community development, and leadership skills through running." Kendall and other MED students volunteer as mentors to the kids. "Owen comes in on a weekly basis to run with us," Agrinsoni says, "and he reaches the kids on a different level by helping them with reflections about what running means to them." Kendall says the goal is to help kids stay away from street violence and become youth leaders by promoting healthy lifestyles. Each of the 40 students enrolled in Rookie Runners plans to race in Sunday's Franklin Park Mile.
Kendall hopes the race will help not only build stronger ties between communities in Boston, but serve as a national model for other cities. After graduation, he wants to create a nonprofit that will sponsor free community running groups in cities across the country. "We're always talking about ways to prevent disease and save money for the American people in the field of medicine," Kendall says. "Well, here's a way to do both, while also dramatically improving people's lives and strengthening community ties. I believe community running has the potential to change the culture of the United States so that it ends up being much more equal and connected, and this race is one of the first steps towards that goal."
The Franklin Park Mile will be held on Sunday, October 20, at 2 p.m. at the Playstead in Franklin Park (near White Stadium), One Franklin Park Rd., Dorchester. The race entry fee is $10 for adults and free for those under age 16. There will be cash prizes for the fastest overall runners. Whole Foods and Zico will have promotional stands. Bib pickup and race-day sign-up begin at noon, or register in advance here.
Nate Weitzer can be reached at nweitzer@bu.edu.