Marsh Takes Manhattan
Historic NYC church hosts BU's chapel choir and orchestra
If musicians could patent performances, the Marsh Chapel Choir and Collegium (orchestra) might have a lock on Bach. For seven years, they've spotlighted Baroque composer Johann Sebastian Bach's church music in an annual series at Sunday services. That specialty, plus an in with a prominent BU alum, garnered an invitation to play and sing today at one of America's iconic churches.
Marsh's musicians will perform the Kyrie from Bach's masterwork, the Mass in B minor, at Trinity Wall Street's weekly (and free) Bach at One concert, which draws an audience of hundreds each Monday afternoon, says Marsh music director Scott Jarrett (CFA'99,'08). They will return to Trinity in March to perform another section of the Mass.
No outside ensemble has appeared before at Trinity's Bach concerts. Marsh's invitation came at the behest of Trinity music director and Grammy nominee Julian Wachner (CFA'91,'96), Jarrett's predecessor at Marsh Chapel. The invitation was born of both Wachner's fondness for his alma mater and his professional judgment about the music abilities of the musicians.
"Scott is an extremely talented individual, and I am proud of what he has achieved at Marsh," Wachner says. "Music-making is always more fun and interesting when there is a personal connection, and I look back at my time at BU very fondly. I am always trying to establish ties with other high-quality ensembles, and whenever there also happens to be a personal connection for me, it is an added bonus."
As for the choir and collegium, the venue provides "a wonderful means of connecting to a broad constituency of tourists and professionals in lower Manhattan," says Jarrett. "Its significance is due partly to the sheer volume—weekly cantatas of Bach—performed by a fully professional ensemble of singers and instrumentalists."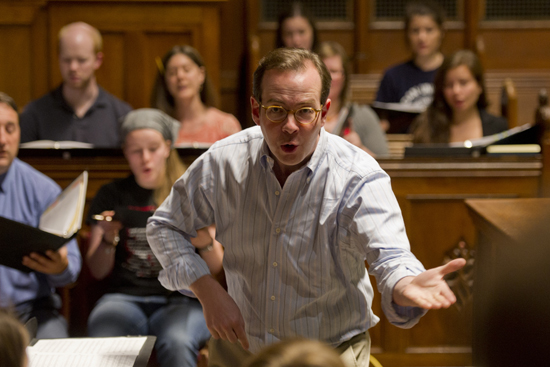 To prepare for today's concert, the Marsh team rehearsed all last week. The Mass in B minor is also the focus of this year's Bach series at Marsh, with the musicians performing the Kyrie at yesterday's regular service before boarding buses for New York. They will perform other sections of the Mass at Marsh's 11 a.m. Sunday services on December 8, February 23, and April 27, and the full work at a special performance in the chapel nave on Saturday, April 26. Each Sunday performance will be preceded by a 9:45 a.m. discussion about the work.
Big Apple Bach marks a rare off-campus excursion for the choir, which is usually consumed with rehearsals and performances Sunday after Sunday. It's the first time the choir and the collegium have toured together, Jarrett says, and the choir's first non-Marsh performance since it backed up the Rolling Stones at the TD Garden in June.
The Lutheran Bach (1685–1750) was a working church composer, cranking out hundreds of cantatas, chorales, passions, and other works that could be performed each Sunday.
In addition to his Trinity duties, Wachner also directs the Kennedy Center's award-winning Washington Chorus and teaches at Montreal's McGill University. He conducts on stages worldwide and has composed more than 80 works.
Trinity, an Episcopal church tracing its roots to 1697 and sitting where Broadway meets Wall Street, helped form Episcopalianism in the United States. After the 9/11 attacks, the church, located directly across from Ground Zero, sheltered hundreds of people and served as a center for rescue workers for months afterward. Today's concert will be held at the parish's St. Paul's Chapel.
As for the adrenaline rush of appearing at Trinity, "few things will ever top the cheers and shouts of the 19,000 people at the Garden for the Stones concert," Jarrett says, "but the music of Bach is its own remarkable thrill."