How Ford Became a Leader in Social Media
COM series brings alum to campus today to talk about his role
Ford Motor Company knew it had to find a way to reach young consumers after redesigning the Fiesta in 2009. The company anticipated the compact would appeal to a generation of drivers who were buying their first car and figured a giveaway would create buzz. So, Ford launched a contest and chose 100 drivers from thousands of entries to drive a Fiesta for a year. They also got free gas, insurance, and video cameras to record honest reviews about the car and were asked to tweet and post videos along the way. Called the Fiesta Movement, the campaign sparked chatter on social media, and the driver-generated content became the basis for the company's TV spots and print ads. The campaign worked so well that Ford is revamping it to introduce the 2014 Fiesta.
One of the people responsible for much of the campaign's success is Scott Monty, Ford's global digital and multimedia communications manager. Monty's team developed the social media component of the campaign, which helped Ford gain more than 1.8 million fans on Facebook and 206,000 followers on the company's Twitter page. General Motors, in comparison, has 479,000 fans on Facebook and 91,000 followers on Twitter.
"The Fiesta campaign was major and really put Ford on the map when it comes to social media," says Monty (CAS'92, MED'96, GSM'96). It also demonstrated, he says, that consumers trusted other consumers to give reliable, honest testimonials.
Monty will speak on campus today about his experiences leading Ford into the world of real-time social interaction. The talk, originally scheduled for April 19, was rescheduled because of manhunt for Dzhokhar Tsarnaev, who is now awaiting trial for his role in the Marathon bombings.
Monty's visit is part of the College of Communication's Doers Makers Innovators series, underwritten by the Boston-area advertising firm Mullen and begun by Edward Boches, a COM professor of advertising. The series brings to COM industry leaders who are helping to reshape the field of communication. Speakers have included Ben Malbon, managing director of Google's Creative Lab, and Gareth Kay, chief strategy officer with advertising firm Goodby, Silverstein & Partners.
As the leader of Ford's social media efforts, Monty has been ranked by Forbes.com as one of the top 10 influencers in social media and has been called "the best corporate social media lead on the planet" by the blog Social Media Explorer. He has appeared on Bloomberg TV, CNN, and NPR, and has been featured in numerous publications, including Harvard Business Review and the Wall Street Journal.
BU Today spoke with Monty about how he got involved in social media, the role it plays at Ford, and the steps he takes when the company introduces a new car.
BU Today: You're a triple Terrier, and your résumé is varied—you first earned a degree in classical civilization, and then moved on to a dual MS and MBA in medical science and health care management. What was your original career plan?
Monty: The original intent was to go to medical school, and I had my sights set on pediatrics. While I was at BU, I got involved with a variety of things. One of the reasons I became a classics major was to expand my horizons beyond the sciences. I knew I would be immersed in science for the rest of my life if I went into medicine, and I wanted to have a broad liberal arts education. Doing so exposed me to a lot of different people and a lot of different thinking, and I had an opportunity to be a resident assistant, a President's Host, and president of the Premedical Society, and I got the Scarlet Key award. That initial move outside of my comfort zone allowed me to expose myself to many more opportunities at BU.
When I started the first year of medical school, I realized pretty quickly that I wasn't ready to dedicate my life to the scientific side of medicine. I liked the human side more than the scientific side, but obviously you need the two to go hand-in-hand to succeed. So I looked around to see what else I could do with that, and one of the opportunities was an MBA with a concentration in health care management. This was the early- to mid-'90s, and opportunities in the medical field were a bit uncertain, with President Clinton attempting to pass health care reform legislation. I knew that having a little bit of scientific and medical knowledge as well as business knowledge would serve me well. I joined the two degrees up and never looked back.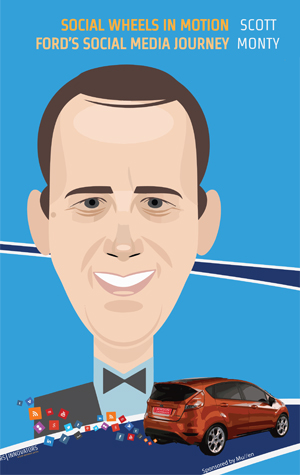 How did you become involved in social media?
I joined PJA Advertising and Marketing in Cambridge, Mass., and while I was there I started learning a little bit about social media, going to conferences and reading books. I eventually wanted to get my own thoughts out there, so that's when I started writing about it and made a name for myself that way.
Was this before social media really took off?
Absolutely. When I first started writing about social media—I think, it was mid-2006 or so—it was really just blogs and websites. Even corporate entities were only using blogs. There was no Facebook outside of the .edu system. Twitter was not even thought of yet in the early part of 2006. It was a vastly different world, but I was able to see the potential there, and I could see how companies were going to be using social media more to connect directly with consumers.
What was your mission when you arrived at Ford to run its social media efforts?
The executives at Ford had decided that they had treated social media as a hobby for too long and they needed to get serious about it. They created the position that I'm in with the notion that we needed somebody in a leadership position who could put a strategy together, unite the teams and educate them on better digital communications, and lead a prolonged effort that went beyond a campaign mentality. It was almost about building a culture of social within our communications team.
You've said that Ford's marketing strategy is "about transforming the brand as much as increasing sales." How so?
When you look at the role that corporate communications plays, our responsibility is to improve Ford's reputation as well as help to build purchase consideration. When you think about how social fits into that, for the most part it's at the higher end of the funnel. It's about awareness, about general consideration. It's not necessarily about lead generation or bottom line sales. It contributes as a factor, but for a complex sale, like a vehicle, it's much more difficult to tie social to the bottom line. So what we look at it is comparisons at how PR works, and media relations, as we look at our own channels, and things that we do like blogger relations, which are much more akin to the communications side of the house than they are to marketing.
How big is your staff?
Not big enough. It's tough to say, because a lot of people are doing social media as part of their jobs. I've got regional social leads all over the planet, a lead in Asia, Europe, Mexico, South America, and the United States, and I manage them all together as a matrix organization. And I have people on the customer service team who are doing social, and they tie into our organization, and then the paid media team, which concentrates on advertising. Beyond that, we have agency support who help us. You get into a couple of hundred people who are involved in social, both inside and outside the company, in everything that we do.
What are the first steps you take when the company gets ready to launch a new model?
The first thing you think about is your target audience. Who are we trying to reach and where are they? I told people who are chasing after Twitter and Facebook, 'Don't have a presence there if the people you are trying to reach aren't there.' We first try to understand the general habits of our customers, and then we think about how the vehicle fits into their lives and the social web.
For example, in 2010 we were launching the 2011 Ford Explorer, and we were thinking about how we would reveal it. Typically, what we do is introduce the car at an auto show. At an auto show you are mixed up with about 40 other vehicle announcements, and you are really only talking to the business and automotive press.
We thought that if we reinvented the vehicle, then we should reinvent the way we introduce a car to the public. So in July 2010, we revealed the 2011 Explorer on Facebook, the first time Facebook had been used as a platform to reveal a new vehicle. We also did it in eight cities simultaneously, and the digital marketing, social, and PR teams all worked together rather than in parallel, as we normally would have. We were able to achieve our objective, which was to dominate the news for a day by going directly to the public and in a nontraditional way. We reached over 100 million people on the social channels, and had 400 million impressions on the web. It was the trending topic on Twitter for the day, and number two on Google trends, and that was only because it was a day that Lindsay Lohan was being released from rehab.
During a tragedy, such as the bomb attacks at the Boston Marathon, how do you recommend a brand manage its social media accounts?
The best thing that companies can do is play an active part in these online communities—they can't be seen as an advertising platform. You need to talk, listen, and engage. Monitor what's going on. Just showing up and trying to push things down people's throats won't work, and they will object. It's really just acting like a real human being, showing that there are real human beings behind a campaign.
What's your advice to students interested in entering the field?
Always keep a spirit of curiosity going. Ask questions, and learn about things that you might not have an interest in. When we look for people to join our team at Ford, we're not just looking for people who understand the platforms. They need to understand the broader world around them. Getting a classical education helped me realize that the thread of human nature that runs through history is consistent; we still want the same things. The Roman orator Cicero has a great phrase: "If you wish to persuade me, you must think my thoughts, feel my feelings, and speak my words." Students should keep a broader awareness of sociological trends, think like a regular consumer, and take that type of mentality and attach it to business strategy. If they do that, we'll have some dynamite students that are up and coming.
Scott Monty (CAS'92, MED'96, GSM'96) will deliver the Doers Makers Innovators Lecture today, October 11, at 11 a.m. in COM Room 209C. The event is free and open to BU students. More information is available here. This article was originally published in April, when Monty was first scheduled to speak. That lecture was cancelled.