Holding Court
Women's b-ball season closer canceled
The women's basketball team's season took an unexpected turn last night when a bus carrying the University of Maine team crashed on I-95 in Georgetown, Mass. The Terriers were to have hosted the Black Bears tonight in their final game of the regular season. Fortunately, none of the Maine players was seriously injured, but tonight's game has been canceled.
For the Terriers, the cancellation of their last game was one of the few mishaps in what has been an extraordinary season. The team boasts and impressive 23-5 record. Dominating opponents and upsetting ranked teams all season long, the women have won 20 of their last 22 games, this after rattling off 13 straight wins from late November to mid-January.
Despite one of their best seasons ever, the America East conference has barred the team (and all BU teams) from competing in the conference tournament because the University is switching to the Patriot League next fall. That, says head coach Kelly Greenberg, means it will be more difficult for the team to make the NCAA tournament this spring. Still, she's confident the Terriers will compete in at least one postseason tournament.
"We know no matter what, we're going to the WNIT," Greenberg says. The Women's National Invitational Tournament comprises 64 of the nation's top women's Division I basketball teams. "If there's an outside chance at the NCAA, we'll definitely be ready for that as well. It's been such a special season and I think the great thing about this team is we've really enjoyed the journey. They've really enjoyed each and every game, so it's been wonderful.
It's not just the number of games the Terriers have clinched, but the teams they've beaten that makes their record so impressive. In December, BU downed St. John's, ranked 17th at the time, by 17 points at Case Gym. Just a week later, the Terriers knocked off Marist College 62-56 in overtime at Poughkeepsie, N.Y. It was just the 14th home loss for the Red Foxes in 119 games.
"The Marist win was such a huge win for us," Greenberg says. "They're one of the biggest mid-major programs year in and year out. It was a hostile environment, and it was just a really good victory for us. I think a lot of our players, including our seniors, took a lot from that game, and it gave them confidence going forward."
The Terriers have also played extremely well against conference opponents (13-2) in their final America East season, and most players say the AE ban has actually motivated them to play harder.
"I feel like we've been really driven this whole season because we can't compete in the America East tournament," says Kristen Sims (CGS'11, COM'13). "I think that's been in the back of our minds to keep us motivated so that we could hopefully get an NCAA at-large bid. We want to leave America East on a strong note and enter the Patriot League on a strong note."
Mo Moran (CAS'13), one of this year's three captains, and Chantell Alford (CGS'11, MET'13) have led the Terriers throughout the season. Alford, with 16.6 points per game, is the AE's leading scorer and is currently ranked third on the Terriers' all-time scoring list. Moran, ranked ninth on the BU scoring list, is also the top assist getter in the conference, with 6.1 a game, which has her tied for 20th in the nation. Going into tonight's game she is just five assists away from breaking BU's all-time assist record, held by Christine Kinneary (CAS'09).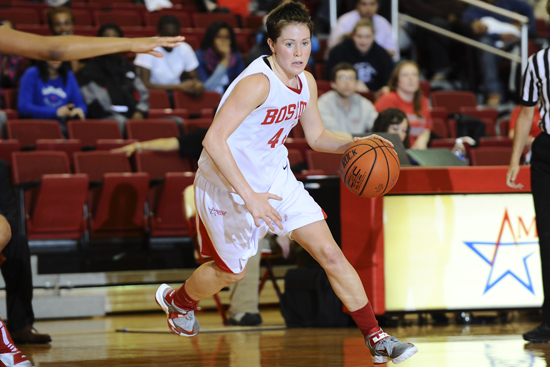 "Mo is really our leader," Greenberg says. "She's just a terrific point guard. She's our Energizer bunny. She keeps us going on both ends of the floor, and she very rarely comes out of games. She does a lot of the little things in games that go unnoticed in the box score. She's really the heart and soul of this team."
This year's Terriers will likely rack up the highest winning percentage in program history. They are only the fifth BU women's basketball team to win at least 20 games, a feat the program has accomplished for four of the past six years.
"It's been a very, very enjoyable year," Greenberg says. "At times, you don't even realize we've won so many games. But I think whether we play a good game or a bad game, win or lose, our players are still the same."
Paul Ryan can be reached at pryan15@bu.edu.