Health Care Leaders Think Big on a Small Budget
Innovative ideas pitched at BU-hosted event
With debate over the debt ceiling and how to implement (or rescind) the Affordable Care Act expected to consume much of Congress' attention in the coming months, Washington pols would be wise to follow the work of the Innovation Learning Network (ILN).
Founded by Kaiser Permanente and the Center for Integration of Medicine and Innovative Technology (CIMIT), the ILN is a membership organization of 35 hospital systems from the United States and the United Kingdom whose mission is to improve the delivery of health care while reducing cost and improving patient safety. Members typically meet every six months for workshops on health care design and innovation, but a highlight for the organization is its biennial "open space" event. This three-day "un-conference" has no agenda other than bringing together bright minds to tackle some of the world's most pressing health care problems on a tight budget.
Boston University hosted the most recent ILN InPerson Biennial Open Space under the guidance of Beverly Brown, development director of the Center for Global Health and Development and wife of University President Robert A. Brown. About 80 attendees divided into groups according to their personal interests. They spent the first two days taking "safaris" around Boston University, meeting with people like Catherine Klapperich, a College of Engineering associate professor of biomedical engineering and of mechanical engineering, who designs medical devices that can withstand primitive conditions in third-world countries; Brian Jack, a School of Medicine professor and chair of family medicine, who leads Project RED, an innovative and nationally recognized hospital discharge procedure; and Deborah Frank, a MED professor of pediatrics and director of the Grow Clinic for Children, who gave a demonstration at Boston Medical Center's Preventive Food Pantry on how to prepare food for people living with diabetes.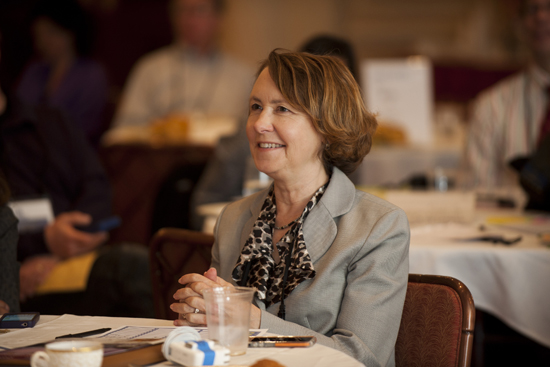 Chris McCarthy, director of ILN at Kaiser Permanente, described Open Space as "lots of water cooler conversations" among leading health care professionals. The goal is "to create new friendships and strengthen ones that exist," he said. "The deeper these friendships are, the easier for innovation to happen."
On the third and final day of the un-conference, teams gathered in the Trustees Ballroom at One Silber Way to pitch innovative ideas. Attendees texted their votes of support, "just like American Idol," said McCarthy.
Over a lunch of salmon, toast, and asparagus, eight groups had two minutes apiece to describe their projects and why they were important. They also had to estimate the cost of funding the project. Teams selected one of three funding categories: $12,500, $7,500, and $2,500. Those who went over their presentation time were ushered offstage by Kaiser Permanente's Ted Eytan, who approached the podium and hugged them into compliance. The teams were allowed 90 seconds to answer questions before the final boot. Audience members scored each group, marking one number for the general worth of the idea and another for how solid it was as an ILN project. The total helped determine the leaders in each funding category.
Formulating pitches is hardly foreign in this crowd, Brown explained: "These people have to do it in their day jobs."
"Does anyone in this room not have access to a cell phone?" asked event MC McCarthy. He gave a wry smile as no hands were raised. "That's really good." Judging by technical difficulties later, he should have asked if everyone knew how to use said cell phone.
Pitches varied greatly. Some groups wanted to duplicate existing programs they'd visited, like Health Leads, a program begun at Boston Medical Center in 1996 that seeks to address all patients' basic resource needs as a standard part of quality care, or the clinics at the Boston Healthcare for the Homeless Program (BHCHP). Others proposed weaning BHCHP's homeless population from tobacco through the introduction of e-cigarettes, and still others hoped to launch an ILN Carbon War Room—basically a way to measure the organization's carbon footprint. (One observer asked, "Can you not call it the war room?" Hugger-turned-presenter Eytan replied, "If you give us a couple of points, we'll change it.")
All pitches complete, McCarthy explained how to text in votes. "The system will know if you try to do more than two," he warned. On a projector screen at the front of the room, bars on a graph displaying the vote count began to shrink and expand wildly. "Everybody stop," he said. "I see you, stop voting!" After rebooting the program and guiding the less tech-savvy through the process, he asked everyone to vote again. Whispered consultations buzzed around the room while pinging sounds announced the arrival of votes. Everyone stared intently ahead to learn the fate of their pitch.
"How do we know if our vote got up there and we didn't mess up?" asked Yasmin Staton, a senior communications consultant for Kaiser Permanente.
"Magic," McCarthy said with a shrug.
With all votes in, McCarthy announced the winners. The group that pitched the Global Lab for Innovation in Health earned the $12,500 prize, which members said they will use to build an online network for health care professionals to exchange information about innovative and sustainable solutions to complex medical problems. The group suggesting e-cigarettes for the homeless took home $7,500. And the group pitching Community Care Connect, which will mimic the Health Leads model in another part of the country, earned $2,500.
Attendees seemed pleased with the results of their American Idol–like exercise. Instead of rushing off to the airport or back to their offices, they stuck around for more water cooler conversations.