Giving Voice Where There Is None
ENG alums' iPad app helps speech-challenged communicate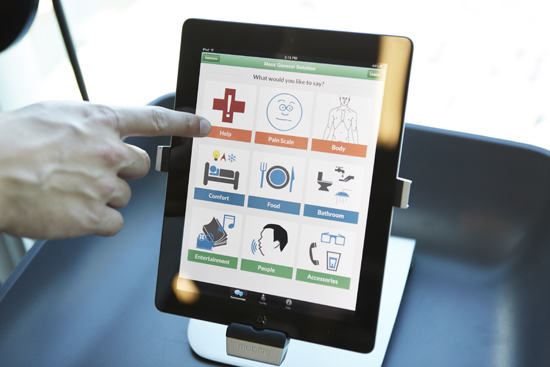 Every year, more than seven million people are affected by conditions that prevent them from speaking or understanding language. The disability may mean that stroke victims can't tell a nurse that they need to use the bathroom, can't share with their spouse that they are hungry, or can't simply ask to please change the channel because they are about to watch a fourth straight episode of Law & Order.
To the rescue comes an iPad app designed by College of Engineering alumni Nick Dougherty (ENG'12), Eric Hsiao (ENG'12), and Gregory Zoeller (ENG'12). Their creation, called Verbal Care, helps nonverbal patients communicate a desire for things like food, medicine, and pain relief by touching one of the large picture-based icons. After creating a few iterations of the software over the course of a year and testing in beta, the last stage of testing for a computer product, the trio will make the latest version of the app available in the iTunes store August 12.
"Our goal is to bridge the communication gap between patients and caregivers," says Dougherty, CEO of Verbal Applications, the alums' new company. "Patients will receive custom care faster, and hospitals will get money back in Medicare and Medicaid reimbursements because of higher patient satisfaction scores."
Verbal Care must be downloaded from the iTunes store and loaded onto an iPad. Once opened, the user is asked, "What would you like to say?" as nine icons pop up on the screen, among them "pain scale," "food," "bathroom," and "entertainment." Each category is subdivided into requests for certain types of food, for example, or a specific television station. Caregivers, who can receive the request on an iPad, can confirm requests with a "yes or no" module, and the app can also act as a rudimentary translation tool. Based on the needs of the patient, caregivers can add their own text, voice recordings, and images ("If the patient's favorite food is Oreos, they can add that personal icon," Zoeller says).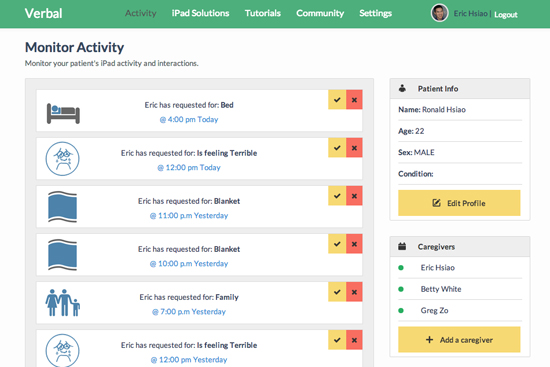 In addition to helping people who have trouble speaking, Verbal Care could one day make a difference for those with aphasia, a complex communication disorder caused most often by stroke. "Aphasia patients often mix up signals," Hsiao says, "So our app has three different inputs, where they can see the pictures and icons, read the text, and hear audio feedback."
After being challenged senior year to create a communications device by Theodore Morse, an ENG professor emeritus of electrical engineering, Dougherty, Hsiao, and Zoeller designed the Verbal Care app as part of ENG's electrical and computer engineering (ECE) department senior design project. The three, along with former teammates Kenneth Zhong (ENG'12) and Kholood Al Tabash (ENG'12), won the ECE department's Entrepreneurial Award and second place at the ENG Societal Impact Capstone Project Awards last year.
After graduating, Dougherty, Hsiao, and Zoeller formed their own business venture. Their research, shadowing nurses and speech pathologists at Massachusetts General Hospital, revealed some similar devices targeted specifically for aphasia patients, ALS patients, and stroke victims, but with price tags upwards of $7,500. Verbal Care was designed as a far more affordable app for all types of communications disorders. Currently the app is free, but Dougherty says it may be priced at around $10 a month, or $99 a year. The three alums also learned the importance of user-friendly design, which they achieved by using hard contrast, brighter colors, and very simple icons for patients with lower visibility, Hsiao says.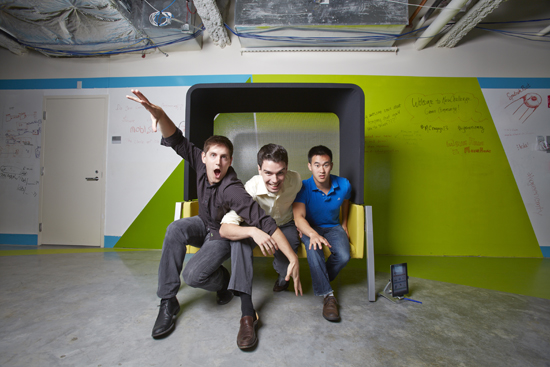 CEO Dougherty continues to meet with speech language pathologists, nurses, and patients to better understand what they need from the product. He also develops relationships with potential investors and hunts for grants. Zoeller, the COO, deals with pricing and projects how much money they will need from investors to become profitable and in what areas they should spend their money. Chief technology officer Hsiao oversees the product's infrastructure and technology.
This summer, the three quit their jobs as web developers and software engineers to focus full-time on their business. They had plenty of encouragement—Verbal Care was selected both for the School of Management's 2013 ITEC New Venture Competition, taking the People's Choice Award, and the MassChallenge, an annual $1 million global accelerator program, two start-up camps where they could get excellent advice from experienced mentors. And while that advice is certainly helpful, Dougherty says, one of the most important lessons was learned while he was still a student.
"You have to be able to totally burn what you have and start over," says Dougherty, who also founded the popular campus nonprofit Project Mailbox. "We've done Verbal over maybe four times. Every time it's like a phoenix, where it crumbles to ashes and then rises out of the flames. I think there's a lot to learn from that, and that's the benefit of being a younger entrepreneur."
The latest version of Verbal Care will be launched in the iTunes store on August 12. Users can e-mail the company for more information.