Faculty Urged to Help Design Online Offerings
Presidential council studies technology's benefits on and off campus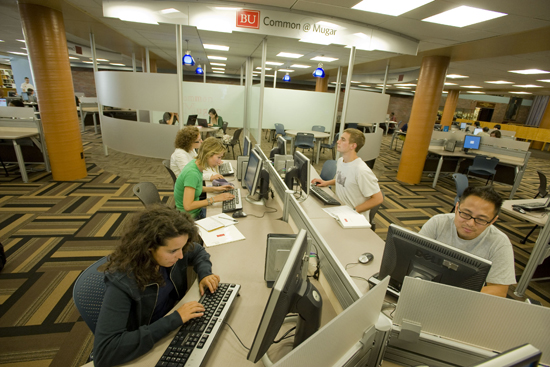 Academe is abuzz over MOOCs, massive open online courses, which could allow a Siberian with a laptop to take a class taught on Commonwealth Avenue. But the group charged by President Robert A. Brown with refining BU's online education has different marching orders: students on campus should benefit as much as people far from Boston.
To realize that vision, the Council on Educational Technology and Learning Innovation wants professors to help design the education of the future.
The council will award a handful of "seed grants" to help faculty develop and test "creative uses of educational technology." The submission deadline is April 12. Meanwhile, a series of roundtables on various aspects of online education are scheduled on both campuses. Upcoming topics, schedules, and locations are here. Subjects include finding ways that technology might facilitate three-year degrees and developing faculty compensation along with educational technology.
The council also has scheduled a public "Ed Tech Ideas Fest" to discuss submissions for the seed grants. The forum runs from 4:30 to 6 p.m. on April 22 at the Hariri Institute for Computing and Computational Science & Engineering Seminar Room, MCS-180, 111 Cummington Mall.
Among the resources on the council's website are a primer about online technology, answers to frequently asked questions, and the council's blog.
"The council is looking at all forms of online technology in support of education, not just MOOCs, not just online courses," says council cochair Elizabeth Loizeaux, associate provost for undergraduate affairs and a College of Arts & Sciences professor of English. "We've been talking to faculty members who are interested, say, in involving their students in the building of digital archives.…What about the possibility of a course that maybe focused on Boston, where students were doing research projects on architectural objects, and could maybe feed that into some kind of archive or repository that might even be accessed by visitors?"
The technology could also make it possible for more students to study abroad by making required courses accessible from cities around the world. And it could involve students in a class simulation or game, or allow anonymity when discussing a sensitive topic, says cochair Azer Bestavros, a CAS professor of computer science and director of the Hariri Institute.
"MOOCs are interesting because you can be in India and take a course, and you don't have to be in the same time zone to participate," he says. "And that's one of the things we're thinking about, in terms of flexibility for study abroad. But there are capabilities that online technologies afford us that just would make the residential student experience better."
The council's website informs readers that seed grants (find more details here) will be awarded to projects that best:
Expand flexibility for BU students. Examples might include online courses that award "badges" certifying proficiency in discrete skills (as opposed to course credits) to qualifying students; online courses that allow students to finish their degree in less than four years; and online study or portfolios that enable a student to connect with potential employers.
Leverage assets that are unique to BU. Examples include online courses that use Boston and its offerings as a field classroom; use nonclassroom space at BU, such as dining halls, dorms, galleries, and archives; or highlight extraordinary BU faculty and research.
Support or extend BU's global signature. Examples are online courses that allow BU students to study abroad or off-campus while still taking BU classes, as well as the commonly understood idea of online education: reaching students in other parts of the country and world.
At this point, the chairs say, all of these are in the ideas stage. Their report to Brown, due in early May, won't answer every question; rather, Loizeaux says, it likely will lay out "general recommendations for the direction that the University is going to be taking, and perhaps some recommendations of processes for continuing to address" online education. The report will consider the potential financial requirements on BU's budget, without putting a precise price tag on them.
The current thinking is that seed grant recipients will spend the coming academic year researching their proposed innovations. The first fruits of any new technological tweaks to BU's curriculum may not appear before fall 2014.
Beyond grants and forums, professors have other avenues for shaping the future e-curriculum. "Faculty can reach out to CETLI chairs or members and request conversations at their department meetings or other events," says council member Tracy Schroeder, vice president for information services and technology. A list of council members is here.
The council also solicited student opinions via the Provost's Undergraduate Student Advisory Board. Member Ying "Phoebe" Zhang (CAS'15) sees several advantages for residential students from online classes—for example, during lousy New England weather that impedes getting to class. "It will be a win-win situation…since students can learn more and professors don't need to readjust the syllabus" for canceled classes, she says.
BU's far-flung campus also makes it hard for students from different dorms to meet for out-of-class discussion about course work, she says. "Online technology can make it easier for students to cooperate by creating a group conference."
BU already has extensive online offerings. With current studies yielding various takes on the benefits of online versus face-to-face learning, the council chairs want to make sure any new innovations meet BU's standards.
"The question about MOOCs is, can you do this at a high quality?" says Loizeaux. "There are many things that residential, face-to-face education is good at. How do you support that?"