Exploring a Simultaneous Viewing Experience
Sherman Gallery show looks at form and color from various perspectives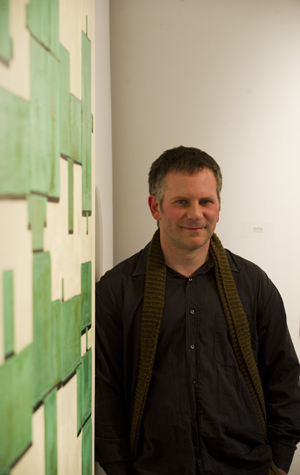 An engaging new show on view at the Sherman Gallery explores how different artists capture and convey a simultaneous experience. Titled Simultaneity, it is curated by Gabriel Phipps (CFA'00) and features his paintings and those of alumni Nick Lamia (CFA'00), Steve McCall (CFA'00), and Meghan Brady (CFA'02), as well as that of Dannielle Tegeder.
"Simultaneity explores interpretations of a simultaneous viewing experience that is rich in visual associations and phenomena—a pool of conflicting sources and nonverbal viewpoints that only make sense together through painterly language," says Lynne Cooney (GRS'08,'15), College of Fine Arts School of Visual Arts exhibitions director.
Phipps says the idea for the project came out of themes he'd been working on in his paintings. "For years, I've been making paintings that deal in contradictions of one variety or another," he says. "It occurred to me that an interesting theme for a group show could be contradiction as it pertains to contemporary abstraction—in other words, a show that takes an updated look at the cubist notion of simultaneous experience."
He set out to find artists who share his pictorial interests and a collection of paintings that would be "rich in associations and visual phenomena—pools of conflicting sources and viewpoints." Two obvious artists came to mind: classmates McCall and Lamia. "We three, in our respective ways, have been negotiating the well-trodden netherworld that exists between abstraction and representation since our student days," notes Phipps.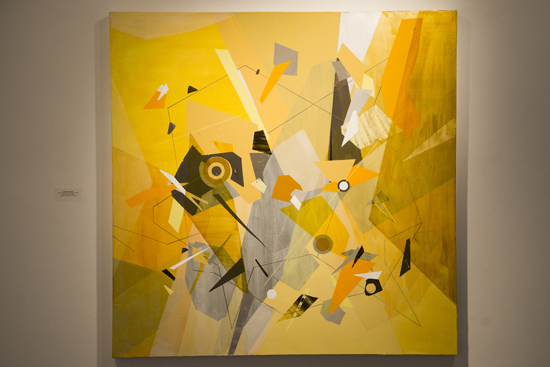 Each of the painters draws and builds on cubism's legacy, and each favors abstraction over representation. Phipps describes the assemblage of paintings as "beautiful and disconcerting." In the works in this exhibition, sharp lines shatter solid planes, complementary colors come together in checkered blocks, and organic forms divide into geometric shapes. McCall's pop- and modernist-inspired paintings have ambiguous titles like Hand Packed and Shy Convert. Lamia's works, painted in rich hues of coral, deep turquoise, butter yellow, and kelly green, depict what look like "naturally occurring machines." Untitled (2010) features an amorphous structure in an abstract kind of wilderness. Brady's work includes flat patchworks of harmonized, saturated color and hard lines that Phipps says "expand and contract in ways that relate to all the paintings in the exhibit." Similarly, in Tegeder's work, Phipps says, there is a sense of simultaneity: "The architectural qualities in Dannielle's work tie in to motifs found in my paintings and Meghan's." But, he says, her "insistence on shattering space" in works like Electric Tower Crash (2012), a shiny, fragmented mixed media on wood panel, and Yellow Midnight with Scale System (2011), an explosive collage of gray and white shapes on sunny yellows, sets her work apart.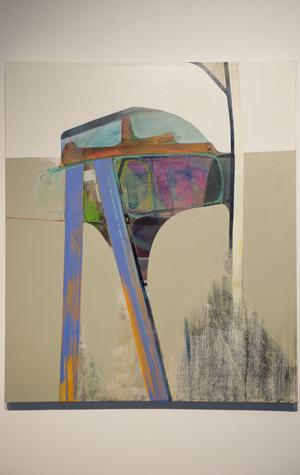 Phipps hopes Simultaneity captivates viewers and provokes interesting questions about themes like representation and emotion. "Ultimately, he says, "I hope that viewers are compelled to reflect upon day-to-day perceptual experience in new ways."
Simultaneity: Paintings by Meghan Brady, Nick Lamia, Steve McCall, Gabriel Phipps, and Dannielle Tegeder is on display at the Sherman Gallery, George Sherman Union, 775 Commonwealth Ave., second floor, through May 19. The gallery is open Tuesday through Friday from 11 a.m. to 5 p.m., and Saturday and Sunday from 1 to 5 p.m. The exhibition is free and open to the public.
Erin Thibeau can be reached at ethibeau@bu.edu; follow her on Twitter at @erinthibeau.