Congress Cuts Political Science Research Grants
BU study may be affected
With global history too vast for any single reference source to cover, John Gerring was helping to build a researcher's Shangri La: an online storehouse of world political, economic, educational, and demographic data, spanning millennia. Then the project ran into the buzz saw of a senator determined to cut federal money for political science research. Now Gerring's not sure if he's still in business.
Last month, President Obama signed 600 pages of legislation to keep the government from shutting down, while shutting down much of the nation's poli sci studies. Senator Tom Coburn (R-Okla.) secured Democrats' approval for an amendment to the bill that eliminates the National Science Foundation's political science studies, except those the NSF director deems relevant to national security or U.S. economic interests.
"I have no idea how my project will be affected by the Coburn amendment," says Gerring, a College of Arts & Sciences professor of political science. "I guess I'll have to start worrying about it."
His part of the project—CLIO World Tables, a four-university collaboration—was supposed to receive $87,000 in 2014. Colleague Dino Christenson, a CAS assistant professor of political science, has been using NSF money to study interest groups' strategies and their influence with the Supreme Court.
The amendment and the full bill—a "continuing resolution" financing the government in the absence of an approved budget—cover the rest of the government's fiscal year, which ends September 30.
Some analysts suggest that the security/economy exception is a large enough loophole that most projects will survive. But "until NSF releases guidance, we don't know for certain how the law will be implemented," says Jennifer Grodsky, the University's vice president for federal relations.
Gerring thinks it's unlikely he'll be able to find an alternative financial angel for his project. Christenson got his grant three years ago and doesn't expect it to be retracted, but the amendment "will affect future research in political science" and "impede research on Congress, interest groups, the courts, the presidency, public opinion, and political behavior," he fears.
Political scientists "are very cautious about political advocacy in both the classroom and our research," he adds. "There is little room in our work or teaching for our own ideological predispositions." As for the security/economy exception, he says, "I consider any unnecessary and onerous restriction on scientific research to adversely affect our country's economic interests and national security."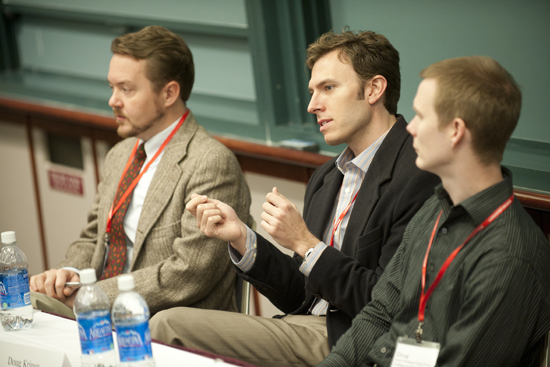 Department chairman Graham Wilson calls the amendment "a bigoted, politically motivated attack on scholarship." Dean of Arts & Sciences Virginia Sapiro, who is also a political scientist, says the new law means that "we will now be the only democracy in the world that effectively refuses to support systematic, nonbiased research that can illuminate the dynamics of government and politics. How embarrassing."
Coburn, who has pushed his amendment for years, says it will "better focus scarce basic research dollars on the important scientific endeavors that can expand our knowledge of true science and yield breakthroughs and discoveries that can improve the human condition."
That argument has drawn objections from journalists on both the left and right. Two years ago, New York Times conservative David Brooks denounced an earlier attempt as "exactly how budgets should not be balanced—by cutting cheap things that produce enormous future benefits." (At $13 million, the grants are "a tiny fraction of a tiny fraction of government spending," one political scientist wrote last month.)
The liberal American Prospect, meanwhile, reported that even though these grants constitute a tiny portion of the federal budget, they finance most research in the field of political science.
Coburn argues that those who need political data can get it from the media and the internet (although he himself once cited NSF-financed research during a congressional debate). Opponents counter that the media rely on much NSF research—for example, its decades-old National Election Studies tracking evolving public political opinions, partisan identification, and other matters. The Association of American Universities, a consortium of research universities that BU joined last year, unsuccessfully lobbied Congress to discard the Coburn amendment.
The enactment of Coburn's long-sought restriction coincides with a broader discussion about how helpful a liberal arts education is when looking for a job. Microsoft's Bill Gates suggested two years ago that state universities focus their money on fields producing future jobs. Ironically, a 2010 survey by the National Association of Colleges and Employers (NACE) shows that social sciences majors were among those most likely to get a job, along with business, accounting, computer science, and engineering majors.
A handful of governors have grabbed Gates' baton. A Florida task force and Governor Rick Scott have proposed a tuition freeze for students in "high-skill, high-wage, high-demand" majors, while hiking charges to students in fields deemed less essential to the state. (Scott cited anthropologists as among the less essential.) Governors in Wisconsin and North Carolina are mulling similar proposals linking education funding to the number of jobs alumni procure.
The NACE survey shows that businesses are looking to hire people with the skills conveyed by liberal arts study, particularly communication and the ability to work with a team.
"We're seeing increased numbers of employers seeking students of any major," says Eleanor Cartelli, associate director of marketing and communications at the University's Center for Career Development.