Commencement Speaker Kopp: Start Now to Change the World
Boston Scholars Program renamed for Mayor Thomas Menino
Just over two decades ago, Wendy Kopp graduated from Princeton University's Woodrow Wilson School of Public and International Affairs with little experience, but a strong desire to solve the problem of inequitable education in the United States. She had developed the idea for a national teacher corps as her senior thesis and wanted to give it a go—despite naysayers and the lack of funding. Just a year later, her vision became Teach for America, an organization that trains recent college graduates to teach in some of the nation's most needy public schools.
On Sunday afternoon, Kopp, the Class of 2013  Commencement speaker, addressed the graduates, playfully introducing herself as "the person responsible for those persistent Teach for America recruiters who have been after you all year."
But it was Oscar-winning actor Morgan Freeman students most wanted to meet. A roar rose from the crowd the moment he stepped onto Nickerson Field, his smiling face flashing on the jumbo screens. Students whipped out smartphones, jumped up and down, and waved as the Hollywood star circled the track and took his seat.
"I have nothing new to say to you," said Freeman after receiving his honorary degree, his deep, distinctive voice drawing an immediate cheer from the crowd. "You already know you're graduating from one of the greatest universities on the planet." He credited their dedication, hard work, and perseverance for helping them arrive at graduation day.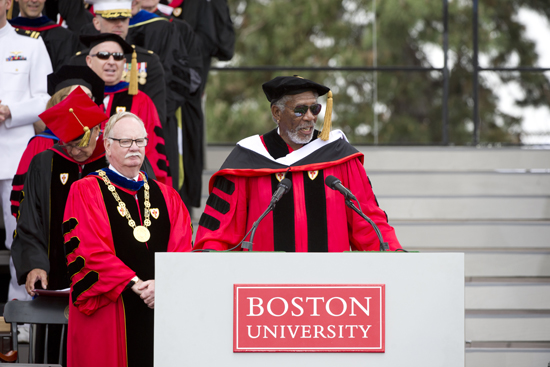 On a partly cloudy and increasingly chilly day, Boston University's 140th Commencement ceremony proceeded smoothly despite heightened security. Approximately 20,000 spectators looked on as more than 6,600 seniors and graduate students—some with messages like "THX MOM" and "BU Smart Boston Strong" pasted atop their caps—were recognized and celebrated alongside several guests. Honorary degrees were bestowed on Kopp, Freeman, chemical engineer and biotechnology pioneer Robert S. Langer, and United Methodist Church Bishop Peter D. Weaver (STH'75), who earlier gave the Baccalaureate speech in Marsh Chapel.
President Robert A. Brown presented Boston Mayor Thomas M. Menino (Hon.'01) with the Boston University Medallion for his service to the community. Brown also announced that the Boston Scholars Program, which awards merit scholarships to graduates from the city's public schools, will be renamed the Thomas M. Menino Scholarship Program and its students referred to as Menino Scholars. "You have recognized the role universities and colleges play in strengthening the economic and cultural life of the city," Brown said in presenting the medallion, "and with this in mind, you have been an outstanding partner in the rational planning and development of campus facilities throughout Boston."
Student speaker Adolfo Gatti (CAS'13) delivered a humorous speech that weaved BU insider jokes with a deep appreciation for the diversity of people and opinions that the native of Italy encountered here during his four years.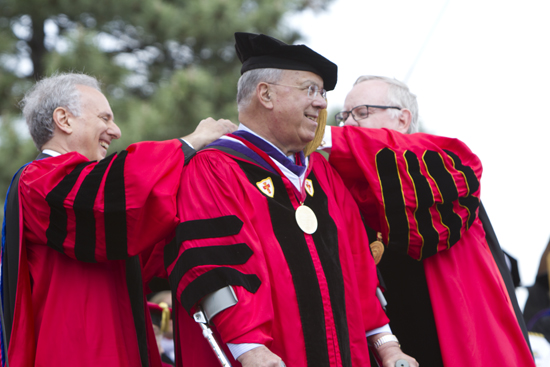 Kopp, whose address mixed humor with a helping of hard-earned wisdom, reminded graduates that they are now "stewards of BU's long legacy of promoting social justice." The true question, she added, is which injustice to pick in a globally interconnected world. Two decades ago, Kopp decided to focus on education in high-poverty communities. After raising $2.5 million in a single year, she launched Teach for America in 1990 with a charter corps of 500 recent college graduates. The program has grown exponentially: over the past 23 years, it has trained 38,000 young men and women who have taught 3 million students at nearly 50 sites nationwide. Last year alone, 57,000 college graduates applied to the corps, and 10,000 were selected. This year's corps will include 33 members of the University's Class of 2013. Several Teach for America alumni earned BU graduate degrees at Sunday's exercises.
"There's no how-to guide for how to change the world," Kopp said. "But it's easy to get hung up by misconceptions about what it takes to make an impact."
One common myth about success, she said, is that you need a big idea to change the world. "We are making progress today not because of a big idea," she explained, "but because of a big commitment. Because we plunged in and embraced the journey of constant learning and improvement."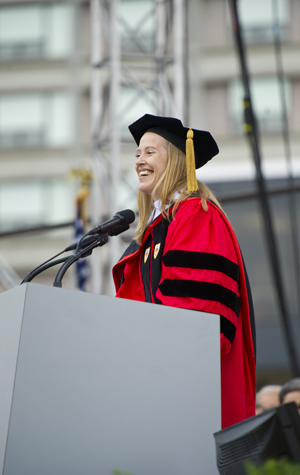 A second myth Kopp challenged was the idea that having an impact is about being first. "The people who have most changed the way we see the world and live our lives, from Einstein to Steve Jobs, all understood that innovation is not primarily about coming up with new ideas," she said. "It's about connecting good ideas to human needs, whether that means borrowing and adapting solutions that already exist or devising new ones.
"Our world needs more copycats," she said.
And Kopp has met many of them, social entrepreneurs seeking to copy her model in other nations. In response to their interest, she and Brett Wigdortz of the United Kingdom's Teach First created Teach for All, a network of independent social enterprises that replicates Teach for America in high-need areas around the globe. The network now includes organizations from 27 countries in Europe, Asia, the Americas, and the Middle East, and 20 more countries are expected to join in the coming years.
The final myth Kopp debunked was the idea that it's better for young people to wait until they have more experience before embarking on a personal passion. "The world needs you before you stop asking naïve questions," she said, "and while you have the time to understand the true nature of the complex problems we face and take them on.
"Don't put your desire to change the world on hold," Kopp urged. "Start now and go forth in constant pursuit of learning and impact."
In his opening remarks, Brown paused to reflect on the Boston Marathon bombings nearly five weeks ago that took the life of graduate student Lu Lingzi (GRS'14) and seriously injured her friend Zhou Danling (MET'14). He also recognized the courage of the 25 BU doctors, therapists, physical trainers, and student volunteers who "hastened bravely to save the lives of grievously wounded spectators."
Provost Jean Morrison announced that Lu and Binland Lee (CAS'13), who died in an Allston house fire three weeks ago, were being awarded degrees posthumously—news that drew applause from the crowd.
Once University deans had conferred all degrees, Brown acknowledged the Class of 2013's many accomplishments, as well as the efforts of the faculty and staff whose dedication helped them reach graduation day.
"On your shoulders rests the enormous responsibility for guiding America and the world, and for addressing the substantial challenges we face," he said. "You are the future for this University, for this country, and for mankind."
Brown reminded students that they could now count themselves among BU's 300,000 living alumni. "Your accomplishments will be part of the fabric of our legacy," he said. "Your Boston University education has prepared you; go into the world and make it a better place for all of us and for all generations."
During the ceremony, Brown also presented the University's highest teaching honor to three faculty members. The Metcalf Cup and Prize for Excellence in Teaching was awarded to Deborah Vaughan (GRS'72), a School of Medicine professor of anatomy and neurobiology and assistant dean for admissions, and Metcalf Awards for Excellence in Teaching were presented to John Finnerty, a College of Arts & Sciences associate professor of biology, and Carol Jenkins, a School of Education associate professor of curriculum and teaching.