Chill Out at Winterfest
Annual alumni event this weekend
The snowstorm dubbed Nemo blew this year's Winterfest off track, but not for long. The weekend event, originally scheduled for February 8 to 10 on the Charles River Campus, was postponed in anticipation of the blizzard that dumped two feet on the region and closed the University.
All of the events—the broomball tournament, ice-skating on Marsh Plaza, the ice-sculpting competition, the tailgate, Terrier men's and women's hockey games, and an ice bar, where folks can sidle up for a hot cocoa—will take place this weekend, February 22 to 24. The only exception is a cooking demonstration, which has been rescheduled to Saturday, March 16, in the demonstration kitchen at 808 Commonwealth Ave.
"The decision to postpone was made early enough for us to get the message out to our alumni and to reschedule the program for this coming weekend," says Susan Richardson, director of alumni programs and events. "Because of that we were able to offer almost all of our events. We feel very good about having a full slate of activities and hope that alumni will still come back to enjoy themselves, outside and inside."
Sponsored by the BU Alumni Association (BUAA), the weekend, in its eighth year, is expected to draw 1,500 alumni and guests, up from about 1,000 last year. Events are also open to faculty and staff and their families.
"The most exciting thing about this year is that Susan and her team put the 'winter' back in Winterfest—although more than we'd hoped for with the arrival of Nemo," says Steven Hall, vice president for alumni relations. "From the ice-skating in Marsh Plaza—not on the seal, of course—to the ice bar, we've taken as much activity outdoors as we can. It is February in New England, after all."
"We feel that if you survived winter on Comm Ave as a student, you would identify with coming out and braving the elements once again," Richardson says.
Alums will start to relive those chill days tomorrow, Saturday, February 23, during a walking tour of the campus with Dexter McCoy (COM'14), former Student Government president. Afterwards, they can lace up their skates for a spin around the Marsh Plaza rink. The Peabody, Mass., company Artificial Ice Events will install the outdoor rink, and skates will be available free of charge. The company will also erect an inflatable snow globe on the plaza; guests can step inside and have their picture taken. The ice-sculpting competition, a perennial favorite, kicks off at 11 a.m. at Marsh Plaza, with teams sketching their designs, and ends at 4 p.m., with the judging and crowning of a winner.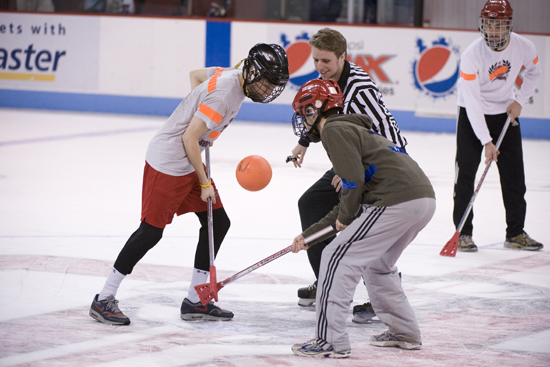 Plenty of indoor events are on tap as well. The men's ice hockey pregame tailgate will take place today at 5:30 p.m. at the Fitness & Recreation Center; the Terriers skate against UMass Lowell at 7:30 p.m. at Agganis Arena. The broomball tourney, a hit when it debuted in 2012, is back this year. Tournament play is from 6 to 8 p.m. today at Walter Brown Arena, and the final two teams will square off at Agganis following tonight's ice hockey game.
Other Saturday activities include a lecture by Pamela Templer, a College of Arts & Sciences associate professor of biology, who will discuss the effects of winter climate change on northern hardwood forests, lunch at the BU Pub, a tasting of fine whiskey and bourbon at the Hawthorne, a bar in Kenmore Square, and a women's ice hockey game (against Connecticut) at Walter Brown Arena.
On Friday and Saturday, a cross-disciplinary and collaborative project of the College of Fine Arts School of Visual Arts and Sustainability@BU, Alternative Visions/Sustainable Futures, is on view from 9 a.m. to 5 p.m. at the 808 Gallery. The project, which runs through April 20, explores the creative ways that artists, scholars, and members of the BU community might build a sustainable future.
On Sunday, alumni can catch a performance of Legally Dead, written by Dan Hunter (GRS'99), a CAS lecturer in the Creative Writing Program, at the Boston Playwrights' Theatre. A complete list of all of the weekend's arts and cultural events is here.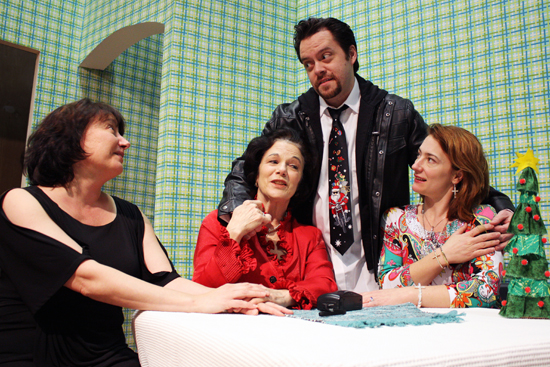 Richardson points out that Winterfest arrives at the end of vacation week for Massachusetts public schools, and she hopes that alums with children will add the event to the their plans. "We have kids' prices for the tailgate and lunch," she says. "Skating is fun for all, as is the snow globe. We also think that either (or both) of the hockey games is a good way for families to spend time together. With a $3 ticket price for the women's ice hockey game, you can't beat that for family fun."
Winterfest is a family affair for Shadi Daher, president of the BUAA. "I am looking forward to bringing my children to campus for the hockey game and as many of the activities as we can fit into the days," says Daher (SDM'90,'94). "The weekend itself happens at the perfect time, where it breaks the long stretch of winter by embracing everything that is wintry about Boston in general and the University in particular….I hope that other alumni are making it part of their winter tradition as well."
"Winterfest has become a real anchor to bring alumni back to campus," says Hall. "Each year, attendance has grown and we keep adding new dimensions."
Winterfest takes place February 22 to 24 on the Charles River Campus. A schedule of events is here.