Burning Reimagines Cyrano de Bergerac
Boston Playwrights' Theatre explores harsh realities of gays in the military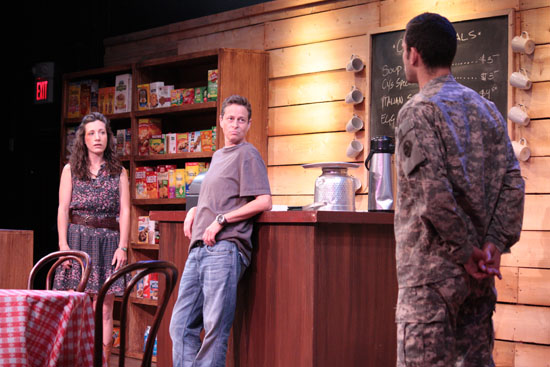 Burning, a new drama by Ginger Lazarus, reimagines Edmund Rostand's 19th-century Cyrano de Bergerac as a modern-day exploration of gay life in the US military during the don't ask, don't tell era.
In Burning, the opening play of the Boston Playwrights' Theatre's 2013-–2014 season, Rostand's hero—a gifted soldier, duelist, and poet—has been renamed Cy and she has recently been discharged from the military after revealing that she is gay.
"I just had the idea of Cyrano being a woman and a same sex attraction. I imagined her as someone really tough, with sharp talking that just came with her having an army background," says Lazarus (GRS'03). "That brought up don't ask, don't tell, and it kind of flowered from there."
Cy uses a male soldier as the vehicle to proclaim her feelings to waitress and painter Rose, the woman they both love. Cy writes eloquent love letters for Corporal Cole Noyes, who is too nervous to speak to his crush himself, in which she pours out her own feelings for Rose. Noyes pretends the letters are his own and Rose believes him. Although the overall premise is similar to the love triangle in Cyrano, the plot veers off as it tackles thorny issues like sexual assaults and homophobia in the military.
"Sexual assault in the military is very much on people's minds right now, with the recent study that found 26,000 service members were assaulted last year," says Lazarus, referring to a recent Pentagon study. "It's an issue that's overdue for attention and finally being talked about and looked at seriously." Cy begins to stir up controversy when she refuses to keep quiet about sexual assaults that have occurred in the military.
Lazarus credits Mal Malme for helping to create a strong female protagonist in Cy, whom she has played since Burning's first reading for Queer Soup Theater in 2010. "In the very first workshop, Mal was in it," Lazarus says. "Draft after draft, she has always read the part. The play went through quite a lot of revisions, and I would call her up and get her feedback and insight all along the way. I just had her in my head."
Despite its exploration of serious contemporary issues, much of Lazarus' script provides comic relief and wit, most often in scenes involving the tongue-tied Noyes. As played by Ian Michaels, he has no dating skills at all. He freezes in front of Rose, and the few times he does mutter an original line in her presence, his words are almost never intelligible. Michaels captures the character's frustration and awkwardness to often hilarious effect.
But there's no mistaking Burning for a comedy. Lazarus' drama builds to a tragic climax. "The juxtaposition of the love story and the don't ask, don't tell issues in the play are pretty devastating, as are the sexual assaults of soldiers in the army by other soldiers and officers," says director Steven Bogart. Despite the fact that the military repealed its don't ask, don't tell policy while she was writing Burning, Lazarus says the subject matter in the play remains extremely relevant. "It was repealed, which is great," she says, "but the issues of homophobia in the military still persist."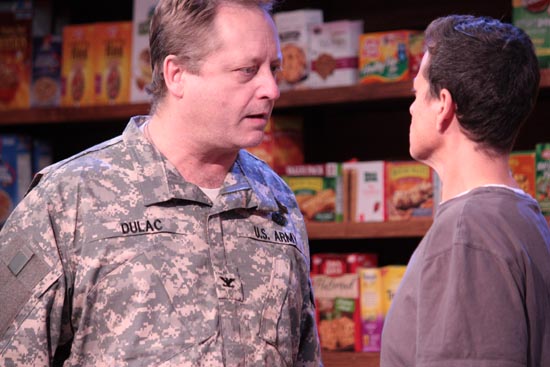 Those issues, weaved as they are into the plot's complex web of love, secrets, and lies, make it unclear to the audience how the truth will come out—and who is going to finally burn once it does—until the very end.
Burning runs through October 20 at Boston Playwrights' Theatre, 949 Commonwealth Ave. Tickets can be purchased online here. Prices: $30 for general admission, $10 for students with a valid ID, and $25 for BU faculty, staff, and seniors.
Irene Berman-Vaporis can be reached at imbv@bu.edu.