BU Hockey Icon Jack Parker Retires
A four-decade "Mount Rushmore career" that made history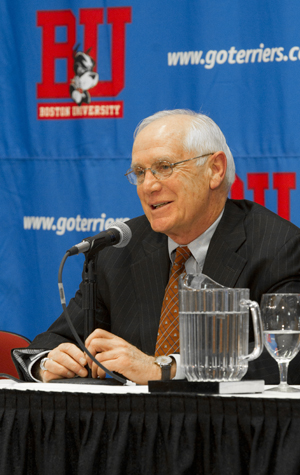 An epoch ended yesterday when men's ice hockey coach Jack Parker announced his retirement, capping a 40-season tenure that saw him amass more wins than any hockey coach at the same institution in the country.
Parker (SMG'68, Hon.'97) formally disclosed his decision, which had leaked beforehand, at a press conference jammed with reporters, his former players, and BU officials, among them President Robert A. Brown. The announcement came on Parker's 68th birthday. He will remain at BU as a special assistant to Brown for the Campaign for Boston University, the University's first comprehensive fundraising campaign.
Parker's career victories—894, including this season (18-15-2 overall, 15-10-2 Hockey East) place him second among all active hockey coaches nationally; he ranks fifth for win percentage. His departure is effective once the current season ends. The team wrapped up regular season play with a win over Northeastern on March 9. The third-seeded Terriers have at least one more weekend of play, when they take on sixth seed Merrimack in a best-of-three Hockey East playoff quarterfinal series at Agganis Arena starting Friday, March 15.
Parker told BU Today in an earlier interview that he probably would have retired at the end of the 2011–12 season, but stayed on after two of his players were arrested on sexual assault charges in separate incidents. "I wanted to see the team through the task force" appointed by Brown to investigate the team's culture, he said. Last fall, the task force report faulted what it called a culture of sexual entitlement among players and lax oversight. The court case against one accused player was dropped, while the second pleaded guilty to reduced charges.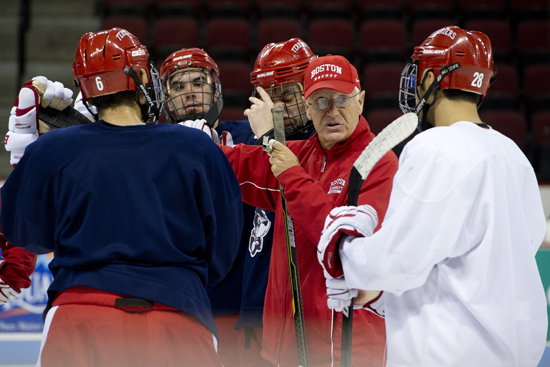 Michael Lynch, a vice president and director of athletics, said Parker's retirement is unrelated to last year's troubles. Following the task force report, the coach, who had joint appointments as hockey coach and executive director of athletics, dropped the latter job.
With the task force behind him, Parker said in the interview, it is now time to retire. "Forty years is a long time to be a the same institution in the same job. I think I'm a little long in the tooth. I don't think I've had the focus I need to have. I haven't lost a step, but I don't want to lose a step." He'd also like more time for personal pleasures like travel, he said. Consulting for the fundraising campaign "will be a lot of time, but it won't be full-time."
"The worst thing that happened to me as coach" was not last year's scandal, he said, but rather a tragedy that became, ironically, his most uplifting experience. In 1995, freshman Travis Roy (COM'00) crashed into the boards in his first BU hockey game and was paralyzed below the neck. Roy later launched a namesake foundation to support spinal injury research and advocate for others with such injuries.
"The way the BU community, the BU hockey community, and the sports community in general responded, and the way they supported him," Parker said, "was just beyond belief."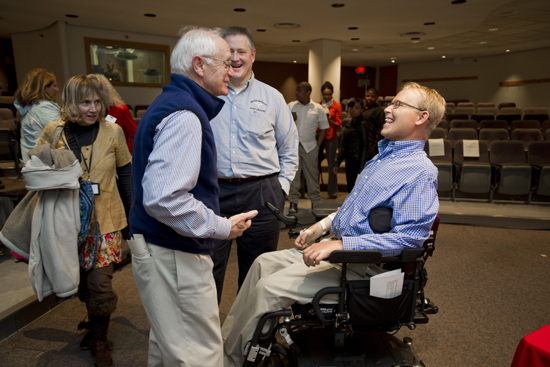 As for the charges against his players last year, "they gave the University a black mark…because they were on the front page," he said. "The last couple of years have been tough. It's certainly easier to coach a team when there's less turmoil away from the ice." But "that did not, in my mind, take away from our reputation" with people such as President Brown, his players' parents, and his fellow coaches at BU and other schools. "They all know who we are."
At the press conference, he reminisced about players, opportunities not taken (he turned down two coaching offers from the Boston Bruins—"I don't think I would have survived in that world"), and his love for BU. He recalled that in his third year as coach, disgruntled with a lower pay raise than he'd wanted, he had an offer to interview for Yale's coaching job. En route to New Haven, he realized "what a sham this is," pulled over at a motel, and phoned to cancel the interview.
"This University, over a long period of time, and more so now than ever, has been behind the hockey program," and him, Parker said.
The most gratifying part of what is a "tough job," he said, was his relationship with his players: "I have 2 daughters and 226 sons."
"He's had a Mount Rushmore career at Boston University," Lynch said. "We're going to be sad to see him leave. He goes down as one of the most decorated coaches in college sports history. Anybody who knows Jack knows the 40 years tells a more truthful, a more direct story than what happened in the past season. You couldn't find a better man." The fact that BU retains him for the campaign, he added, testifies to the University's regard for its longtime coach. As an alumnus and as coach, Parker has reciprocated the feeling. "That was always the thing on his mind—how does BU look?"
"Jack Parker has had an outstanding career as the head coach of Boston University's men's ice hockey team," Brown said. "He leaves a legacy of success and big shoes to fill."
Assisted by the outgoing coach, the University will begin a "comprehensive search" for Parker's successor, Lynch said. Asked if it's likely to be someone at BU—women's hockey coach Brian Durocher (SED'78) played and coached under Parker, built a formidable women's team, and has spoken of his aspirations to helm a men's team—Lynch said that "there are certainly some very capable members we have on our staff," but that former players under Parker who now have college or pro hockey coaching jobs add to an impressive field of potential candidates.
A coach who wore his emotions in full view, always driving his team and never bashful about tangling with referees whose calls he disputed, Parker leaves a career sparkling with gold-plated sportswriter bullet points: 26 seasons where his teams racked up 20 victories; 3 NCAA titles and a national-record 24 berths in the annual March Madness; a 4-season stranglehold (1974–77) on the Eastern College Athletic Conference championship; and 7 Hockey East and 21 Beanpot titles. Over the years, 23 of his players made it to the Olympics, and some became pro hockey coaches, among them New York Rangers assistant coach Mike Sullivan (SMG'90).
Somerville, Mass., native Parker graduated from Catholic Memorial High School, where he played hockey and was named Most Valuable Player senior year. He went on to play center for BU, seeing ice time in three Beanpot championship wins and in two NCAA tournaments. He captained the team his senior year, scoring 14 goals and making 11 assists.
Following graduation, he spent a year coaching hockey at Medford (Mass.) High School before returning to BU as an assistant under his mentor, Jack Kelley, who was then hockey coach. After three years, he was promoted to B-team coach, a one-year stint that ended with his appointment as head coach in December 1973.
His alma mater had won championships before, "but Jack Parker really built Boston University hockey into a brand name," said Lynch. Particularly in the last decade, "we were able to take the team to a number of different venues that brought great visibility," such as NCAA berths and of course, in 2009 a national championship.
Parker, who is married to the former Jacqueline Gibson, has two daughters and three grandsons. He is a past president of the American Hockey Coaches Association and a past member of the NCAA Ice Hockey Committee.
Asked at the press conference what he most hoped his players learned from him over the years, Parker said, "Care about people you're around."