BU Athletes Excel in NCAA Academic Ranking
Perfect scores go to 7 teams, 21 top their sport's national average
The most recent NCAA ranking suggests that Terriers perform as impressively in the classroom as they do on the playing field. Highlighted by perfect scores for 7 teams, 21 BU athletic programs exceeded their sport's national average in the latest multiyear NCAA Division I Academic Progress Rate (APR) data, released in June. That pursuit of scholarly excellence should serve BU athletes well in the academically focused Patriot League, which welcomed many BU teams to its fold on July 1.
Now in its ninth year, the APR ranking factors in eligibility, retention, and graduation in its calculation, providing a clear picture of each individual team's academic progress. The rating spans the four-year period ending with the 2011–2012 academic year, and gives student-athletes one point per semester for remaining academically eligible and another point each semester for staying at their current school or graduating.
Teams scoring below 925 out of 1,000 can face penalties, such as scholarship losses and restrictions on practices and competition, particularly in NCAA postseason events.
"We're proud once again to have outstanding APR scores here at BU," says Michael Lynch, a BU assistant vice president and director of athletics. "Year in and year out, our coaches recruit student-athletes who are serious about both athletics and academics, and those efforts shine through in this data."
A total of 21 Terrier programs scored 980 or greater, with men's cross country, women's golf, women's ice hockey, softball, women's tennis, men's indoor and outdoor track and field among the 827 of over 6,400 eligible Division I programs nationwide to record 1,000, the highest score.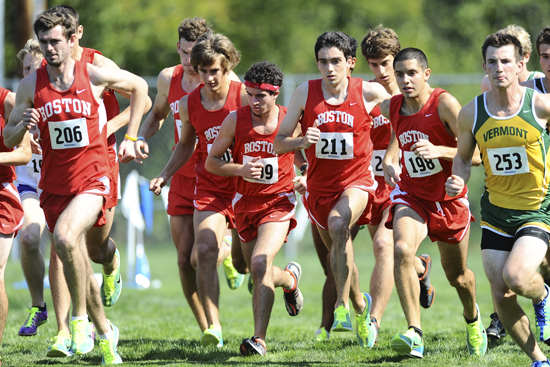 Men's track and field posted a perfect score for the first time, and women's golf for the second year in a row. Both softball and men's cross country scored 1,000 for the fourth consecutive year, while women's tennis reached the mark for the third straight year, quite an "impressive accomplishment," according to Lynch.
Wrestling, scoring a 990 APR, joined the other high-rated Terrier programs in receiving a Public Recognition Award, which the NCAA bestows annually to teams earning multiyear APRs in the top 10 percent of all squads in each sport.
The following is a sport-by-sport APR breakdown of BU teams for the most recent four-year period (2008–2012):
Men's Cross Country—1000*
Men's Indoor Track—1000*
Men's Outdoor Track—1000*
Softball—1000*
Women's Golf—1000*
Women's Ice Hockey—1000*
Women's Tennis—1000*
Women's Soccer—994
Women's Swimming—994
Women's Indoor Track—993
Women's Outdoor Track—993
Field Hockey—992
Women's Basketball—991
Women's Lacrosse—990
Wrestling—990*
Men's Ice Hockey—987
Men's Basketball—985
Men's Tennis—985
Women's Cross Country—984
Women's Rowing—983
Men's Swimming—980
Men's Soccer—974
*Honored with an NCAA Public Recognition Award for being in the top 10 percent of its sport
Tom Testa can be reached at ttesta@bu.edu.