BU Appoints First Chaplain for International Students
New post may be only one of its kind in the country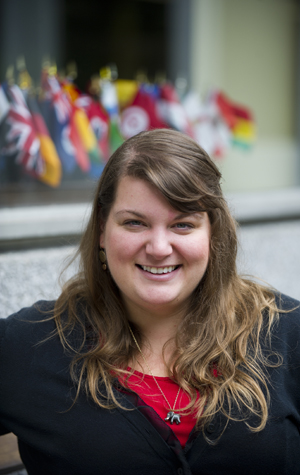 Amid the sizzle and sauce-drizzled aroma of stir-frying vegetables, four foreign students cluster around the stove in Marsh Chapel's basement kitchen, preparing their weekly meal together. Their host is, apparently, the only American college chaplain specifically ministering to students from abroad.
The Rev. Brittany Longsdorf started in June as the University's first chaplain for international students, embodying what she calls "a true spirit of hospitality that I think is theologically backed." (Hospitality is both an injunction and a path to reward in the Bible, as exemplified in a story in Matthew's Gospel, where Jesus offers God's kingdom to those who welcome the stranger.) At BU, Longsdorf's hospitality has been a pleasant welcome mat for Chia Lee (GRS'16), from Taiwan, one of the vegetable cooks at the recent Tuesday dinner.
"It feels great to have someone have your back and support you," says Lee, who is beginning her first year at BU and in the States. "International students, we feel lonely sometimes and homesick, and this kind of activity is actually comforting." During the weekly Tuesday dinners, students chat about any problems they're having, their successes during the past week, and whether they're finding, in Longsdorf's words, a "place to connect with God on campus."
Or to connect with agreeable food. "Yeah, veggies!" Elly Cheng (SPH'15) cheers while cooking. "A lot of meals here, like pizza or sandwiches—there are not enough vegetables," explains Taiwan-born Cheng.
Foreign students, notably from China and Saudi Arabia, are flooding onto US campuses. But while many colleges have denomination-specific chaplains, the Rev. Loretta Reynolds, president of the National Association of College and University Chaplains, says she doesn't "know of any other school" with a counterpart to Longsdorf.
"I will look forward to knowing how this works for Boston University," says Reynolds, the chaplain at Kentucky's Berea College. "This may become a new college chaplain model."
Presented with this ministerial tabula rasa, Longsdorf—at 25 little older than her charges—unspooled an aggressive outreach program. Besides the weekly Tuesday dinners, she hosts a Thursday meal on the Medical Campus, Monday morning meditation sessions at Marsh, and a Sunday morning global scripture study. She says she's prepared for what could be a draining assignment. It's not just that she'll be on call 24/7 or dealing with students for whom the culture and the English language may be ciphers, but she'll be confronting more serious issues arising for students so far from home and their family. Had she arrived just two months earlier, she says, the Boston Marathon bombings, which killed Chinese graduate student Lu Lingzi (GRS'13), "would have been in my domain…talking to all of Lingzi's friends, talking to her family, organizing the memorial service."
"I think I'm definitely going to face some things here that will seem intimidating," she says. "But I think that's the nature of the work. I think so much of ministry work is unexpected, and it's always these things that kind of get you in the gut. And that's part of the compassion part of my job, feeling that sadness."
Religions common among other nations have ministers and/or groups on campus, "and I'm not here to step on anyone's toes," Longsdorf says. Rather, she'll be Marsh Chapel's face to those students, offering them pastoral counseling. Marsh Dean Robert Hill says he established the position to "bring pastoral care, programmatic support, and administrative connection to the 20 percent of our students who are internationals of many backgrounds—Hindu, Muslim, Buddhist, Confucian, other, or none."
Longsdorf devotes much of her day to office hours—"having tea and cookies"—for students to discuss everyday problems, from relationships to finding the nearest grocery store to any cultural difficulties they're facing. (She spends one day a week on the Medical Campus.) Marsh has set up a Facebook page and a Twitter account (BUChaplainBritt) for her ministry.
The new chaplain is a member of the Community of Christ, a 183-year-old, peace-promoting Christian denomination with a quarter of a million members globally. She grew up in a devout Community of Christ family, but early on befriended a Hindu girl, whose home and temple she frequented in addition to her own. "I just thought, there are so many beautiful ways that God accesses the world and that we access God.…I just feel like there's this beautiful spirit in the world that's egging us on to love each other and be better people, and explore each other in ways that we haven't before."
Her résumé attests to her international chops. She speaks Spanish and French and can read German and Greek, although, she says, "I desperately wish I'd learned Mandarin," given that Chinese students are the largest foreign contingent on campus. She's visited more than 30 countries on 6 continents and has lived in India. Longsdorf says these experiences honed her communication skills with non–English speakers, from reading facial expressions to a comforting hand on the arm to drawing pictures conveying your thoughts. She also studied "active listening," which requires practitioners to constantly restate what they believe their conversation partner to have said, to ensure they've understood correctly.
Prior to coming to BU, Longsdorf worked as a campus minister in the office of religious life at Princeton University, where she created fellowship opportunities for students "on the fringes of faith," including foreign students, she says. For two years, she also was a part of the pastoral leadership of the historic Princeton University Chapel. She graduated from Graceland University and earned a master's in divinity studying world religions at Princeton Theological Seminary.
The new job is her first time living in Boston, which to outsiders can seem a foreign experience in itself, from the local accent to the weather. "My husband and I have been here for 13 days," she noted shortly after her June arrival. "It's already eaten two of our umbrellas."