Break Out the Bibs
Dining Services annual Lobster Night tonight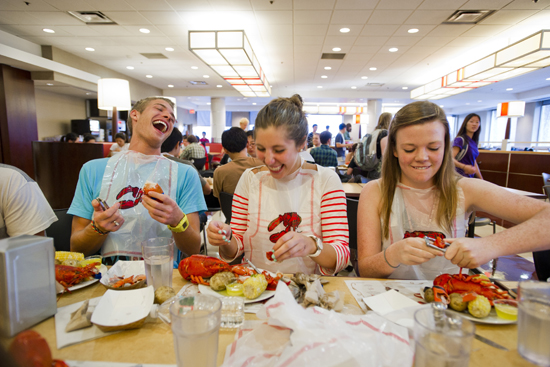 It's time to break out the bibs and crack open crustaceans: tonight marks the return of one of Dining Services' most popular events, Lobster Night.
With 7,500 Maine lobsters on order, BU Dining Services is ready to feed the thousands of members of the BU community expected to visit campus dining halls tonight, says Scott Rosario, Dining Services marketing director.
The evening brings together students from New England familiar with lobster as well as those from foreign countries who have never encountered the crustacean before, Rosario says.
Diners will receive one steamed native Maine lobster and can enjoy steamed local corn on the cob with chervil butter, baked Maine potatoes with sour cream and chives, roasted corn and crab bisque, and more. Guests can pair their lobster with fresh local apple cider and finish the night with roasted local peach trifle or Maine blueberry cobbler.
Citrus and honey-brined rotisserie chicken with rosemary and garlic crust will also be on the menu for those who prefer. The typical vegan, salad bar, soup, deli, and grill items will also be available.
When the inaugural Lobster Night debuted in 1985, it took place at just one location, the George Sherman Union. It has since grown into one of the biggest events presented by Dining Services each year, with all dining halls participating.
Daniel Bolton (SMG'14) makes an effort to attend the event every year. "The first time I went, Lobster Night was in the Warren dining hall," Bolton says. "It was completely packed. Everybody used to take their parents there. It was like a family thing because it was Lobster Night, so everybody wanted to bring as many family members in as they could."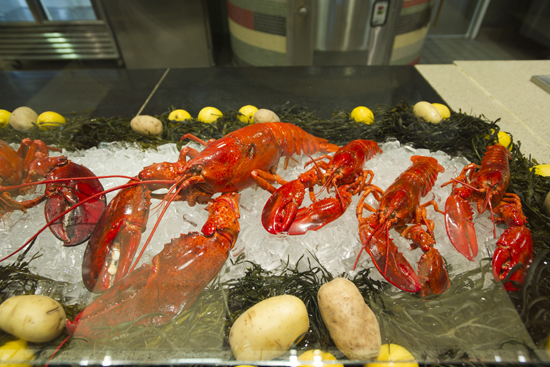 Bolton says the evening offers a novel change from typical dining hall fare. "It's a fun night because it's not every day you get a lobster—and on your dining plan. It's just a cool experience because it's not something you'd expect from your average dining hall."
Rosario says Lobster Night is an introduction to a lot of "fun things to come" from Dining Services throughout the year, including a series of themed nights and the Visiting Chef Series.
Bolton plans to arrive early for tonight's meal. Last year, put off by the crowds that flocked to the Marciano Commons dining hall, he gave up and went home. As a StuVi resident with no dining plan, Bolton hopes to use a friend's guest meal pass tonight.
Despite the event's popularity, not everyone's a fan. "I really don't like it, both because I don't like lobster and because it makes the dining hall very busy and just miserable," says John Morris (CAS'14).
But Bolton says it's worth braving the long lines. And he has some advice for real lobster lovers: bring a friend who doesn't like lobster and use his or her ticket to score an extra one.
Lobster Night is from 5 to 9 p.m. at all residence dining halls: the Fresh Food Company at Marciano Commons and at West Campus, and at Warren Towers. Students on a meal plan can use their Terrier Cards. You can bring friends and use your Guest Meals. Those students not on the meal plan can pay cash. The cost is $14. Check out the menu here or through Dining Services' Facebook page.
Sonia Su can be reached at ssu@bu.edu; follow her on Twitter @SoniaSu_.