Art Installation to Light Up Boston Skyline
Look up Thursday to Sunday nights as laser connects BU towers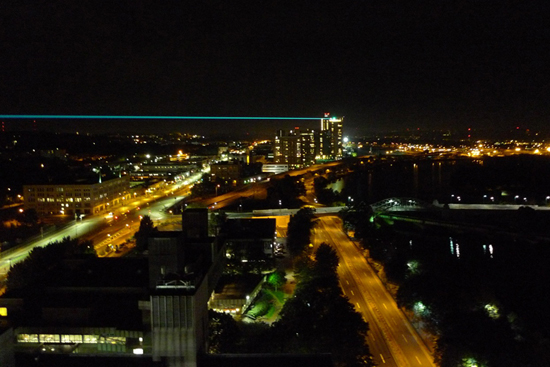 A strange, otherworldly beam of light will slice the sky over BU beginning at dusk tonight. Be enchanted, but not alarmed: it's a temporary, site-specific laser installation by German-Swiss artist Florian Dombois, part of the BU-hosted TransCultural Exchange 2013 Conference on International Opportunities in the Arts, Engaging Minds, being held from October 10 through 13 at BU and other venues in the area.
Titled uboc No. 1 & stuVi2, the "talking towers" beam will stretch across the Boston skyline Thursday to Sunday, from dusk until 2 a.m. The starkly visible blue-green laser will connect two towers, the BU School of Law—Josep Lluis Sert's modernist icon, nicknamed by students the ugliest building on campus (uboc No. 1)—and the sleek new dormitory Student Village 2 (stuVi2). In what the artist calls an "architectural and geophysical dialogue," the laser will also function as a range finder, measuring the distance between the two towers.
"The College of Fine Arts is excited to host the TransCultural Exchange conference, which brings together people from all over the world to discuss art, music, and theater and the power of the global community," says Lynne Allen, director of CFA's School of Visual Arts.
The Dombois installation "is an elegant metaphor, the perfect conference centerpiece," says installation curator Mary Sherman, executive director of TransCultural Exchange, which is presenting the exhibition in collaboration with the School of Visual Arts. Established in 2002, the nonprofit TransCultural Exchange, supported by UNESCO and others, promotes international art and global cultural understanding.
"Situated at a unique crossroads, the laser stretches across the only juncture in America where all the most common modes of transportation and ways in which people are brought together converge," Sherman says.
The light beam will span a major interstate (I-90), a busy flight pattern (Logan Airport), a waterway (Charles River), a railroad line (Amtrak and the local commuter rail), and an auto and pedestrian bridge (Boston University Bridge).
"The Florian Dombois piece not only brings dramatic attention to the Boston University campus, it is a visual reminder of the connection between the arts and the university and of the interdisciplinary collaboration of today's global arts community," says Benjamin Juárez, dean of CFA. "The installation also points to the past and the future, connecting a BU campus landmark, a building from a different generation, with the state-of-the-art aesthetics of StuVi2. The art installation is a catalyst, opening a metaphorical conversation about these relationships and the role art plays in contemporary society."
The beam is completely safe to view, says Allen, and should not be confused with medical lasers, which are far more powerful and require precautionary measures.
The installation uboc No. 1 & stuVi2 is partially funded by the BU Arts Initiative.