An Unconventional OB/GYN
New MED grad brings back lessons in global health from Lebanon
Like many newly minted physicians, Ashish Premkumar dreams of becoming the next Paul Farmer, the globe-trotting physician and medical anthropologist who founded Partners In Health. The difference is that Premkumar, who just graduated from the BU School of Medicine, already has significant international health experience, a strong foundation in medical anthropology, a healthy helping of compassion, and the capacity to soak up information like a sponge. In other words, he just might achieve his goal.
Premkumar (CAS'10, MED'13), who grew up in Missouri, comes from a long line of male OB/GYNs. While he appreciated the importance of women's health, he never felt the specialty was for him. He wanted to start a revolution to change the way health care is delivered, not simply follow in his family's footsteps.
But at 15, Premkumar had a high school social studies teacher who made the class read Noam Chomsky, the late BU Professor Emeritus Howard Zinn, and Tracy Kidder. One book in particular, Kidder's Mountains Beyond Mountains, which chronicles Farmer and his work fighting tuberculosis in Haiti, Peru, and Russia, proved life-changing. It was the first book, Premkumar says, that he stayed up all night reading. It was also around that time that he had a formative conversation with his grandmother, who grew up in India surrounded by poverty and violence. He remembers her saying: "Don't forget where you came from, and don't forget that people are still suffering." Suddenly, his father's family's profession and his personal passion had found common ground.
"I loved the science of medicine," Premkumar says, "but I wanted something more out of it than caring for sick people."
During a course on Muslim politics he took as a College of Arts & Sciences undergraduate, the professor discussed how Lebanese history and politics are deeply intertwined. The class stayed with Premkumar and sparked a desire to visit the country.
So during his first month at MED, already convinced he wanted to work on the health of women in refugee situations internationally, Premkumar landed on the doorstep of Suzanne Sarfaty (MED'88), a MED associate professor, assistant dean of academic affairs, and director of the international health program. He told her of his ambitions and that he knew where he wanted his first destination to be: Lebanon.
"Many students come in with a desire to be global," Sarfaty says, "but they're not all cut out to do the kind of work Ashish wants to do from the beginning."
Sarfaty and other MED advisors thought it would not be wise for Premkumar to go to the contested area, but he was persistent. As part of his trip preparation, he took a yearlong directed study course in medical anthropology with Lisa Messersmith, a School of Public Health associate professor of international health—juggling it with the rigors of the first year of medical school.
"He brings this sort of intellectual mind that can grasp more than the robotics of how a body works," says Messersmith, who mentored him for the past four years. "He's very comprehensive in how he addresses particular issues or problems. He will go deep in theory and apply it to real-world health issues in order to find solutions."
You have to be an advocate
The summer following his first year at MED, Premkumar interned with the Beirut-based nongovernmental organization Amel Association, which works with children, refugees, and migrant workers, to study how community leaders and health professionals approach reproductive care for poor women. He quickly proved to be an adept international health worker.
"It's not easy to work in global health in general in communities where you don't live," Sarfaty says. "Cultural, language, and gender barriers make it all the more challenging. He is doing what he needs to do to build relationships to help make his work sustainable."
His Beirut experience made such a strong impression on him that Premkumar returned last winter for a two-month clinical rotation, splitting his time between the free Volunteer Outreach Clinic, run by the Lebanese American University, and another run by the Palestinian Red Crescent. He also traveled north of Beirut for home visits with patients living in Palestinian and Iraqi refugee camps, treating them for hypertension, cardiac issues, and diabetes. He quickly realized that most refugees' primary concerns were not health-related; they were about finding work, food, and secure housing.
"You feel like you're banging your head against a wall for days on end," Premkumar says, adding that he came to understand that "you can't just be a physician—you also have to be an advocate."
That led him to the offices of Médecins Sans Frontières and the United Nations, where he spoke with officials about the social issues he had confronted in clinics. He also grappled with what he found lacking in the current medical school curriculum—namely, how to teach future doctors about suffering and inequality so that it inspires them to push for change. He expanded on his discoveries in a travel blog he kept while in Lebanon.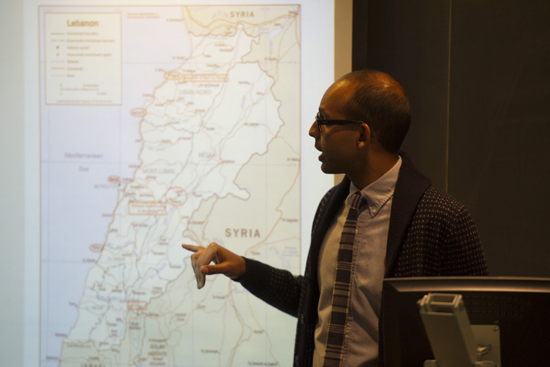 When Premkumar returned to Boston in March, Sarfaty invited him to speak to several dozen students interested in global health equity. While his audience nibbled from catered plates of pasta in a MED auditorium, the fourth-year student stood at a podium and gave an eloquent 30-minute soliloquy summarizing the history of Lebanon, addressing the medical and social issues facing Palestinian and Syrian refugees there, and critiquing the value of international humanitarian aid.
Why is this important for first- and second-year medical students to hear? Because, Premkumar said, patients aren't bodies disassociated from their social, historical, and cultural context. That larger picture directly influences the health issues they present—whether at Boston Medical Center or in a remote village clinic in Lebanon, Zambia, or South Africa (all places he has visited). Listening, he told the students, goes a long way toward seeing the whole patient.
"Medicine is not apolitical in and of itself," he said. "The very act of listening becomes political."
Wrapping up his presentation with a light nudge to educators in the room, Premkumar suggested that the medical school curriculum would benefit from lessons learned in public health, anthropology, and sociology, and that more doctors should be trained as advocates. Getting there might require a new type of Paul Farmer, maybe someone with more consonants in his name.
"For me, medicine is a stepping-stone," says Premkumar, who is about to begin an OB/GYN residency at the University of California, San Francisco. "I don't think it's all I want to do with my life. I feel like teaching doctors to be patient advocates could be the other."