Alternative Visions/Sustainable Futures
808 Gallery show kicks off collaborative project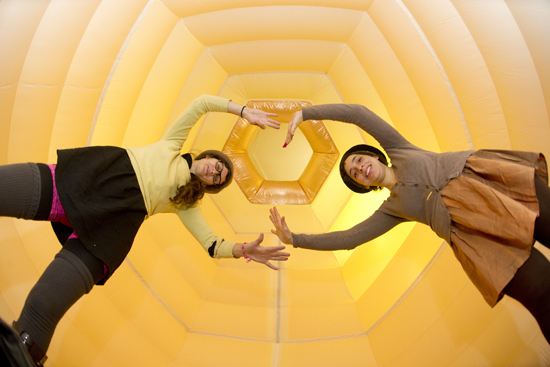 How do we go about creating a sustainable future? That question is at the center of a new project titled Alternative Visions/Sustainable Futures, a collaboration between the College of Fine Arts School of Visual Arts and sustainability@bu. Taking place throughout the semester, the project features an art exhibition, speakers, and weekly forums that include collaborative art projects, film screenings, musical performances, and poetry readings.
Two years in the making, the cross-disciplinary project was the brainchild of Dennis Carlberg, BU's director of sustainability, and Dana Clancy, a CFA assistant professor of visual arts, who wanted to explore the creative ways that artists, scholars, and members of the BU community might build a sustainable future.
CFA Dean Benjamin Juárez says that the project dovetails perfectly with this year's Keyword Initiative, which focuses on the theme of resilience. "This exhibition is about discussion and growth," says Juárez. "With a children's program, interactive workshops, and stimulating lectures, this is a participatory exhibit that speaks to all ages with the hope that exploration will lead to tangible action. The hope is to open up dialogue across campus about the environment in the context of art."
Kicking off the Alternative Visions/Sustainable Futures project is a provocative exhibition at the 808 Gallery titled System: ECOnomies. Curated by Clancy and Lynne Cooney (GRS'08,'15), CFA School of Visual Arts exhibitions director, the show highlights work by individual artists and collaborators who have created proposed models for sustainable living.
The exhibition includes a range of work, from videos to drawings to installations. A focal point of the gallery space is Flock House, a mobile, self-sufficient housing unit made of reclaimed and redesigned materials organized by Mary Mattingly. The large, faceted, spherical unit uses green technologies, such as rainwater capture and solar power, and features gardens planted in troughs. An accompanying series of photographs shows the unit in a park, on a city sidewalk, and in other spaces. Mattingly's compact urban habitat, like many of the other works featured in the show, is a blend of the conceptual and the practical.
Another striking installation is Marsh Island Radio by Plotform, an ecologically minded collective formed by Jane D. Marsching and Andi Sutton. This arresting work presents a system of modular salt marsh habitats that can be used for growing salt marsh plant species in the future. The prototypes are made from crocheted ropes of vibrant, patterned cloth and recycled water bottles.
One of the central works in the exhibition is Festooning the Inflatable Beehive, a large-scale inflatable shelter in the form of a Skep beehive. Created by artists Maria Molteni (CFA'06) and Colette Aliman, the dome-like space is designed to accommodate 10 to 15 people at a time. The artists hope that their work will help to educate people about the ways that honeybees have responded to environmental changes throughout time and the ways that beehives have influenced social structures.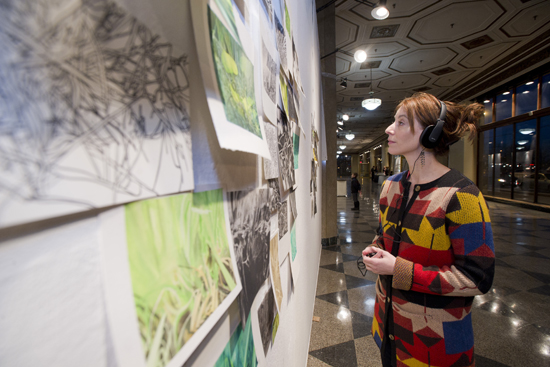 "The exhibits include some really amazing, thought-provoking work by artists who have a positive vision of our future, and not simply the doom and gloom often associated with discussions surrounding climate change and sustainability," says Lisa Marie Tornatore (CAS'02), BU's sustainability outreach coordinator. "We hope this will get folks who are interested in sustainability to think outside the box…and to engage more of the arts community to help us think of creative solutions to address climate change and resilience."
Part of the exhibition area at the 808 Gallery has been transformed into a conceptual space, designed by School of Visual Arts students, where members of the BU community and the public can hold interdisciplinary events, such as discussions, performances, and collaborative art projects, throughout the semester. Information gathered during these so-called ECOnversations will then become part of the exhibition.
Among the integral components of Alternative Visions/Sustainable Futures are workshops and performances by participating artists, who will discuss their work more fully. The events include Stitching the Shore, a collaborative crochet session with Plotform on March 6; Outside the Work: A Tasting of Hydrocarbons and Geological Time, a $40 tasting of small plates and drinks presented by artist Marina Zurkow and chef Lauryn Turell, on March 22; and lectures by artists Amy Franchesini and Chris Jordan on March 26 and April 18, respectively.
A complete list of events is here.
Alternative Visions/Sustainable Futures runs through April 20. System: ECOnomies runs through March 30 at the 808 Gallery, 808 Commonwealth Ave. Gallery admission is free and open to the public. Events are held in the 808 Gallery and are free and open to the public unless otherwise noted in the schedule. The gallery is open Tuesday to Friday from 11 a.m. to 5 p.m. and Saturday and Sunday from 1 to 5 p.m.
Erin Thibeau can be reached at ethibeau@bu.edu; follow her on Twitter @erinthibeau.