The Addiction Puzzle, Part 3: The Search for the Alcohol Trigger
CAS prof says context, mood affect consumption
"People with a greater proclivity to drink to cope are more likely to have alcohol-related problems and consequences."
Try to guess the outcome: Two men sit at a bar with a glass of their favorite beer. One is asked to lean over and sniff the beer; the other is told to lift the glass and inhale its hop-and-barley goodness. Both report an equal desire to down the beer. When they're allowed to drink to their heart's content, which man drinks more?
Correct: the lift-and-sniff man. But why?
That question lies at the heart of Tibor Palfai's research. The College of Arts & Sciences professor of psychology studies the nonconscious processes that influence self-control when people are given the opportunity to drink alcohol, thanks to more than $600,000 in grants from the National Institute on Alcohol Abuse and Alcoholism and ABMRF/The Foundation for Alcohol Research. In the example above, Palfai says, both men had the same desire to drink, yet the one who picked up his beer and sniffed activated a mental trigger that encouraged him to consume more. Palfai's research attempts to identify these triggers, understand how such automatic processes can influence people's behavior, and develop strategies to minimize the triggers' power.
In his lab, college-aged volunteers, recruited from around the area or through University psychology classes, are escorted to a small room, where they sit facing a monitor for an implicit association test (IAT). The test assesses people's automatic responses to cues and has been used in a variety of contexts, such as measuring prejudices based on race or age. Palfai uses the IAT to assess volunteers' positive response to alcohol cues.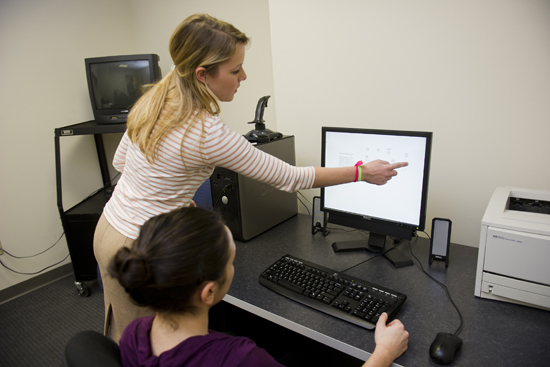 On a recent afternoon, Kelli Tahaney (GRS'18) explains the IAT to Alex Bonanno (GRS'14) before giving her a series of tests. In the first test, Bonanno must type "E" each time an alcohol-related image—like a pitcher or bottle of beer—flashes on the screen and "I" for a water image. Then she is told to press "E" each time she reads a word similar to "approach," such as "progress" and "forward," and "I" for a word similar to "avoid," such as "escape" and "leave." The series repeats, but this time Bonanno sees a mixture of pictures and words and types her responses. Finally, Tahaney switches the rules and tells Bonanno to type "E" for images of water and "I" for those of alcohol. Bonanno's previously fluid typing slows as her brain adapts to the new instructions.
"Reaction time is really important here," Tahaney explains. "If people are quicker to react when they see alcohol and approach, that means they have a bias toward alcohol" and may be more likely to drink, drink heavily, or have alcohol-related problems.
Tahaney takes what looks like a video gamer's joystick and places it in front of the computer. She tells Bonanno to pull the joystick toward her whenever she sees a yellow frame around an image and to push away whenever she sees a blue frame. The images are random at first—a spoon, a bowl, a whistle—so that Bonanno can get used to the new exercise; then the pictures switch to images of alcohol or water. Soon, as in the first exercise, Tahaney flips the rules and Bonanno goes through the test again. All of her reaction times are carefully measured.
"People who tend to be heavier drinkers are faster to pull the lever toward them when alcohol-related pictures appear," Palfai says, "even though the task itself doesn't have anything to do with responding to alcohol- or nonalcohol-related terms."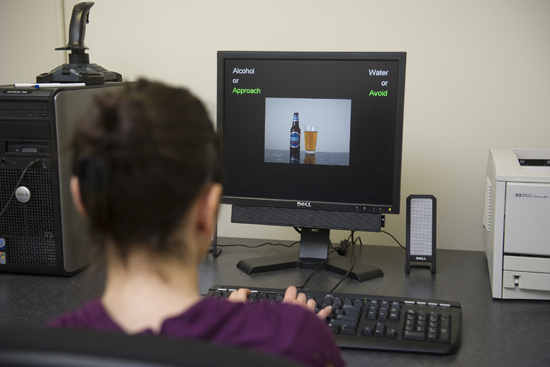 He and his team compare volunteers' reaction times to their drinking habits as recorded in a survey they've previously taken of how much, why, and in what contexts they drink. They are also asked about self-control, general mental state, and whether they think their alcohol consumption interferes with attaining goals, like doing well in school or being physically fit.
Palfai has found that most college students say they drink for positive reasons ("to enjoy a party," "to be sociable," or "to get a pleasant feeling") and not "to cope" or because they're depressed. But, he says, "people with a greater proclivity to drink to cope are more likely to have alcohol-related problems and consequences," such as missing class or work. He also found that people who report feeling stressed or overwhelmed don't resist urges to drink as they normally would under different circumstances.
Currently, he says, most alcohol interventions are focused on behaviors and beliefs, which are more conscious aspects of individual habit. He thinks those strategies would be more effective if they addressed automatic responses to alcohol cues. His goal, he says, is to develop a computer-based therapy (think smart video games) that would identify and disable nonconscious triggers.
If he succeeds, Palfai says, people seeking help for a drinking problem would still undergo an intervention and current forms of treatment before being offered such an option. He says he doesn't imagine a world where "people come in to the lab, do what they think is an experimental test, leave, and start eating healthy food." Or in the case of his research, stop drinking alcohol. What he does imagine is a computer-based alternative that addresses components of the problem that may be out of the person's conscious control. And consequently, a more effective treatment for the millions of people struggling with alcoholism who have sought relief, but haven't found it.
The Addiction Puzzle
The Search for the Alcohol Trigger