A Dream Come True
COM student to compete in 2014 US Figure Skating Championships
On a recent weekday morning, Jimmy Morgan donned a pair of skates and glided out to TD Garden's center ice to meet his figure skating partner, Alex Shaughnessy. Staring intently at the bench where the Boston Bruins usually sit, Morgan (COM'14) took her hand and they struck a dramatic pose as the arena filled with the sound of Angel Gregorio Villoldo's sweeping tango El Choclo.
For the next three hours, the pair—both clad in black pants and gray tops—moved around the ice practicing their short program for the 2014 Prudential US Figure Skating Championships, the nation's most important annual figure skating event, being held next month at Boston's TD Garden. The competition (referred to by skaters as "the nationals") crowns US champions and awards medals in four disciplines: men's and ladies' singles, pairs, and ice dance. Skaters are grouped by division: juvenile, intermediate, novice, junior, and senior. The top winners will advance to the Winter Olympics in Sochi, Russia.
For Morgan and Shaughnessy, the grueling rehearsal was typical. They practice four hours a day, five days a week at the Skating Club of Boston in Brighton. On this day, they were getting a feel for the venue where they will compete in the seniors pairs short program on January 9 and the senior pairs long program on January 11.
Growing up in Windham, N.H., Morgan dreamed of skating one day at the venerable TD Garden, but he imagined it would be as a hockey player. He began skating and playing hockey at four years old, but stopped for one simple reason.
"I switched out of hockey because I hated the cold," Morgan admits. "The particular rink where I played was especially cold, so I asked my parents to take me out." He returned to the ice a couple of years later after watching a friend figure skate. "I went back when I was nine and started figure skating because a good friend of mine was figure skating," he says, "and I never stopped."
The 21-year-old public relations major quickly earned success as a singles skater, competing regionally during his early teenage years. As he advanced through the ranks, he traveled to Boston for advanced training at the venerable Skating Club of Boston, which counts among its alumni Olympic medalists Dick Button and Tenley Albright, a former member of Sargent College's board of visitors. On his first day working with veteran coach Bobby Martin, Morgan and his parents were given an unexpected suggestion.
"I moved to my current coach as a singles skater with no real intention of doing pairs, and basically the first day I went to him, he sat my parents and me down and said, 'This kid's tall, he can jump decently, we're going to have him try out pairs—at least. And if he doesn't like it, he doesn't have to do it, but I think it would be good for him to try.'"
The request didn't faze Morgan, although pairs is not the most popular figure skating discipline. (No American pair has captured an Olympic medal since 1988, when Jill Watson and Peter Oppegard took the bronze, and the ranks of competitive pairs are small—only 13 pairs will skate in the senior division at next month's nationals.) Morgan agreed to try it for the chance to continue training at the legendary century-plus-old club. "The first couple of times I did it, I thought, this could be fun to do," he says. "Then they introduced me to Alex."
Morgan was 16 at the time, Duxbury, Mass., native Shaughnessy 14. Like Morgan, she had trained as a singles skater and been persuaded to try pairs. "We were introduced so we could learn pairs together," Morgan recalls, "and then after two or three weeks, our coaches said, 'You are a pairs team.'"
The partnership worked. Although Shaughnessy continued to compete as a single skater, she and Morgan devoted much of their energy to their pairs partnership. They won the bronze medal at nationals as a novice pair in 2012, and finished 10th on the junior level nationally last year.
While they advanced up the ranks, the couple saw many of the pairs who had defeated them in past competitions dissolving their partnerships. Morgan and Shaughnessy learned not to let their disappointments hurt their union.
"You could say we are on the longer side of a lot of partnerships. All of the Boston pairs are," says Morgan. Those other two Boston senior teams he and Shaughnessy have been training alongside are Gretchen Donlan (CAS'16) and Andrew Speroff and defending senior national champions Marissa Castelli and Simon Shnapir. "We are trying to stay together for as long as possible," Morgan says. "It gets you the most bang for your buck if you stay together and work on things as they come."
Working together as a pair has meant learning to accept each other's habits and personalities. "I think Alex would describe me as dependent. I rush a lot," Morgan says. "In our programs, I'll try to get through everything really quickly and not pay attention to the finer details. And she'd say I'm consistent—I'm always dependent and I always rush."
The relationship has endured in part because the pair complement each other. Morgan says that Shaughnessy, a Northeastern student majoring in business administration, "is definitely a fighter." When you tell her she can't do something, she'll try to prove you wrong, no matter what. That's definitely her best quality."
He says he used to be very shy and credits Shaughnessy with helping him come out of his shell. He never thought of himself as an extrovert or a performer prior to taking up figure skating, but says now he has the confidence to feel like both. Shaughnessy "is definitely good at performance," he says. "When I started skating, I had zero performance ability. My coaches tried to bring that out, but she did a lot to help me."
Morgan says their platonic relationship is so strong that their routines convincingly convey a sense of romantic yearning. "We have such a comfortable relationship that it's not awkward to act like we're in love, or act like we almost kiss in a program," he says.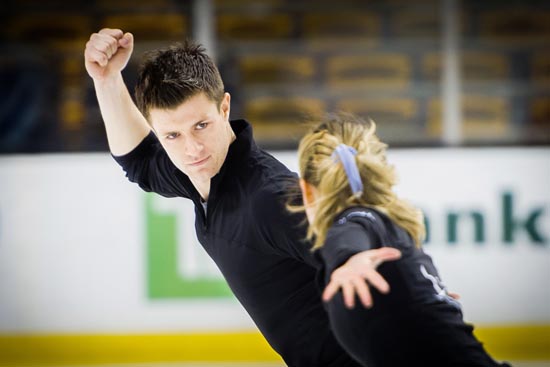 The confidence and interpersonal skills Morgan has developed through skating have played a role in his academic choices. As a freshman, he thought about majoring in chemistry, inspired by a high school science teacher, but later switched to computer science. He discovered that what he liked best was building websites and communicating with others. So he asked friends on campus to help him choose a new major. "I explained what I was trying to do and what I enjoyed, and they said, 'You should try public relations.'"
It turned out to be a good fit. He became a public relations student and an enthusiastic social media practitioner. Earlier this semester, he combined his COM studies, his love of Twitter, and his life as a figure skater and launched the Social Athlete blog, where he interviews fellow nationally ranked skaters about their use of social media, and demonstrates how he promotes his own skating career via social networking.
And when the Skating Club of Boston began large-scale preparations last spring for the upcoming 2014 nationals, Morgan found another opportunity for his major and his skating career to intersect.
"I started helping nationals organizers out around February," he says. "I did their social media. I compiled lists of who we could contact to tap into the college market, and things like that." With help from COM advisors and Skating Club of Boston staff, he turned the work into a formal internship.
Nationals organizers were impressed and asked him to pull double duty during championships week. "They are starting a blog from the viewpoint of the competitor, and they want me to write that. I'll be helping run their Twitter account once I'm done practicing and competing," he says.
Balancing acts are nothing new to Morgan, who juggles afternoons spent skating with morning and evening classes and his internship. "It takes a lot of time management, like anything you want to do," he says. "It takes a lot of compromise. You can't do everything if you're trying to do both. It's something I've just accepted over the past couple of years."
After graduation in May, Morgan plans to continue his juggling act, pursuing competitive skating, a coaching gig, and public relations.
"My partner and I have said that we'll continue until it's not fun anymore," he says. "And I don't see that happening anytime soon."
For now, though, Morgan is concentrating on the US Figure Skating Championships. "Nerves haven't set in yet," he says. "They will at some point, usually a week before." But being able to skate at a venue he's always dreamed about adds extra excitement to this event. "I've been to the TD Garden so many times, just sitting in the stands. It's going to be exciting to be on the ice."
The Prudential US Figure Skating Championships take place January 5 through 12 at the Boston Convention and Exhibition Center and the TD Garden. Morgan and Shaughnessy compete January 9, at 4 p.m., and January 11, at 11:30 a.m. and 2:45 p.m., at the TD Garden, 100 Legends Way, Boston. Also competing at that time will be Gretchen Donlan (CAS'16) and her pairs partner, Andrew Sperloff. Tickets to the Championships are still available in limited quantity; purchase in person at the TD Garden box office (hours: daily, 11 a.m. to 7 p.m.) or online at Ticketmaster. Daily passes are $15 to $85. By public transportation, take any Green or Orange Line trolley to North Station and enter TD Garden at either the east or west entrance.
Kat Hasenauer Cornetta can be reached at katcorn@bu.edu.