When Irish Eyes Are Smiling
Celebrating St. Patrick's Day weekend
This weekend, it doesn't matter whether you're a Patrick or a Bridget. On St. Patrick's Day nearly everyone in Boston is Irish by association. And in a city with deep ties to the Emerald Isle, there's plenty of ways to celebrate the holiday.
Check out this Weekender for recommendations about joining in the festivities. And be sure you take this old Irish saying to heart: "Wherever you go and whatever you do, may the luck of the Irish be there with you."
Know of another cool event? Please add it in the comment space below.
Friday, March 16
First Things First: Food
Hungry to get a head start on the holiday? This weekend, you can find classic Irish fare at pretty much any Irish pub or restaurant in the city. For especially delicious and cheap corned beef and cabbage, check out Durgin Park, near Faneuil Hall, which will be bustling on Saturday night, or Franklin Café in Southie during the parade. Both places will be serving the hearty dish all weekend long.
Durgin Park is at 340 Faneuil Hall Marketplace, Boston; Franklin Café is at 278 Shawmut Ave., South Boston.
Guided Tour: Boston Irish Heritage Trail
Explore Boston's rich historical ties to Ireland by taking the Irish Heritage Trail, courtesy of the Boston Irish Tourism Association. The 75-minute tour, ripe with stories from the Revolutionary War, the Irish famine, and the Civil War, is led by alum Mike Quinlin (COM'92).
The tour starts at 12:30 p.m., Wednesday through Sunday, at the Boston Common Visitor Center, 147 Tremont St., Boston; $15 for adults, $8 for children 6 to 12, and free for children under 5.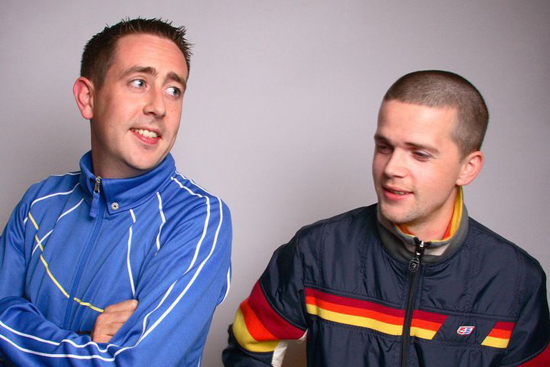 Dance Nation Presents Full Tilt: Timmy Gibson and Tommy Conway
An Tua Nua is as close to a real Irish pub as you'll find in Boston, popular with college students and Bostonians alike. Irish DJs extraordinaire Timmy Gibson and Tommy Conway, known famously at home as "Full Tilt," will be on hand to kick off the holiday, accompanied by local DJ favorites, including Peter Bailey, and Dance Nation regulars Anto Boran and Macca.
The set starts at 9 p.m. and runs until 2 a.m. on Friday, March 16, at An Tua Nua, 835 Beacon St., Boston. Tickets are $20 (21+).
Hockey East Tournament
If sports, not music, is more your thing, head to TD Garden this weekend for what promises to be an exciting tournament, with BU taking on Maine in the Hockey East semifinals Friday, and if victorious, going on to the finals on Saturday. The Terriers enter the tournament as third seed, after overcoming UNH last weekend in the longest game in the history of Agganis Arena.
The Hockey East tournament is at TD Garden: on Friday, March 16, BC and Providence play at 5 p.m., BU and Maine at 8 p.m. The championship game between the two winners will be held Saturday, March 17, at 8 p.m. Student ticket packages (two tickets per ID) are available for $20 at Agganis Arena.
AD20/21
In the mood to spend some cash to spruce up your digs? Head to AD20/21, the Art & Design of the 20th and 21st Centuries & the Boston Print Fair, which offers contemporary fine art, jewelry, furniture, and heck, maybe a sculpture or two.
AD 20/21 is at the Cyclorama at the Boston Center for the Arts, 539 Tremont St., in Boston's South End. The fair runs from 1 to 8 p.m. on Friday, March 16, 11 a.m. to 8 p.m. on Saturday, and 11 a.m. to 5 p.m. on Sunday.
Saturday, March 17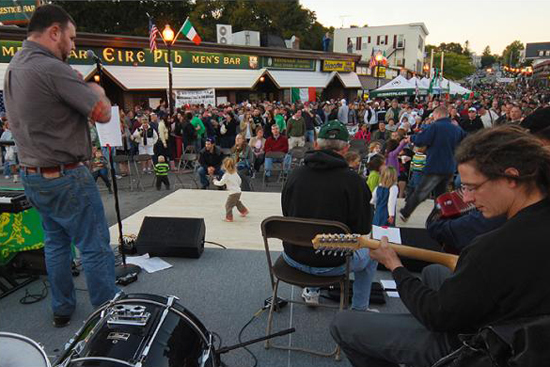 St. Patrick's Day Celebration
St. Patrick's Day gets a bright, early start this year and a late goodnight at the Irish Cultural Centre of New England, in Canton, Mass. Wake up to breakfast and pints from 10 a.m. to noon, refuel beginning at noon with corned beef and cabbage, and sing and dance to Irish music and step dancing until 11:30 p.m., all in the same place.
The Irish Cultural Centre of New England, 200 New Boston Dr., Canton, Mass., opens its doors at 10 a.m. with Irish entertainment and food until closing time at 11:30 p.m.; $10 at the door, with additional charges for food.
The Dropkick Murphys
What better way to celebrate St. Paddy's Day than with one of the world's best known rock bands, the Dropkick Murphys. They'll be around town all weekend. And while several of their concerts are already sold out, ticket are still available for a couple. So get ready join the band's diehard fans as they jump, scream, and push their way up to the stage at these infamously enthusiastic concerts.
Tickets are still available to the Dropkick Murphys matinee performance at Tsongas Center at UMass Lowell, 300 Martin Luther King, Jr., Way, Lowell, at 2 p.m. on Saturday, March 17, and for Sunday, March 18, at 7:30 p.m. at Brighton Music Hall, 158 Brighton Ave., Allston. Tickets for Saturday's concert (various prices) are sold here. Tickets for Sunday's show can be purchased only at the door and are $25.
Tin Can Hooley: Common Ground
If you can't get tickets to the Dropkick Murphys, consider heading over to Common Ground, in Allston. Traditional Irish band Tin Can Hooley, with BU's own Pat Kennedy (alum and Marcom staffer), will serenade patrons with tin whistle, guitar, drums, piano, and bagpipes. The Hockey East tournament will be on the big screen at 8 p.m., so there's no excuse not to stop by. The event is perfect for families, as children are also welcome.
Tin Can Hooley will be on stage from 4 to 8 p.m. at Common Ground, 83 Harvard Ave., Allston, on Saturday, March 17. Cover charge is $5.
Bruins vs Philadelphia Flyers
If, by some unimaginable chance, the Terriers do not win the Hockey East tournament, perhaps hockey fans can find consolation when the Bruins take on the Philadelphia Flyers.
The Bruins face the Philadelphia Flyers at Boston's TD Garden on Saturday, March 17, at 1 p.m. Tickets can be purchased online.
Sunday, March 18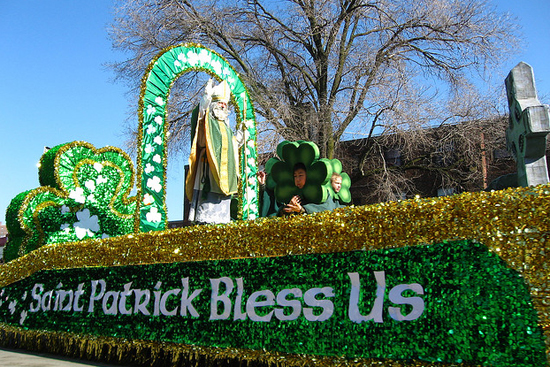 What would the holiday be like without a parade? Boston's traditional St. Patrick's Day Parade will proudly stomp through Southie on Sunday. This is the second largest St. Patrick's Day parade in the country and typically draws crowds from all over the state, attracting around 600,000 people (the same number as the estimated population of the city of Boston). This celebration started on the 125th anniversary of the end of the British occupancy of Boston.
Boston's St. Patrick's Day Parade begins in South Boston at 1 p.m. on Sunday, March 18, at the West Broadway T stop and finishes at the Andrew Square T stop.
Boston Restaurant Week (March 18–23 & 25–30) Kickoff
It's Sunday night and the holiday is drawing to an end. But that doesn't mean the celebrating is over, because Sunday night kicks off the city's now-famous Restaurant Week, when fancy food can be had at nearly dining hall prices for two glorious weeks at scores of restaurants around greater Boston.
Here's how it works: two-course lunch for $15.12, three-course lunch for $20.12, and three-course dinner for $33.12 (all prix fixe) at Boston's most fashionable (and normally expensive) restaurants. Participants range from Eastern Standard to the Elephant Walk. Check out Restaurant Week here to map out a meal game plan. Full menus are available as well.
Sierra Brown can be reached at hokulele@bu.edu.