Warm Up at Winterfest
Broomball, student films, cooking class on tap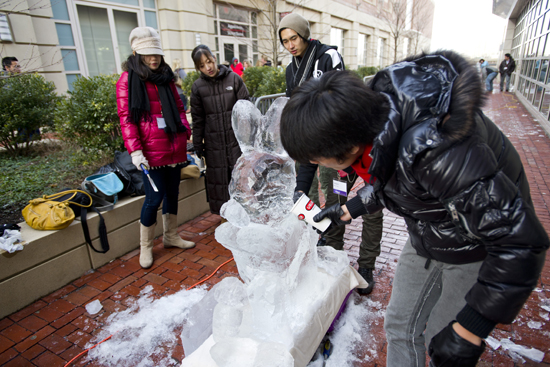 Quidditch is back, but the broomball tournament is new. The cooking class and the ice sculpting competition are back as well, but a panel discussion on the state of Africa is new.
All are part of the seventh annual Winterfest, taking place this weekend on the Charles River Campus. The event will offer two dozen activities, many for the first time.
Sponsored by the BU Alumni Association, Winterfest is open to the entire BU community. Approximately 1,100 alumni, family, friends, and students are expected to attend this year, up from about 1,000 in 2011.
"I think the most exciting facet of Winterfest is how it continues to evolve," says Steven Hall, vice president for alumni relations. He points to the new activities, such as tonight's panel discussion What Is the Real State of Africa? in the School of Management Auditorium. The panel will be preceded by a reception at 6 p.m. in the SMG Atrium.
The discussion, moderated by Charles R. Stith, director of the University's African Presidential Archives & Research Center (APARC) and a former ambassador to Tanzania, will focus on the progress being made on the African continent and the challenges Africa faces. Joining Stith will be two ambassadors to the United States: Tebelelo Seretse of Botswana and Steve Matenje of Malawi.
The center studies and tracks democratization and free-market reform in Africa. Stith also will unveil APARC's 10th annual report, which includes submissions from the heads of 16 African countries. He notes that when the center published its first report, there were 11 African heads of state who had retired through a democratic process. Today, there are 33.
Stith says he hopes those who attend the panel will appreciate that "Africa is more than the sum of its problems. Does it have its challenges? Yes. But when you look at the balance sheet, it's in the black, no pun intended. And the other thing is that democracy is rooted and working, and I think we can only expect that it will continue to blossom and flourish."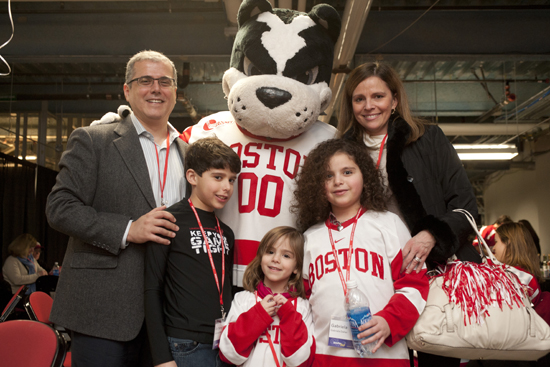 Also new at Winterfest this year is the Redstone Film Festival: BU FilmTV's Best Student Films, which will showcase the best short films made by BU students over the last 10 years. The Redstone Film Festival, one of New England's premier film and television venues, judges projects written and directed by BU graduate and undergraduate students every February. The event takes place from 7 to 9 p.m. in Room 101 at the College of Communication.
The film festival and the panel discussion "are important examples of the quality of scholarship at BU," says Hall. "In addition to fun—an important component of Winterfest—we want alumni to leave campus thinking, 'Wow, what a great university.'"
The fun will come in a variety of forms. On Saturday, the alumni-versus-students inaugural broomball tournament will start at 3 p.m. Duking it out on the ice at Walter Brown Arena will be 16 teams, 8 composed of alumni and 8 made up of students. The competition will culminate in a championship match at Agganis Arena following a Terrier ice hockey doubleheader. (The women's team skates against Northeastern at 3 p.m., the men take on Maine at 7:30 p.m.)
Broomball, which combines elements of soccer and of hockey, is the most popular intramural sport at BU, with approximately 100 coed teams playing each season. The draw is, in part, the level playing field—no one has ever attended college on a broomball scholarship. "No one has experience in it," says Scott Nalette, manager of intramural and club sports. "It's less intimidating. And it's comical. Everyone is slipping and sliding."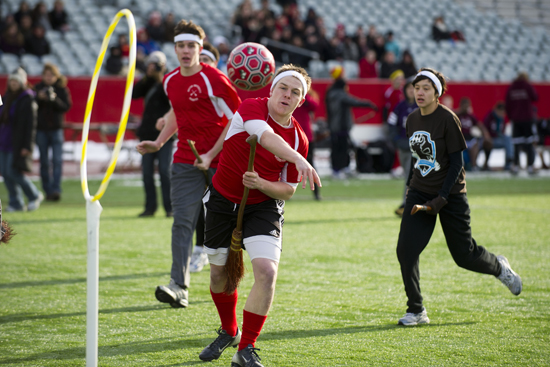 Hall says the broomball tourney marks the first time a major Winterfest event has involved students. "If future alumni are to look forward to, and participate in, alumni events, it helps if it starts while they are students—alumni-in-residence," he says.
He declined to predict a winner in the final broomball matchup. "It's a typical battle between crafty veterans and athletic youngsters," he says. "I'm guessing the alumni will be more sore."
"I think it's going to be a free-for-all," says Nalette.
Other Winterfest events include open skating at Walter Brown Arena tonight from 8 to 10 p.m., an ice sculpting competition on Saturday from 11 a.m. to 5 p.m. at FitRec, the second annual quidditch tournament on Saturday from 1 to 4 p.m. at Nickerson Field, a Chinese cooking demonstration with chef and cookbook author Helen Chen on Saturday at 11 a.m. and a wine tasting at 3:30 p.m., both in the exhibition kitchen at 808 Comm Ave. The weekend ends with a jazz brunch on Sunday at 11 a.m. in Sleeper Hall.
"Traditions are important," says Hall, "but the key to engagement is that it's not one-size-fits-all."
Winterfest begins today, January 27, and continues on Saturday, January 28, on the Charles River Campus. A full schedule of events is here.