Two BU Students Vie for Miss Massachusetts
Pageant to be held this weekend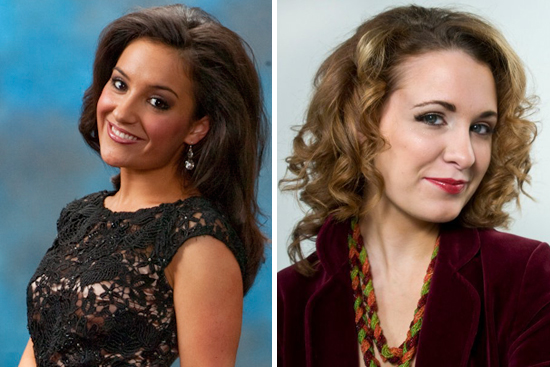 BU has been bitten by the beauty pageant bug.
First, earlier this month Olivia Culpo was crowned Miss USA, and this weekend two other BU students are competing in the 73rd annual Miss Massachusetts Scholarship Pageant. Culpo (CGS'12) competed in the Miss USA pageant as Miss Rhode Island.
Lauren Ashleigh Lyles (CFA'13) and Nicole DiBlasi (COM'14) are among 16 contestants vying to represent the Bay State at the 92nd annual Miss America Pageant in January 2013. Lyles, the reigning Miss Middleboro, and DiBlasi, currently Miss Taunton, both won their regional levels to qualify for the Miss Massachusetts competition.
The pageant, which begins tonight, consists of an interview section, where judges ask contestants a range of questions, including current events, politics, and questions related to the issues each contestant has selected for a "platform." The competition also features evening wear and swimsuit portions, as well as a talent portion.
Miss America—a completely separate competition from Miss USA—is one of the country's leading providers of scholarship assistance for women. More than $45 million in scholarships have been awarded at the local, state, and national levels since the competition began in 1921. The eventual winner of the Miss America title will receive a $50,000 academic scholarship.
Lyles and DiBlasi both acknowledge that the scholarship money is a huge draw, but there are other perks, too, they say.
"I'm one of the older contestants in the pageant," says 22-year-old Lyles. "It's about furthering my goal to become a professional opera singer."
A graduate of the Boston Conservatory, Lyles is currently a student at the Boston University Opera Institute. Since coming to BU, the mezzo-soprano has performed in operas such as Domenico Cimarosa's Il Matrimonio Segreto and Poulenc's Dialogues of the Carmelites, and at the College of Fine Arts 15th annual Fringe Festival last year, performing contemporary composer Jake Heggie's song cycle "The Breaking Waves."
She will perform the operatic aria "Una Voce Poco Fa" from Rossini's The Barber of Seville for the talent portion of the contest. Her platform is to advance arts awareness in schools.
Fellow Terrier DiBlasi is studying mass communication at the College of Communication, but also takes violin lessons at CFA. She says she hopes to find a job after graduation that will allow her to combine music and communications, possibly in a field like radio.
"I've seen the benefits of music since I was five years old," she says. "It has kept me really focused, and as Miss Massachusetts, I would like to make sure that children have access to musical instruments. I've performed in schools, and kids will tell me afterwards how I've inspired them to pick up an instrument, which has been great."
DiBlasi says she's excited by the possibility of being able to travel across the state to promote her chosen platform, which, like Lyles', involves promoting music in the classroom. She will perform a 90-second selection from Zigeunerweisen, a violin composition by Spanish composer Pablo de Sarasate, during the talent portion of the pageant.
Neither woman is new to the pageant circuit. Growing up in Louisiana, Lyles began competing when she was 14. "My mother wanted to help me be less shy and climb out of my shell," she says, "and she figured pageants could be a way for me to build a sense of character and meet people. I loved it."
DiBlasi, interviewed by BU Today as she was looking for shoes for this weekend's event, says she began competing in 2009 and this will be her sixth pageant.
Both are quick to point out that they couldn't compete without the help of a significant support network. DiBlasi is grateful for assistance from members of the Miss Taunton scholarship committee, who helped her prepare for this weekend's competition, the Burt Wood School of Performing Arts, in Middleboro Mass., where she studies the violin, her interview coach, her violin teacher, CFA Professor Yuri Mazurkevich, and last, her mom.
Lyles says she received some great advice from Jerrold Pope, a CFA associate professor of music and voice and voice department chair. "He told me to stay true to myself, and to say what you mean, mean what you say," she says. "If you're positively representing yourself, you'll have a positive experience. Never compromise."
Will there be blood spilled between the two Terriers at tomorrow's competition? DiBlasi says no, emphatically.
"Lauren is a wonderful opera singer," she says. "We support each other and people ask if it's weird to compete against one another, but it's not. We each want the other to do well."
The Miss Massachusetts 2012 pageant is tonight, Friday, June 29, and tomorrow, Saturday, June 30, at the Hanover Theatre, in Worcester, Mass. Find more information here. Tickets for the peliminary show tonight and the final competition tomorrow can be purchased online here or by calling the box office at 508-831-0800.