Weekend of New Zealand Beauty Ends in Tragedy
Three students die in road accident
From the lake town of Taupo, New Zealand, elevation 1,168 feet, the road to Tongariro Crossing rises slowly to 2,500 feet, the base elevation for a hike that takes trekkers through a moonscape more than 6,000 feet high. Tongariro Crossing, where part of the film Lord of the Rings was shot, is said to be one of the most beautiful day hikes in the world. Among students in BU's Auckland study abroad program, it is known as one of the things everyone should do before leaving New Zealand.
Its powerful beauty and promise of adventure is understandably irresistible to the kind of students who are likely to choose Auckland as a place to study abroad. And so last Friday, 26 students from this semester's program climbed into three vans and headed out for the experience of a lifetime. They spent Friday night at a hostel in Taupo, and at 6 a.m. Saturday settled in the vans for the last leg of their drive. An hour and a half later, the trip ended for students in two of the vans when one reportedly swerved onto gravel on the side of the road, then rolled over. Three students died and five were injured. One remains in critical condition.
Joseph Bergen, U.S. vice consul in Auckland, said the deceased students are Daniela Lekhno (SMG'13), Roch Jauberty (CAS'14), and Austin Brashears (ENG'13). Lekhno, whose hometown is Manalapan, N.J., was studying business administration and management, with a concentration in finance, and was a member of Alpha Delta Pi until last year. Jauberty, who lived in Paris, France, was studying international relations and economics, and was minoring in business administration and management. He was involved in the College of Arts & Sciences student government. Austin Brashears, from Huntington Beach, Calif., was an engineering major and a popular student advisor at Orientation.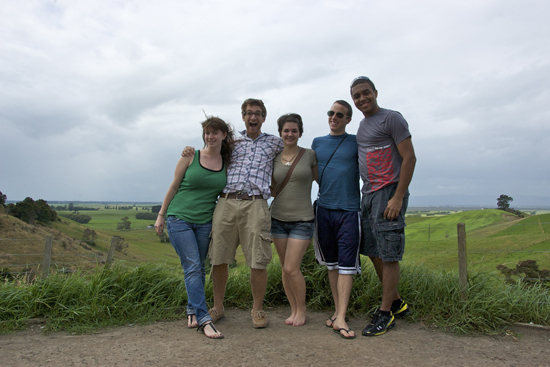 Bernd Widdig, executive director of BU's study abroad programs, says Margaret Theriault (SMG'13) was airlifted from the crash site and is in critical condition with a serious head injury in Waikato Hospital's intensive care unit. Stephen Houseman (SHA'13) and Emily Melton (CAS'14) were treated and released from Taupo Hospital. Alys McAlpine (SMG'13) and Kathy Moldawer (CAS'12) are being treated at a hospital in the town of Rotorua. All of the students except Theriault were enrolled in the BU study abroad program in Auckland. Theriault was enrolled in the study abroad program in Sydney, Australia.
No BU staff was involved with the trip, which was organized by the students. The lead van proceeded to its destination, its passengers unaware of the disaster behind them. Students traveling in the second van, none of whom were injured, are Dustin Holstein (SMG'13), Giselle Moreno (SAR'13), Keely McCaffrey (COM'13), Kyle Snow (CAS'13), Hayley Ross (SMG'13), and Evan White (CAS'13).
White says he was riding in the back of the van when he saw the driver look in the rear view mirror and immediately pull over. White pulled his earphones out of his ears, turned around, and saw something he says he will never forget. "We saw people lying in the road and saw wounded people and just felt kind of helpless," he says. "Our first impulse was to do whatever we could, but everyone had a sense of helplessness. I helped people away from the van. Others ran to a house to get help."
He says the group is staying together in Auckland and trying to support and help one another. "It hurts a lot," White says. "Last night we all dragged our mattresses into the common room and slept in the same place just to show solidarity. We are just talking about it and trying to be very open. Hopefully everyone at BU can come to terms with it too, like we're trying to do here."
Holstein says the trip to Tongariro Crossing is a popular outing for students in the study abroad program, and the site of the filming of the Mount Doom scene in the Lord of the Rings is known as one of the highlights of the trip. He declined to talk about the cause of the accident, which is under investigation, but he says the roads were well-maintained. Holstein says a local family near the accident offered support to the entire group until police escorted them back to Auckland.
"Right now we are just trying to get through this," he says. "The best way to do that is to hold each other up and give each other the support we need."
Willis Wang, a University vice president and associate provost for global programs, says the two New Zealand universities associated with the program, the University of Auckland and the Auckland University of Technology, have extended their counseling services to BU students who are studying abroad there, and they are conducting regular counseling sessions.
"This is a horrible tragedy," says BU President A. Robert Brown. "Our prayers go out the students and their families. We will do all we can to provide comfort and assistance to those who have been injured, and to the families and friends of the victims. The University is mobilizing all of our resources to help our students and families deal with this tragedy."
In a letter sent to all students and parents of students in the Auckland and Sydney programs, Jean Morrison, University provost and chief academic officer, wrote that the University is offering support to all students in the two programs and that partnering organizations in those cities are also providing support.
The New Zealand study abroad program, which has 49 students, integrates academic study and professional internships in Auckland, and is offered in both the fall and spring semesters. It ends at the end of June.
Dean of Students Kenneth Elmore says this was a terrible end to a difficult year.
"This is an unusual time on our campus," says Elmore (SED'87). "We have a lot of people who are traveling and some people who are celebrating the end of final exams. I'd like everyone to please take a moment to pay our respects to the families of those who have been killed. I hope everyone in our community knows that if anyone needs assistance, counseling is available in person and on the phone."
Counseling for students on the Charles River Campus and elsewhere is available from Marsh Chapel chaplains and at Student Health Services. Chaplains can be reached at 617-353-3560. SHS counselors can be reached at 617-353-3575. A Behavioral Medicine provider can be reached through 617-353-3569 for those who urgently need counseling related to this event. Counseling is also available for faculty and staff through the Faculty & Staff Assistance Office, at 617-353-5381. Please do not call those numbers for information about the accident. BU Today will be updated as more information becomes available.