The Job Hunt: Using Social Media Wisely
COM expert on how to stand out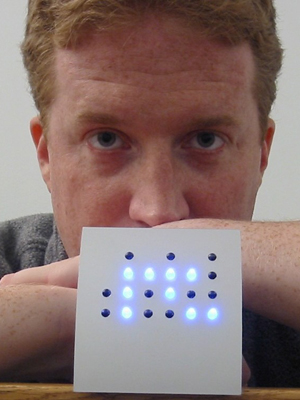 This week BU Today continues its annual series, for graduating seniors and others looking for a job, offering info, advice, and real-life accounts of how to go about finding a job. Today we examine the ways social media can help and hurt job applicants and the importance of developing a personal online brand. Tomorrow we conclude our series with "What Worked for Me," an interview with three graduating seniors who have found jobs. They discuss their strategy for landing positions in their respective fields.
It's hard to imagine anyone better versed in how to use social media in the job hunt than Todd Van Hoosear. A lecturer in the College of Communication department of mass communication, advertising, and public relations, Van Hoosear teaches a section of Public Relations and New Media. He is also a principal at Fresh Ground, a Cambridge, Mass., PR and marketing agency that heavily incorporates social media in its work.
Before establishing Fresh Ground, Van Hooosear split his time between public relations and IT, working on one of the first virtual university projects at Michigan State University (where he earned both bachelor's and master's degrees). His clients have included the U.S. Marine Corps, the National Thoroughbred Racing Association, and the Commonwealth of Massachusetts. He was an early social media and Web 2.0 adopter and launched his first blog in 2004.
Van Hoosear is a founding member and interim board member of the Social Media Club and currently runs the Boston chapter, vice president of social media for the Publicity Club of New England, and a member of the International Association of Business Communicators Social Media Release Working Group. His expertise in social media has also made him a sought-after speaker.
BU Today recently spoke with Van Hoosear for some tips on how students can best use social media platforms in their job hunt.
BU Today: Students increasingly hear that they need to create a "personal brand" to help market themselves to potential employers. How should they go about this?
Van Hoosear: I'm not a big fan of the term "personal branding," because it gets overused, but I also think it is one of the better ways to express the dynamic that has to exist right now in the marketplace for you to sell yourself. "Personal branding" oversimplifies the process, because a corporate brand is so much simpler than a human being. Someone isn't just a "social media guy"—people have more than one talent.
What you're really trying to do is to sell yourself as a professional to help out a company. Some companies will hire you because you have the right keyword in your résumé, maybe you know the technology, or maybe because you've worked with a certain brand or at a certain company.
What I do with my students is make them create an "online presence," which allows for a variety of different things. A brand makes people think that this is my "professional brand," but that's dangerous because I teach that the walls between work and life are falling pretty quickly.
What do you mean by that?
I've had a number of students try to keep their personal and professional lives separate, by doing things like not inviting their boss to be their friend on Facebook or not tweeting about personal stuff. But that is a really difficult thing for anyone to do—be they a student or a professional with 20 years' experience.
I've given up any real distinction between personal and professional brand. Instead, I have degrees of oversharing. If you're on Twitter, then you're getting the oversharing of Todd. On Facebook I share a little less work stuff. On LinkedIn, I only share a little bit of personal stuff. So I encourage students to not think in terms of professional and personal brand, but rather all-encompassing brand.
There's a sort of "red cup rule"—you know, those "boozing it up photos" on Facebook. Assume that nothing is private, nothing is confidential, and write posts and post photos that are not embarrassing. If you're friends with people from your office, realize that they can all see your profile. If you think for a moment that anything on Facebook won't get to your colleagues, that's when you get in trouble.
How has social media changed the way employers scrutinize job applicants?
The amount of time that hiring managers spend looking at actual résumés has dropped precipitously. The first thing hiring managers ask (in the marketing world at least) is, what's their social media presence? I think now hiring managers are spending a few minutes looking at your résumé, but they are spending more time on LinkedIn to see how many connections you have, asking who you two have in common.
I'm looking at a résumé right now of a woman I just hired. She attached four references to her résumé, but I didn't call any of them. Instead, I looked on LinkedIn and saw who we had in common. I could have asked them what they thought of her, even though she didn't list them as a reference.
Can you suggest some creative ways for students to stand out from the pack?
I've heard of senior-level hiring professionals looking on YouTube, so consider putting up a short YouTube video of yourself. And back 20 years ago when I joined the job market, we were told not to include a photo of ourselves for fear of sexism or ageism. But now, I think photos are important. If I don't see a photograph on your LinkedIn or Twitter account, I figure you don't know how to use those programs very well.
Hiring managers are Googling prospective employees' names to see what they can learn about them. How can students make that work in their favor?
Google is basically a content gain. Whatever you want to pump up higher, you have to be most active in. So if you want to bury Facebook, be super-active on Twitter and Google Plus, so the photos of you with the red cup can be hidden or at least not be on the first page.
It's also a bit of branding in there. Everyone should be ego surfing. If you have a very common name (like Mary Smith) that's one thing, but if you have an unusual name, there's a higher chance that people will find you in a search.
There is a lawyer out in California with the same name as me and I sometimes bump up against him. It's a bit of a game. If there's a new social network, I'll be sure to go grab the account. It's great to have the same username whenever possible and have Google realize you're the same person, so use the same email to register for all of these accounts. It's like a SEO [search engine optimization] game—if you're not happy with what's there, then maybe create a blog. That's one of the reasons I have my class do this project where they have to create an online presence—you want your name to bubble up to the top of the search results.
If you have a common name, it might be a smart idea to include your middle name. Or maybe a fun descriptor, like "Steve 'Mr. Social Media' Smith." Just be careful, because you could get locked into that persona.