The Day the Music Died
CFA student recounts extremist assault on Tunis school
A wave of Muslim extremists scaled the wall surrounding a school compound in Tunis around 2:30 p.m. on Friday, September 14, pushing easily past unarmed guards. Inside, they smashed security cameras and set fire to the elementary school's library, classrooms, and security room. A second wave of intruders looted and smashed anything of value.
Susan Ogletree (CFA'15), who has taught middle and high school music at the American Cooperative School of Tunis for the past seven years, was safe in her apartment, miles away in Carthage, having been warned to leave the building at 1 p.m. Ogletree, who is completing her BU doctoral course work online, says the school sustained $5 million in damages—losing up to 400 computers and more than 60 musical instruments, including four timpani drums.
The Tunisian assault came three days after Islamic militants armed with rocket-propelled grenades stormed the American consulate in Benghazi, Libya, killing Ambassador J. Christopher Stevens and three other Americans. It is one of many such incidents that have swept the Muslim world in response to a YouTube video mocking the Prophet Muhammad.
Ogletree dodged the violence, she says, because American security forces received a tip that hundreds of demonstrators planned to storm expatriate businesses and the U.S. embassy, which is across the street from the school. School officials sent all students and staff home just an hour and a half before 1,000 demonstrators arrived. The American Cooperative School of Tunis serves students of all nationalities, including Tunisians, from preschool through grade 12.
Ogletree believes the initial rioters were conservative Salafist Muslims, who strategically attacked the school's security system and elementary library, burning most of its collection of 10,000 books. Two weeks earlier, Salafists ransacked a hotel in the northern Tunisian town of Sidi Bouzid, because the hotel restaurant was serving alcohol.
"They're dealing with a society that has been controlled for so long and now all of those controls have been taken away," Ogletree says of the Salafists. "Under a dictatorship, you know what the rules are, what you need to do, and what you can't do. All of a sudden, you're struggling with this idea of free expression and freedom of speech, and it's hard for some people to know where that line then goes—and they're pushing those boundaries."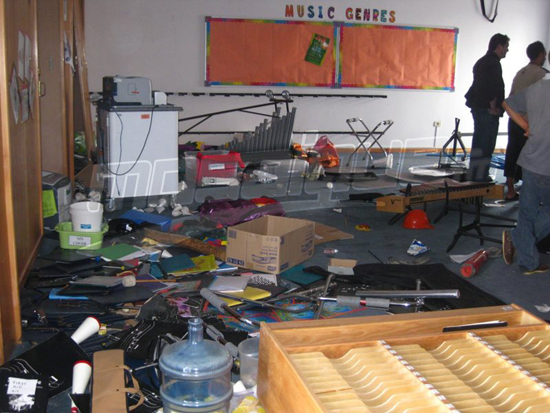 In her music room, she says, vandals stole chairs, stands, and wind, brass, and percussion instruments, leaving only a broken xylophone and a smashed piano. "It was more than just looting," she says. "It was really just this outpouring of violence."
Ogletree learned of the assault from her landlord. Later that day, she says, an entire family of neighbors stopped by to apologize and express embarrassment over the actions of Tunisians they felt did not represent the majority. (During the revolution nearly two years ago, she notes, Tunisians were respectful and protective of expatriates, even inviting them to celebrate together in the streets.) Ogletree says her faith in the Tunisian people remains unwavering.
"We've had so much support from our local neighborhood," she says, adding that Tunisians approached school officials to express their shame and offer tips on the stolen equipment's whereabouts. "They know this kind of thing is not Tunisia, and this is not Islam either. But do I have faith that authorities will recover things? I'm still debating that."
The school's staff returned Monday to survey the damage, vent about what happened, and begin the long process of rebuilding. They cleaned rooms and relocated burnt-out elementary classrooms to the gym, cafeteria, and the secondary school. At one point, Ogletree says, she counted seven people scrubbing and rearranging her classroom. Some high school and middle school students arrived on Wednesday to pitch in, too, donning construction masks to remove debris and carrying xylophones from the elementary music room to her classroom. "It's cathartic," she says. "They need that physical labor to get over whatever it is they're feeling." Grief counselors will be available to students and staff in the days ahead.
Ogletree says that more than once, when her frustrations reached a peak, she left her classroom for a good cry. As a band, guitar, and choir instructor, she had finally built her music program to a level comparable to that found in the United States, only to see it decimated. With no instruments, no overhead projector, and no photocopier, she will resort to writing notes on large-scale paper for students to share, and plans to focus on rhythm, flashcards, and singing.
"It's a whole mindset that you have to change," she says. "It's hard for me, yes. But it is what it is. It happened. And now I have to say, what do I do with the situation to move forward?"
In the wake of the attack, school officials have beefed up security. Two Tunisian tanks now guard the school, and police officers patrol the area. The local newspaper, Tunisia Live, reports that police have arrested about 40 people in connection with the looting. New Jersey–based International Schools Services has offered to cover the cost of shipping supplies, which Tunisian officials have promised to expedite through customs. And a local Lions Club has offered to pay for 10 new guitars.
The school, whose mission is "Opening doors, hearts, and minds," welcomes the return of high school students today and is preparing for the return of lower grades in the coming weeks.
"We want the message to be sent that respect, learning, and hope are always stronger than hate," Ogletree says with conviction. "That's what we're here for, and that's why we're in Tunisia."
Visit this site to donate to the American Cooperative School of Tunis Recovery Fund.
Share ideas in the Comment section below about how to teach music on a budget, without instruments.