The Big Cheese
BU alum stars in Cooking Channel show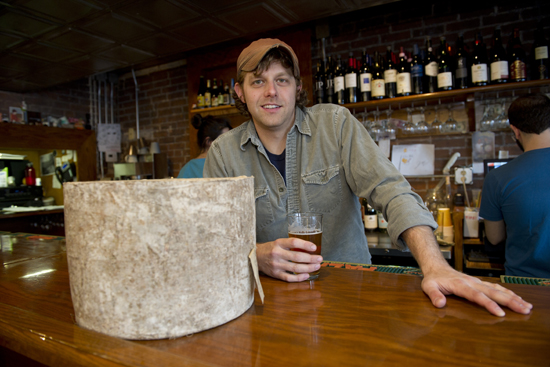 We have become a cheese nation. We eat more now than ever, a hefty 33 pounds a year, triple what we ate just 40 years ago. The United States has not only become the world's biggest cheese producer, but now turns out prizewinning world-class rounds with poetic names like Humboldt Fog and Constant Bliss. Teetering stacks of brie, Gruyère, and Stilton tumble from burgeoning dairy sections at our groceries, even the local IGA. Restaurants not only list cheese courses, but your tablemates won't snort if you order one.
So it was inevitable that, being Americans, we now have a TV show devoted to all-things cheese. The Big Cheese debuted last fall on the Cooking Channel, its host a curly-haired cheese evangelist with a gee-whiz love of coagulated dairy, Jason Sobocinski.
"I believe in cheese," says Sobocinski (MET'07), sitting in the bar of his restaurant and cheese shop, Caseus Fromagerie Bistro, in his hometown of New Haven, Conn.
Ask Sobocinski about a cheese and he'll tell you a story. Take Point Blue for example. His green eyes gaze off for a moment and then, hands waving, voice rising, he launches into a tale of salty Pacific breezes, coastal pastures, and a herd of Holsteins that ends with a blue cheese with a yummy saltiness.
"Isn't that amazing," he says.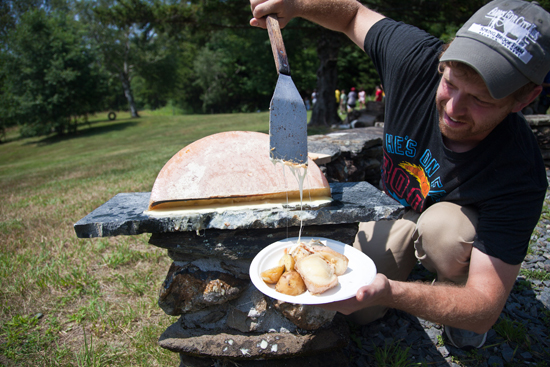 That unbridled enthusiasm for cheese made him a natural to host The Big Cheese. Producer and director Stephen Crisman says he picked Sobocinski because he was an expert, but was down-to-earth as well. He'd also do anything, including a shoot on a dairy farm in upstate New York in minus 10-degree weather dressed in a T-shirt.
"He's the real deal," Crisman says. "He's not a prima donna."
During the first season, Sobocinski led viewers on a tour of some of the country's best cheese makers, in Vermont, New York, and California. He scoured the country for twists on the almighty grilled cheese sandwich, milked goats, and gained 10 pounds. Like any cheesemonger, Sobocinski prefers artisan cheeses, but says he found himself even enjoying a visit to a cheese factory in Wisconsin. Turns out that they use milk from local dairies.
"The whole show was a high point," he says. "The point was to try to be myself and that wasn't hard because I was talking about cheese."
Reruns of the first season air at 9:30 a.m. and 6 p.m. on Thursdays on the Cooking Channel. Shooting for season two has yet to begin, but Sobocinski has plenty to keep him busy in the meantime. In addition to his restaurant and cheese shop, he runs Caseus Cheese Truck, a food truck in New Haven serving tomato soup, salads, sausages, and of course, grilled cheese sandwiches. And he has just published a cookbook, Caseus Fromagerie Bistro Cookbook (Lyons Press).
Despite all the responsibility, there's still something of the college student about the 33-year-old. It's not because of any lack of sophistication—Sobocinski can rattle off French blue cheeses with the best of them—or because he favors ball caps and baggy clothes and sports an ever-present 5 o'clock shadow. Rather it's his boundless, upbeat energy, which he doesn't reserve just for cheese. He gushes about his seven-month-old son, his Great Dane, Brisket, his New Haven hometown, even his aging food truck, which needs constant repairing.
Sobocinski ate his fair share of cheese growing up in a vegetarian family of Italian heritage. Every Friday, his nana would come over and make pasta fazool, a soup chock-full of beans and pasta that is still one of his favorites. Long since an omnivore, he cracked the world of cheese while taking graduate classes in gastronomy at Metropolitan College. For two years, he spent his evenings studying food ethnography and the like, while by day he worked in the trenches at Formaggio Kitchen, one of the country's top cheese purveyors. He began at Formaggio's bakery, pedaling his bike through dark, empty streets to the Cambridge store for his 3 a.m. shift, and slowly worked his way up to cheesemonger. He recalls it as two of the best years of his life.
His mentor at Formaggio Kitchen, Robert Aguilera, says Sobocinski may not have arrived with the most refined palate, but he had the commitment to learn about hundreds of cheeses, no easy task. Aguilera had him draw the cheeses to learn to identify by sight the many discs, squares, and rolls. Sobocinski kept a notebook of his "cheese doodles" and spent hours on his own time studying the pedigree of each cheese. He learned how to tell a customer about a cheese without coming across as pompous, an occupational hazard of the business. That, Aguilera says, came naturally for Sobocinski.
"He's got a love of food, but he doesn't have a snobbish attitude about it," Aguilera says. "He likes to make it fun."
Sobocinski says he agreed to host The Big Cheese because he wanted to make cheese more accessible to people. That's also why he wrote his cookbook and launched his food truck two years ago. The truck sells the same gourmet grilled cheese sandwiches, made from an ever-changing blend of artisan cheeses and served with cornichons and a dollop of grain mustard, served at his restaurant, but for less than half the price—$5. His point is to elevate the American standard, while making high-end cheese less intimidating.
Casesus is likewise unintimidating, although the approximately 100 hand-crafted cheeses, stacked nearly shoulder high on a counter and crowding two fridges, can be overwhelming. That's where the smiley young clerks in the small subterranean shop come in, eager to proffer tastes and recount each cheese's story. On the other side of the split-level establishment is the restaurant and bar, whose many offerings include cheese. The roasted chicken comes with chèvre, the crab cakes with feta. Many of the ingredients hail from local farms. Sobocinski can talk about sustainability almost as easily as he can about cheese. His 1985 BMW runs on leftover oil from the restaurant's fryer.
And what does Sobocinski run on? The Big Cheese pooh-poohs sleep, hitting the hay for only five hours a night, and admits if he gets home early from his restaurant, say 11 p.m., he doesn't know what to do with himself. "So I'll play soccer online until about 2 a.m., then have a snack and finally go to bed," he says.
That snack? Two fried eggs with melted cheese.
Caseus Fromagerie Bistro is at 93 Whitney Ave., New Haven, Conn., 203-624-3373.