Swing into Summer
Boston Swing Central offers lessons, dancing on Fridays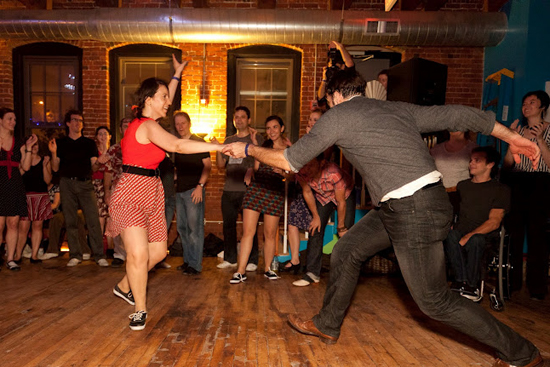 Looking to put a little swing in your step this summer? Then head down to Charlestown tomorrow night to the Crosby Whistle Stop for the Boston Swing Central (BSC) weekly Friday night swing dance. Beginners can arrive for an introductory lesson at 8 p.m. Then at 9, everyone joins in for three hours of swing dance fever.
BSC is a nonprofit, volunteer-run organization devoted to bringing swing to anyone interested. The group features a variety of teachers, bands, and DJs and promotes swing dance events in the Boston area. Friday night lessons teach East Coast, or six-count, swing dance—a simpler version of the basic eight-count swing known as the Lindy Hop. The Lindy Hop originated in 1930s Harlem and incorporates ballroom, Charleston, and African dances. The dances get many repeat visitors eager to reinforce the basics. There's no need to make a reservation; you can simply show up.
At the social dance that follows each week's lesson, dancers move to the sounds of a full band or DJ, some even opting to don vintage, swing-era clothing. Admission is $10 on DJ nights and $15 to $20 on band nights. Lessons are included in admission and students and seniors receive a discount. Don't have a dance partner? Not to worry. It's not required. Boston Swing Central is a great opportunity to meet new people who love to dance. Another organization, New School Swing, partners with BSC to teach Tuesday night classes at the same Charlestown location. You can register online here.
So in the words of the George and Ira Gershwin song "Shall We Dance": "Put on your dancing shoes. Stop wasting time. Put on your dancing shoes. Watch your spirits climb."
BSC social dances are every Friday from 9 p.m. to midnight and are usually preceded by beginners' lessons from 8 to 9 p.m. The BSC dance hall and studio space is at the Crosby Whistle Stop, 24 Roland St., Charlestown. The nearest T stop is Sullivan Square on the Orange Line. Free parking is available. Dancers must be at least 18 to attend. Find details on bands and DJs and more information about BSC here.
Erin Thibeau can be reached at ethibeau@bu.edu.