Senior Class Gift Challenge Chosen
And it is...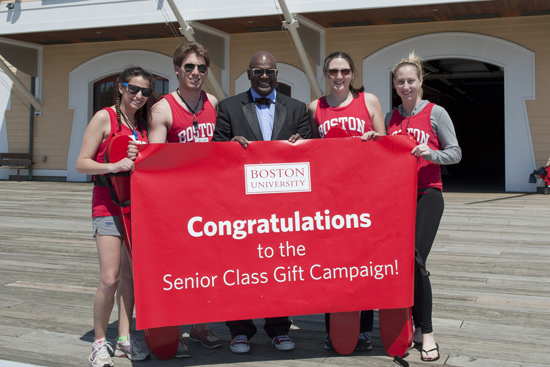 One student suggested shooting Kenneth Elmore out of a cannon. Another thought it would be fun to watch the dauntless dean of students tame a lion. More invasively, if less daredevilish-ly, a third proposed tattooing him with "BU 2012."
But the dean was spared these surreal ordeals dreamed up by seniors as a challenge to coax the targeted 2,012 contributors to the Class Gift. Instead, if they hit the target, graduating students' reward will be interactive: a donor, chosen at random during Senior Breakfast, will throw out the first pitch at the Red Sox game on May 15, accompanied to the mound by BU mascot Rhett.
It's all a sequel to last year's challenge to seniors: Elmore (SED'87) promised to don a tux and jump into the Charles River if 2,011 members of the Class of 2011 anted up for their Class Gift. They did, setting a record, and Elmore gamely took the plunge. He is to announce the Red Sox challenge this morning in a video, in advance of Thursday's 115 Days 'til Graduation Party (see details below).
Seniors choose the University offices or programs that will receive their donations, typically earmarking their individual schools and colleges. Alumni giving is one factor U.S. News & World Report uses in its ranking of top schools.
Development & Alumni Relations solicited seniors' ideas for a challenge and received 50 suggestions, most (but not all) involving Elmore. One student wanted to see every BU dean perform a group dance on Marsh Plaza, while another—a budding financial planner, no doubt—suggested the University forgive the student loans of a dozen graduating seniors, according to Allie Rowe (GSM'12), manager of student philanthropy programs.
The Red Sox idea "came up in conversations between Dean Elmore and our Class Gift committee," Rowe says. Students on the committee at first thought the idea far-fetched, but once research revealed it could be pulled off, she says, "we started talking about it with more students, and they really got excited about it."
There may have been another criterion. Rowe had vowed that the selected event would be "fun and feasible"—a tough hurdle for cannons on Comm Ave and African wildlife.
The 115 Days 'til Graduation Party is on Thursday, January 26, starting at 10 p.m., in the George Sherman Union's Metcalf Hall, 775 Commonwealth Ave. It is free and open only to seniors, who must show an event ring to get in. Rings are available for pickup at the Activities Information office, on the GSU second floor.