Posse's Next Step: Graduation
BU's first group of scholars reflects on four years here
Jessica Palacios came to BU almost four years ago as a first-generation college student. Palacios, whose parents had emigrated from Jalisco, Mexico, was one of a dozen scholars from Atlanta, Ga., and its suburbs. She worked hard toward her degree in international relations, volunteered as a tutor in Chelsea schools, and made friends across campus.
She also learned, in her freshman year, that she was pregnant.
She returned home to Georgia to have her daughter and assumed she would never return to BU. She felt doubly ashamed—first for abandoning her education, and second for feeling that way after the birth of her beautiful baby.
Palacios was at her parents' home when she started getting, as she says playfully, "harassed." Staff from the Posse Foundation in Atlanta were in constant contact—emailing, calling, and leaving Facebook messages for her. Then her BU Posse joined the push, calling her and sending gifts. It was their encouragement, she says, that persuaded her to return to BU in January 2011.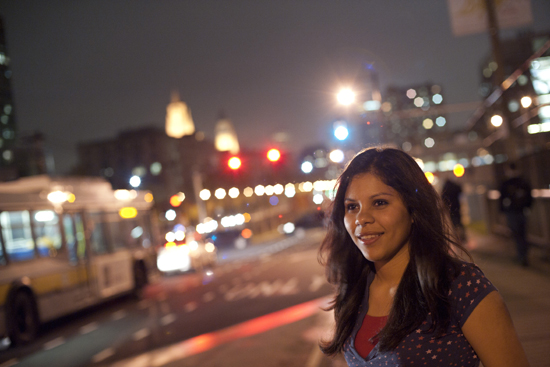 "When I came back to school after the year and a half," says Palacios (CAS'13), "I really realized how important my Posse friends were. If they weren't here, I probably would not have come back. I probably would've just stayed in Georgia."
That full-court press by her friends and mentors was an example of Posse at its best: a provider of hope and support to a member in need. It's also one of the basic convictions of the Posse Foundation. Since 1989, Posse has guided more than 4,200 leadership-oriented students from urban centers to 40 participating universities, which in turn have provided nearly $485 million in full-tuition scholarships. The idea seems simple: send a group of talented students from similar backgrounds to college together, and they will boost one another's chances of thriving. So far, it seems to be working: Posse students have a national average graduation rate of 90 percent.
Boston University began its partnership with the foundation in 2008. Of the 12 scholars who arrived that fall, 8 will graduate this month. Palacios is on track to graduate in fall 2013, and three have left school. Since that first contingent, three more groups have arrived, and another will land at BU this fall.
Many of the scholars admit that they were skeptical when first approached about the program. Palacios googled it to see if it was real. Eni Adedokun (ENG'12) says she believed it only when she got a phone call following up on an invitation. And Schyler Cain (COM'12) was also wary.
"This must be a scam," Cain remembers thinking. "Who's going to give me four free years of college?"
The first group of Posse scholars came north with an earful of warnings from back home. Friends and family members feared they would freeze during New England's harsh winters. A friend of Adedokun's made her a mammoth blanket, which she stuffed into a suitcase. The new freshmen wondered where they would find a home-cooked meal. (Palacios says she still hasn't found tortillas like the ones her mom makes.) And several had heard that Northerners could be extremely rude.
Cain remembers feeling intimidated freshman year by students who had attended Northern private or charter high schools. "It took me a long time to realize that it's not that I was stupid," she says. "It's that they had learned things that I hadn't learned. And at the same time, I had learned things that they hadn't learned. I just needed to figure out that I can do it."
"It was my goal just to get everyone to that Southern hospitality mentality," says Sharrod McClusky (CAS'12), "that mentality where you just walk through and are able to smile and say hello."
McClusky participated in the First Year Student Outreach Program (FYSOP), a weeklong volunteer opportunity for incoming students, and stood atop the Umoja table at Splash to welcome freshmen to the group. He later became president of Umoja, BU's Black Student Union.
Posse scholars came to BU knowing they would be in the minority, but they also knew that they were special; the group met with President Robert A. Brown, and Dean of Students Kenneth Elmore (SED'87) came to know them all by name. Still, they say, they never acted like an exclusive clique. They joined Greek life, student clubs, and intramural sports teams, studied abroad in Italy and Mexico, and joined national associations within their fields. They quickly learned how to walk faster, navigate the T, and study for classes that challenged them as they had never been challenged before.
Posse mentor Jeffrey Allen, a School of Management assistant professor of information systems, points out that the scholars also brought to BU something that was in relatively short supply.
"Anybody who walks our campus and opens their eyes can clearly see that we have a lack of black and Latino students," says Allen. "We've struggled for many years, and I think that we're bringing on board a group of minority students who are really focused on academics, largely from a leadership perspective."
Allen, the scholars say, has been a major part of their success here—a constant mentor and friend. Students met with him regularly their first two years, visited his office, met his family, emailed, and called him on his cell and home phone numbers at all hours.
"You get to know the students in a fairly close manner," he says. "It's almost like being a surrogate parent." He describes his job as "an Oprah moment for the full-time frame," and he plans to attend each of their convocation ceremonies and slap them a solid high five after they cross the stage.
As to life after BU, most Posse scholars have a plan, as well as a dream. McClusky hopes to someday represent Georgia's fifth district in Congress. Adedokun will pursue a doctorate in pharmaceutical engineering to fight to find a cure for brain and neurodegenerative diseases like Alzheimer's and Parkinson's. Cain wants to work for an advertising firm like Hill Holiday. And graphic designer Reuben Buchanan (CFA'12) will continue to develop his clothing line, Scarecrow Apparel.
Palacios says she will miss them all. Meanwhile, she Skypes her daughter, calls every day, and visits her at her parents' place whenever she can.
"I just couldn't give up on the idea of going to school," Palacios says. "I had to do something for me and Natalie for our future."
Robin Berghaus can be reached at berghaus@bu.edu.